JACKSON, Miss. — A black Mississippi man who often dressed in Confederate regalia to support the state flag has died in a one-car accident, officials said Monday.
Anthony Hervey, 49, was killed Sunday when the 2005 Ford Explorer he was driving left the roadway and overturned on Mississippi Highway 6 in Lafayette County, the Highway Patrol said.
The vehicle's owner and passenger in the car, Arlene Barnum, told The Associated Press on Monday that Hervey swerved and crashed after another vehicle carrying four or five young black men pulled up alongside them, yelling and looking angry. Barnum, of Stuart, Oklahoma, said Hervey yelled something back at the other vehicle before losing control and crashing.
"It spun like crazy and we flipped, flipped, flipped. It was awful," she said.
She said she gave that account to a Mississippi state trooper when she was taken to a hospital after the accident.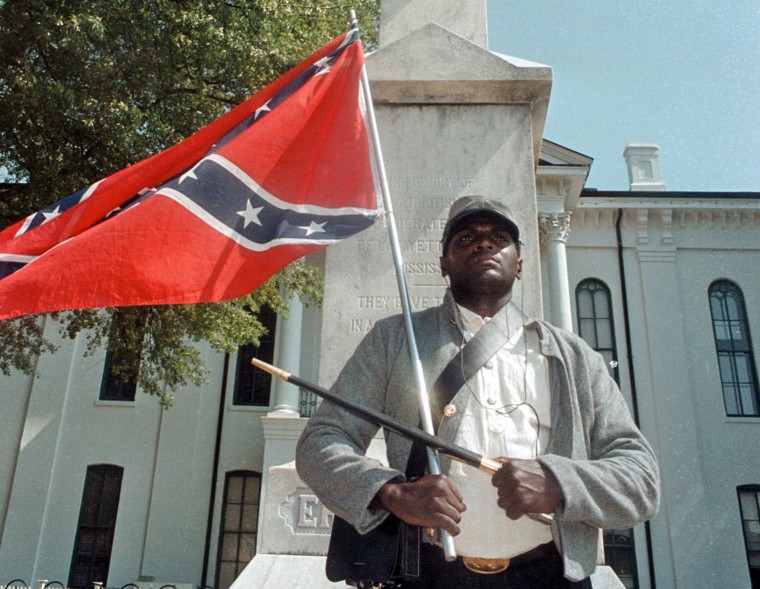 Mississippi Highway Patrol spokesman Johnny Poulos said accident reconstruction experts were on the scene Monday to conduct an investigation. He would not say if officials are investigating Barnum's account.
Barnum said she and Hervey were returning home Sunday from Birmingham, Alabama, where they attended a Saturday rally to save the Linn Park Confederate Monument. City leaders there recently voted to remove the memorial from the park.
Barnum said they were in her SUV, which was not displaying any Confederate flags or stickers.
She said she had no idea whether they had been followed from Birmingham.
Related: Confederate Battle Doesn't End in South Carolina as Petitions Spread Across Country
Hervey, of Oxford, has drawn attention over the years for opposing efforts to change the flag. He said he dressed in Rebel soldier garb to honor blacks who served with the Confederacy during the Civil War. He was often seen wearing the Confederate uniform and waving a Rebel flag on the Oxford square.
In an interview with the AP in 2001 after a new state flag design was defeated, Hervey said Mississippians' support of the flag with a Confederate battle emblem in the corner is akin to "standing up for home."
"This is not racism. This is my heritage," Hervey said.