Shots rang out Saturday afternoon at a cafe in Copenhagen, Denmark, killing one person and wounding three police officers during a freedom of speech event hosted by controversial Swedish cartoonist Lars Vilks, police said. As a manhunt continued for the lone shooter, Danish Prime Minister Helle Thorning-Schmidt put the entire nation on high alert and condemned the violence as a "terrorist attack."
"We feel certain now that it was a politically motivated attack, and thereby it was a terrorist attack," she told reporters close to the site of the shooting. An event organizer said that Vilks was present at the conference, but was not injured. Vilks told The Associated Press by phone that he believes he was the intended target of the attack, asking, "what other motive could there be?"
Early Sunday morning three people were also shot outside a Copenhagen synagogue. One civilian victim later died and two police officers were wounded, police said. The gunman escaped. Police have not said that the two shootings are linked. They are treating both shootings as terror attacks.
The suspect in the cafe shooting fled after gunfire erupted around 4 p.m. local time (10 a.m. ET) at Krudttoenden cafe in the Osterbro district, Copenhagen police said in a statement. A surveillance photo shows the suspect wearing dark clothes and a scarf. Police said initial interviews indicate only one person fired the shots, and had left the scene in a dark-colored Volkswagen Polo that had been carjacked. The car was later found.
U.S. National Security Council spokesperson Bernadette Meehan said the U.S. stands ready to help in the investigation. "The United States condemns today's deplorable shooting in Copenhagen. We offer our condolences to the loved ones of the deceased victim, and our thoughts are with those wounded in this attack," she said in a statement.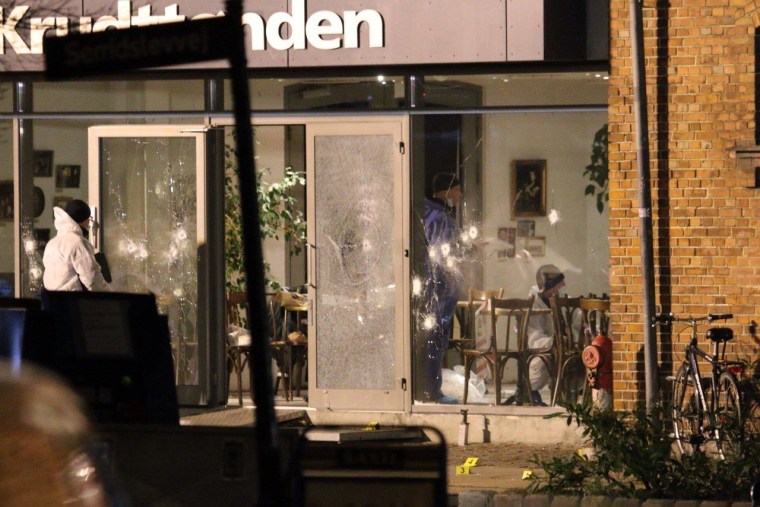 The TV2 channel said there were some 30 bullet holes in the window of the cafe and at least two people were taken away on stretchers. Two of the three police officers injured are members of Denmark's national security intelligence agency, PET. Police told NBC News that one person was killed but it was unclear whether the victim, described as a civilian, died at the scene.
Inna Shevchenko, the leader of Ukrainian feminist group FEMEN, tweeted that she was participating in a panel discussion at the cafe when the shooting occurred. "I didn't see anything. I heard about 20 shots while speaking and then people started to run," she wrote.
Vilks has faced numerous death threats for caricaturing the Prophet Muhammad in 2007. A Pennsylvania woman last year got a 10-year prison term for a plot to kill Vilks. In 2010, two brothers tried to burn down his house in southern Sweden and were imprisoned for attempted arson.
The event that the 68-year-old artist was hosting Saturday was called "Arts, Blasphemy and Freedom of Expression," according to his website. When the artist is in Denmark, he receives police protection.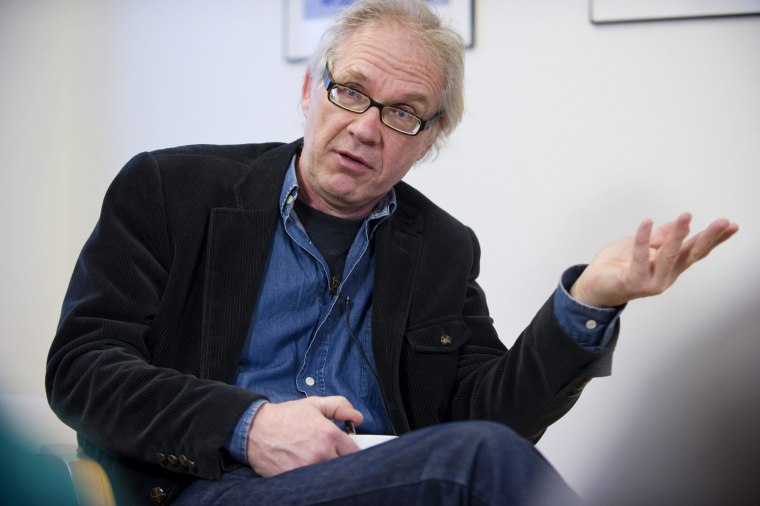 IN-DEPTH
SOCIAL
— Elisha Fieldstadt, Emmanuelle Saliba, Nancy Ing and Christina Marker
The Associated Press and Reuters contributed to this report.