President Barack Obama and Russia's President Vladimir Putin met Friday on the sidelines of D-Day anniversary events in France, the first face-to-face contact between the two leaders following months of tension.
The commemorations of the 70th anniversary of the D-Day invasion have been closely watched for signs of interaction between the two leaders, who have traded barbs but not seen each other since the Ukraine crisis erupted.
The White House said Friday that Obama and Putin had had "an informal conversation - not a formal bilateral meeting" on the margins of a lunch attended by world leaders.
Putin's spokesman Dmitry Peskov said that the two had spoken about the situation in Ukraine and violence in the east, according to The Associated Press.
Putin and Obama — who has described the relationship between the two as "businesslike" - earlier had appeared to avoid each other during a carefully-choreographed group photo of the assembled leaders.
Putin also shared a moment Friday with Ukraine's president-elect Petro Poroshenko. The animated conversation lasted about a minute, and the men did not shake hands in public.
Relations between Russia and the U.S. have been strained by Moscow's annexation of the Ukrainian peninsula of Crimea and alleged involvement in violence in the east of the country.
Earlier this week, Obama and key Western allies met at the G-7 summit in Brussels where the crisis in Ukraine was top of the agenda.
Russia was excluded from the meeting, marking the first time the nation was not present in 17 years.
At the G-7, leaders opened a pathway for Russia to ease tensions in Ukraine and the U.S. president urged Putin to enter talks with Poroshenko.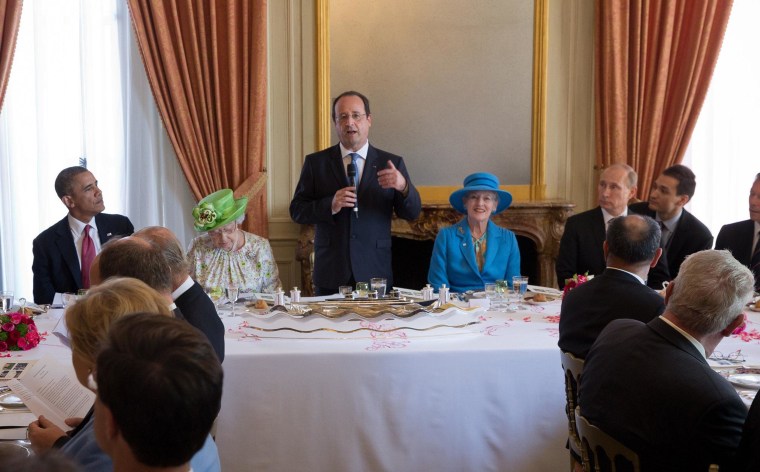 But Obama also pointedly warned Moscow it could face new sanctions within weeks if it failed to go along. At the time, he said he would carry the same message to Putin if the two crossed paths in France.
Prior to flying to Brussels for the G-7, Obama was also in Warsaw, Poland.
While there, he met Poroshenko, who made his fortune selling chocolate, and also pledged $5 million in non-lethal aide to Ukraine and promised to seek the support of Congress for $1 billion to increase the U.S. military presence in Europe.
— Cassandra Vinograd and Christina Boyle
This is a developing news story. Please check back for updates.