Dakota Access Pipeline protesters vowed Saturday to remain in their camp after the Army Corps of Engineers told them to leave the federal land they've occupied.
Activists protesting the continued construction of the pipeline were told to shut down one of their camps by Dec. 5 in a letter sent to the Standing Rock Sioux Tribe's leader by the Army Corps.
But tribal leader Dave Archambault and other protest organizers made it clear that they planned to stay in the Oceti Sakowin camp — one of three camps near the construction site — which would have been shut down by the encampment.
"We are wardens of this land. This is our land, and they can't remove us," protester Isaac Weston, an Oglala Sioux member from South Dakota, told The Associated Press on Saturday. "We have every right to be here to protect our land and to protect our water."
Protesters said the request would only escalate tensions.
Citing increased violence between protesters and law enforcement and the increasingly harsh winter conditions, the Army Corps said it decided to close its land to the protesters who have been there since early April.
Col. John Henderson, the Army Corps' district commander, asked Archambault in a letter to tell members of his tribe, along with supporters there, to move from the property north of the Cannonball River. On Sunday, the Army Corps said it had no plans to "forcibly remove" anyone who remains, though a statement said that to do so was risky.
"Emergency, fire, medical, and law enforcement response cannot be adequately provided in these areas," the statement said. "Those who remain will be considered unauthorized and may be subject to citation under federal, state, or local laws."
Related: Army Corps of Engineers Says Pipeline Construction Can't Continue Without Tribe Input
Henderson said the decision was made to protect the public from violent confrontations between law enforcement and protesters, who call themselves "water protectors," as well as the "harsh North Dakota winter conditions."
The letter was sent after a protester's arm was severely injured by a concussion grenade that protesters contend was thrown by local law enforcement. Police also sprayed protesters with a fire hose in near-freezing conditions.
The free speech zone the Army Corps has proposed south of the Cannonball River is slightly more than 41 acres and provides clearer jurisdiction for police, fire and medical units.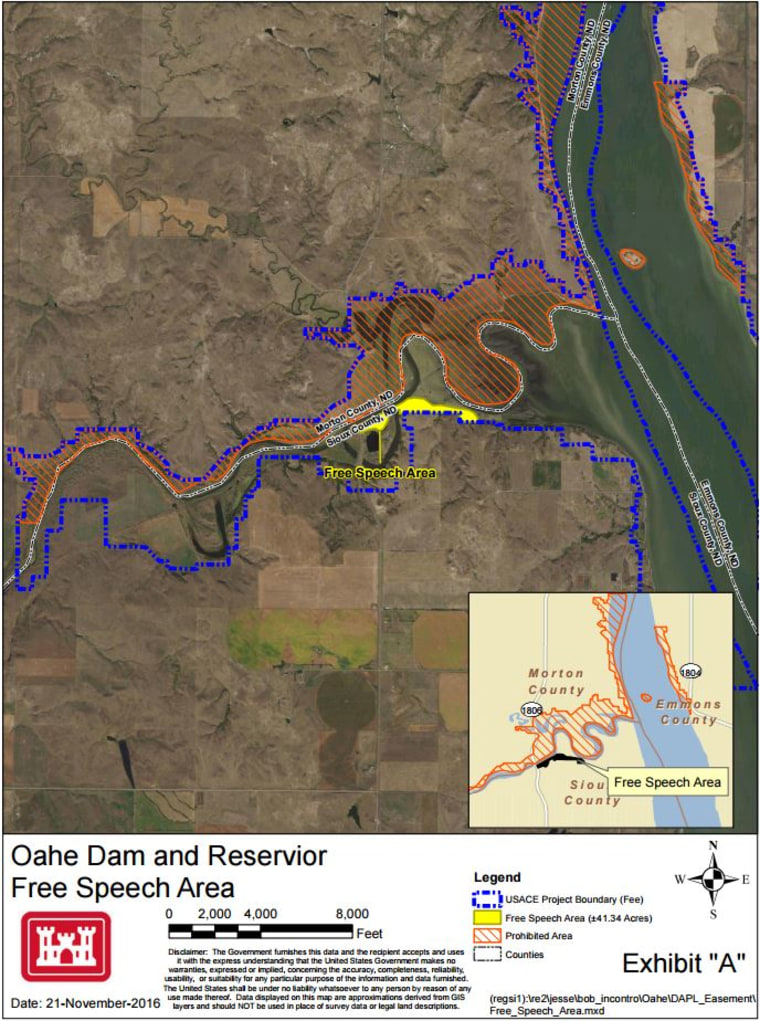 The letter makes it clear that the land will be closed to the public and that anyone who enters it will be considered trespassing and could face prosecution under federal, state and local laws.
Saturday, two prominent North Dakota politicians said the onus was on the federal government to close the camps.
"Our state and local law enforcement agencies continue to do all they can to keep private property and public infrastructure free from unpermitted protest activities, and it's past time that the federal government provides the law enforcement resources needed to support public safety and to enforce their own order to vacate," Gov. Jack Dalrymple, a Republican, said in a statement.
Related: Anti-Dakota Pipeline Activists Ramp Up Efforts on Thanksgiving Day
Republican Sen. John Hoeven also urged protesters to "respect the law and peacefully leave" the protest area.
"The well-being and property of ranchers, farmers and everyone else living in the region should not be threatened by protesters who are willing to commit acts of violence," he said in a statement.
Meanwhile, a number of Bismarck-Mandan residents held a rally to "Back the Blue" on Saturday.
More than 400 people attended the rally to support those law enforcement officers who had been dealing with the protests. The demonstration wasn't in support of or opposed to the pipeline, organizers told NBC station KFYR of Bismarck.
"We want our communities back. We want unity. We don't want division," said Kayla Wolf, an organizer of the protest.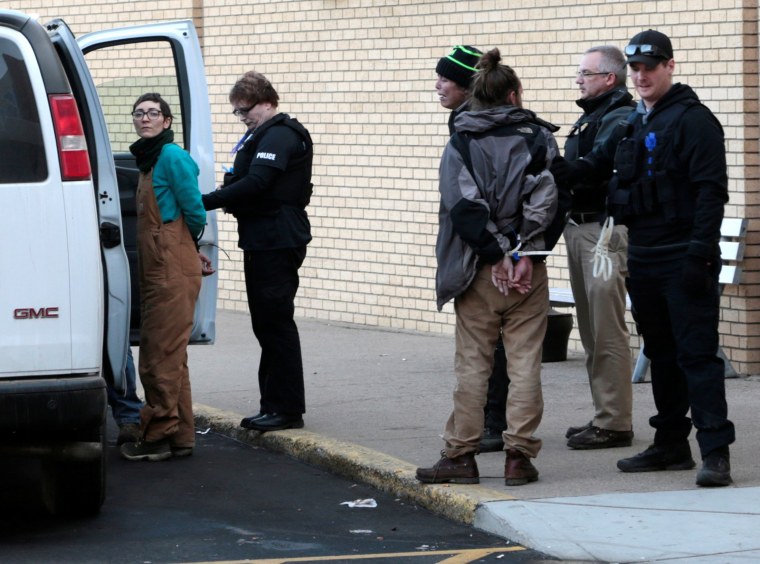 Bismarck police arrested more than 30 people at a mall Friday for alleged criminal trespassing involving the protesters. About 100 protesters had gathered to generate a prayer circle, which police said disrupted Black Friday shopping.
The protests — which have continued since April and are now the largest American Indian protest in modern history — stem from a continued demonstration against a 1,170-mile oil pipeline.
Thousands of people have flocked to North Dakota to aid the Standing Rock Sioux Tribe, who believe the pipeline could contaminate their water source, the Missouri River, and desecrate the tribe's sacred sites.
The company behind the pipeline, Energy Transfer Partners, says that it has taken measures to prevent such leaks, that the pipeline is far safer than transporting oil with trucks or trains, and that there is no archaeological significance to the area.