Groups of U.S. military veterans are descending on the Standing Rock oil pipeline protest, vowing to act as "human shields" against possible clashes between demonstrators and law enforcement.
The commitment comes as protesters defied orders to immediately leave the site in North Dakota, where authorities have cited "severe" winter conditions as the reason they must evacuate.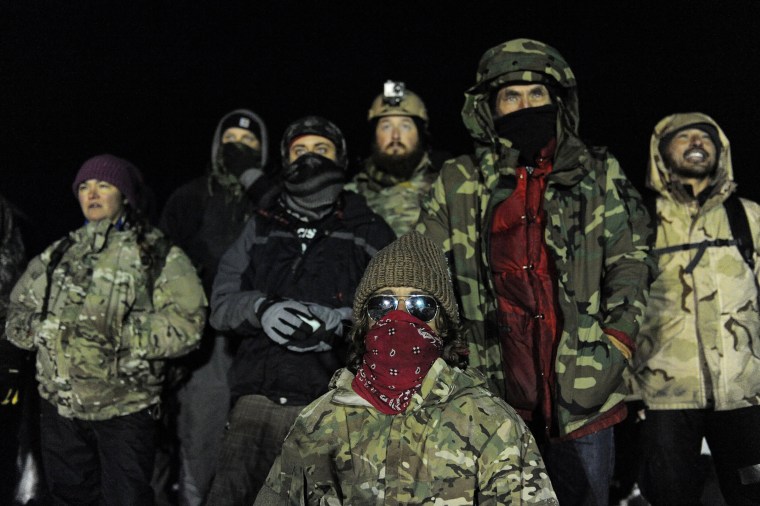 North Dakota Gov. Jack Dalrymple has ordered the protesters to leave immediately, while the U.S. Army Corps of Engineers — which has jurisdiction over the land — has set a deadline for Monday.
But protesters keep flocking to the site, despite the orders and the worsening conditions. More than 2,000 people have arrived this week despite a blizzard that left more than a foot of snow on the ground, according to protester Daniel Grassrope and three other people at the camp who spoke to NBC News.
Among the newcomers are large groups of U.S. military veterans who have said they will protect the protesters if violence breaks out at the camp, located in Cannon Ball.
By Sunday evening, between 2,000-2,500 veterans are expected to be present at the camp, according to the tribe and numerous organizers in the camp who spoke to NBC News.
The veterans will partake despite requests from the Morton County Sheriff's Office and a group of North Dakota-based counterparts who asked they not join the protests.
PHOTOS: Protesters Defy Winter's Chill
"They're coming to support us, despite this cold," Gracy Claymore, 19, told NBC News. "It does make me nervous, though, because I know nobody from the camp will move on Monday as the corps asked and the possibility of clashes with the National Guard or police is very real."
Claymore described a camp this week as upbeat, despite the impending deadline.
The blizzard this week, she said, has only deepened the campers' resolve. She said there is a "community" of people who chop wood all day to be used for fires in the evening.
Each group coordinates with other tents throughout the camp, all with the goal of ensuring that all of the estimated 5,000-6,000 people at camp are provided with warm shelter through the night.
Related: Pipeline Protesters Vow to Defy Army Corps
"The weather hasn't stopped anyone," Claymore added. "Everyone is adapting because they know we have to win this fight and save our water."
When the sun drops below the horizon at the Oceti Sakowin camp, 15 degrees feels more like 5. As the temperature dips at the camp, protesters hunker down in Yurts — portable round tents made with animal skins or felt that have kept Mongolian nomads warm for more than 3,000 years.
"They provide an incredible amount of warmth, especially when you have a portable wood stove inside," said the 24-year-old Grassrope, who was one of the first to reside at the camp in late summer. "We are natives and we know how to live with the land."