CANNON BALL, N.D. — Police, donning riot gear and driving armored vehicles, clashed with activists as demonstrations against a controversial North Dakota oil pipeline reached a new peak early Friday.
Authorities had arrested 141 protesters by midnight (1 a.m. ET), culminating a more than six-hour standoff over the stretch of private land in the pipeline's path, the Morton County Sheriff's Department said in a statement.
The scene at the Cannonball Ranch, located near the capital city of Bismarck, devolved into chaos throughout Thursday.
Demonstrators blockaded roads and bridges by setting fire to bales of hay and construction equipment. The sheriff's department said at least seven protesters used "sleeping dragon" devices, which typically involve PVC or other pipe, to physically latch themselves onto vehicles and large concrete. According to police, some protesters threw rocks and improvised fire bombs as law enforcement officers closed in.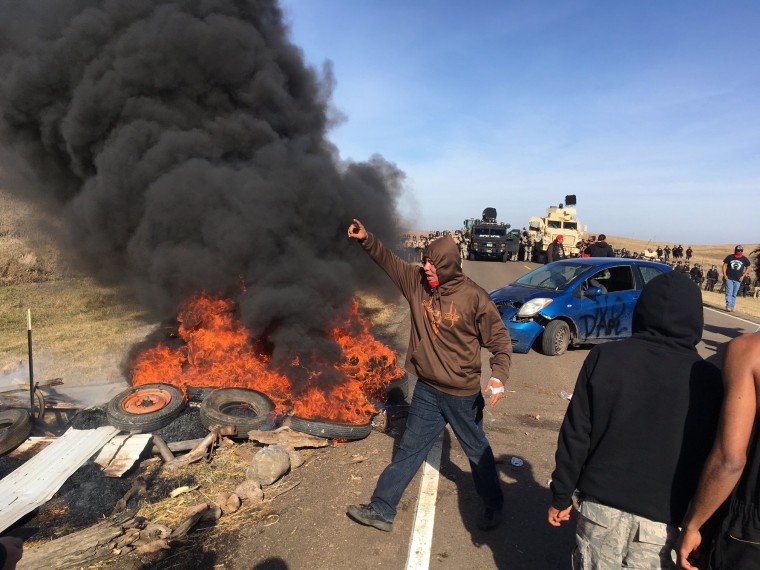 One woman fired three shots from a revolver at police, an emergency services official said. No one was hit.
More than 200 police officers responded to the demonstrations, many using pepper spray and firing bean bags on protesters. They used a long-range acoustic device with a high-pitched tone to disperse the crowd. Meanwhile, Humvees and buses roamed the scene as two helicopters and an airplane scanned the operation from the air.
Authorities said an escalation from activists who were building encampments on private land, left them no choice but to intervene.
"We're trying to avoid confrontation. But they drew the line in the sand today," Cass County Sheriff Paul D. Laney told reporters Thursday.
The chairman of the Standing Rock Sioux Tribe criticized law enforcement's "militarized" response to the camp, and told NBC News Friday that the tribe was working diplomatic channels at the United Nations with an extraordinary request: a deployment of U.N. peacekeepers to Cannon Ball "to serve as witnesses to the actions of local law enforcement."
"We are reaching out to the U.N. because the state government of North Dakota has abandoned us and the federal government in Washington, D.C., has refused to recognize signed land treaties with our tribe," Dave Archambault said.
Last month, Archambault addressed the U.N. Human Rights Council in Geneva, Switzerland, in a bid to gather international opposition to the pipeline.
Related: Standing Rock Pipeline Fight Draws Hundreds to North Dakota Plains
The clashes became increasingly violent Thursday. Protesters on horseback galloped toward the law enforcement line before wheeling around and some had begun throwing objects at the officers, North Dakota State Emergency Services Spokeswoman Cecily Fong told NBC News.
"They've definitely escalated, they're throwing rocks and debris," she said, adding that a handful of officers suffered minor injuries.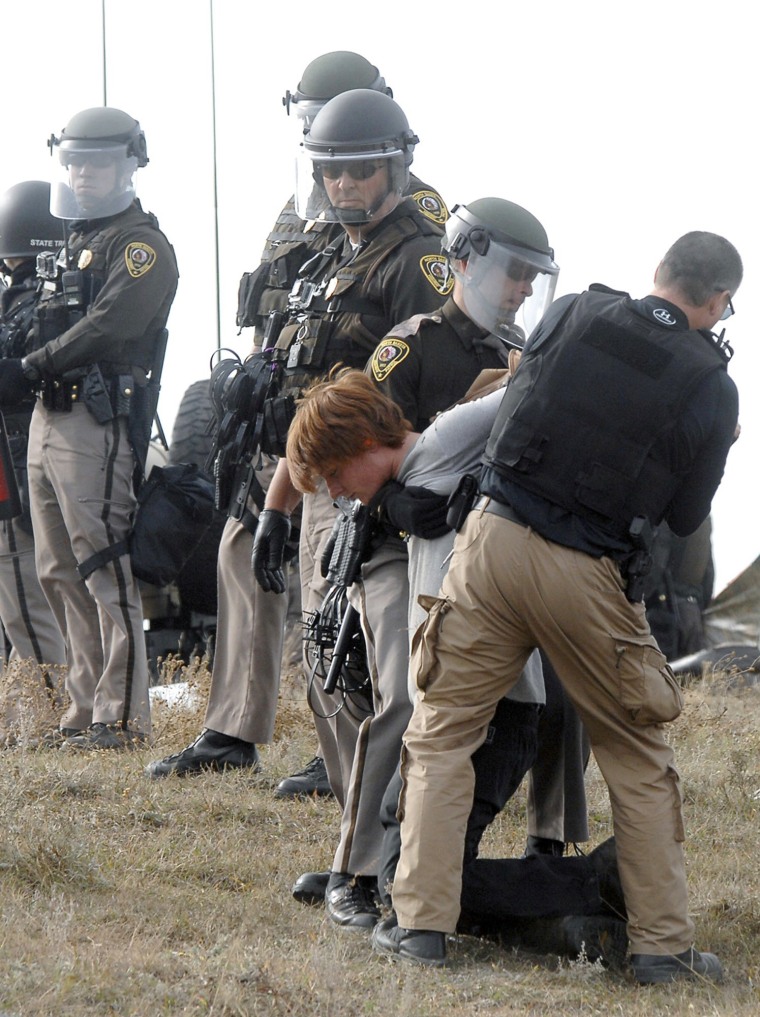 The protesters, comprised of a group that includes Native Americans and environmental activists, had been camped on private property since Sunday near the $3.8 billion Dakota Access Pipeline, near the town of Cannon Ball.
"We have to stop this pipeline for the protection of all of us."
The 1,172-mile pipeline would run within a half-mile of the Standing Rock Sioux reservation. Opponents of the project say the pipeline could adversely impact drinking water and would disturb sacred burial sites.
"The question I ask is, what lengths in North Dakota willing to go to defend a multi-billion dollar oil corporation?" Dallas Goldtooth, a protester, told TODAY. "This has to stop. We have to stop this pipeline for the protection of all of us."
Demonstrations at the site have garnered widespread national attention, attracting celebrities and prominent activists to join the cause, including Oscar-nominated actor Mark Ruffalo.
Teenagers and children are among those peacefully protesting, Ruffalo told MSNBC's Lawrence O'Donnell.
"They're young people, 15-year-old girls, getting maced in the face today, rubber bullets in the face today," Ruffalo said Thursday evening. "They asked the young people to leave today, they said, 'No, we're going to fight for our lives, we're fighting for our water. This is a second genocide for us.'"
"I looked in their eyes. I knew what their intent was," he added. "They're not there to hurt anybody. They're there to protect their land."
Oil refiner Phillips 66, which owns 25 percent of the project, said Friday it expects a permit will be granted to build the controversial pipeline.
"There's not that much left to be finished once we get the easement to go underneath the Missouri River," Chief Executive Officer Greg Garland told analysts on a conference call. "So I think that can be wrapped up in relatively short order."
Hillary Clinton's campaign weighed in on the protests Thursday evening.
"Now, all of the parties involved — including the federal government, the pipeline company and contractors, the state of North Dakota, and the tribes — need to find a path forward that serves the broadest public interest," campaign spokeswoman Xochitl Hinojosa said in a statement.
Hundreds of protesters from Standing Rock and other tribes have set up camp for months in protest a few miles away from where Thursday's confrontation occurred, close to where the Missouri and Cannonball rivers meet.
The protesters had created a camp in the pipeline's path on private property known as the Cannonball Ranch on the side of the highway and set up the roadblocks along on Sunday.
Highway 1806 remained closed Thursday between Fort Rice and Cannon Ball, according to the sheriff department's statement. Various counties, cities, state agencies and out-of-state law enforcement were helping the Morton County Sheriff's Department, the statement said.