STANDING ROCK, N.D. — Phone service is unreliable on the wind-whipped prairie north of the Standing Rock Sioux Indian Reservation in North Dakota. The nearest WiFi is at the Prairie Knights Casino 10 miles south of Cannon Ball.
But connectivity issues haven't stopped the thousands of Native Americans, environmentalists and others who pass through the camp from broadcasting their fight against the construction of the controversial Dakota Access Pipeline live to the world on social media.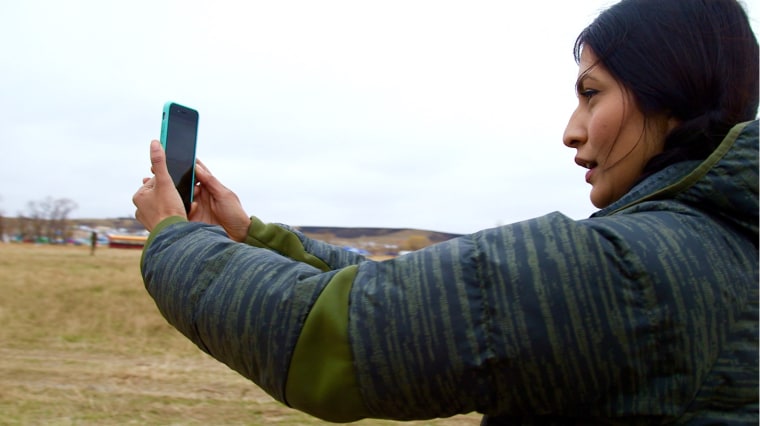 "It's just been escalating to that point where we have to use our phones to just show our side of our story," said E'sha Hoferer, 27, squinting into the mid-day sun on one of the season's dwindling warm days.
"I was just another protector with a camera, my video camera and my smart phone. And technology has been very vital in our fight here," said Hoferer, a member of the Walker River Paiute Tribe who has discovered that his mission is documenting the struggle.
His work and that of many others is being beamed and streamed into homes around the world.
Related: Seven Things to Know About Dakota Pipeline Protests
Videos recording violent clashes between police and protesters have attracted upwards of 4 million views on Facebook alone, and Hoferer says he's receiving support from across the globe.
"I'm getting messages from Australia, New Zealand, Europe, Asia — you name it," he said.
Like many others, Hoferer refers to himself as a water protector, reflecting his goal of halting construction of the Dakota Access Pipeline which would cut across the Missouri River. The Missouri is the main source of drinking water for the Standing Rock Sioux tribe, among others, and serves tens of millions in cities downstream.
Hoferer and other protesters are calling on elected officials to halt the construction of the nearly completed, $3.8 billion pipeline that is meant to carry North Dakota oil through South Dakota and Iowa to a shipping point in Illinois.
Hoferer was broadcasting live on Facebook on Oct. 27 when the Morton County Sheriff's Department forcibly removed hundreds of demonstrators from their camp in the track of the pipeline's construction. Standing as close as he could to the "frontline" without losing signal, Hoferer's Facebook Live carried an audience of more than 30,000 people then and has been watched more than 200,000 times by Saturday morning.
His viewers watched as police in riot gear forced demonstrators down onto the ground in handcuffs, and as Hoferer's fellow water protectors refusing to give up their camp.
"We have our cameras and our prayers, that's all we have," he shouts at one point in the video in response to a claim that a protester fired a weapon.
"No child in America should feel like they don't matter, and so because of social media, this message is being spread across the world."
Later he warns: "The world is watching."
Hoferer has now created a media collective called '1N' or '1NTV' with other young, camera-savvy colleagues, and they regularly broadcast live on Facebook when protests or actions are planned, or when there's an update from camp.
"We're all in part of this media team that collectively we all want the same thing," said Hoferer. "Get this media out and hopefully stop the black snake," he said, referring to the oil pipeline.
Another member of this team is known as Twenny.
"The truth needs to be told," said Twenny, who identifies as Purepecha and hails from Los Angeles. "If it doesn't come from us, then no one is ever going to know the story for what it really is."
His Facebook Live videos garner tens of thousands of viewers who have told him how emotional it is to watch the movement play out live from home.
The Facebook Live tool launched to most users in January of this year. In just those several months, it has allowed people to share their most personal and sometimes harrowing, live experiences.
The company is well aware of how powerful the platform is in events that unfold live.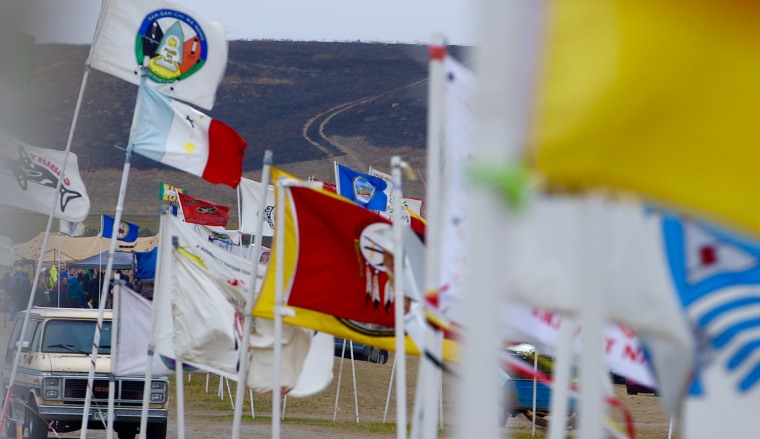 In a statement, a Facebook spokesperson said, "While some of what we've seen broadcast can be heart-wrenching and difficult to watch, we're also really humbled by the fact that Live is being used to give people a voice and to shine a light on key issues in our society."
Marilyn Fox, 18, who is a member of the Standing Rock Sioux, relies on platforms like Facebook to "set the record" about the movement.
"For the most part correcting that information is a lot easier because you can just share, share, share," she said in an interview with NBC News, standing atop what's known as "Facebook Hill" or "Media Hill" because it's one of the few places in camp with reception.
"Any social media platform that's popular, we are using it to get the message out, to provide our own narrative, to tell our own stories," said Simon Moya-Smith at the Oceti Sakowin Camp, as it is known by the water protectors camping there. "Facebook, Twitter, Instagram, Snapchat, anything we can to get the message out there," said Moya-Smith, an editor at Indian Country Today.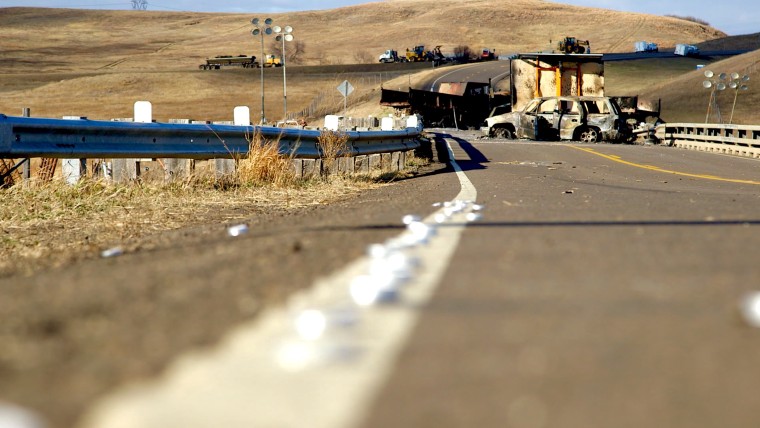 "People are wondering why these are big issues now," he added, referring to the concerns that the oil pipeline would desecrate sacred sites and burial grounds, as well as threaten drinking water. "They've been big issues. The only thing that's new is the technology, is social media."
Tinsel Korey, 36, is an Ojibwe actor, best known for her role in the Twilight series. She used her huge social media following — she has nearly 90,000 followers on Twitter alone — to spread the word about the "#NoDAPL" movement.
Korey says sharing from within the movement is vital, because of what she sees as a lack of mainstream media coverage.
"I spoke to a youth and she said, 'They don't care about us,'" said Korey. "That's sad. Our children shouldn't feel like that. No child in America should feel like they don't matter, and so because of social media, this message is being spread across the world."