The Standing Rock Sioux Tribe will keep fighting the controversial Dakota Access Pipeline after a federal court rejected its request to halt construction on the project, which the tribe says would destroy some of its sacred sites, the tribe's chairman told NBC News on Sunday night.
In a two-page ruling, the U.S. Court of Appeals for the District of Columbia Circuit rejected the tribe's request for a permanent injunction to block the $3.7 billion, 1,170-mile pipeline, which would transport 470,000 barrels of oil a day across four states. The pipeline would run within a half-mile of the tribe's reservation, which straddles the North and South Dakota border.
The ruling allows Energy Transfer Partners — the Dallas-based company funding the project — to move forward with construction of the pipeline on all privately owned land up to the Missouri River. Construction had been halted by a temporary injunction issued in late August, which prohibited construction 20 miles east and west of the river, the tribe's main water source.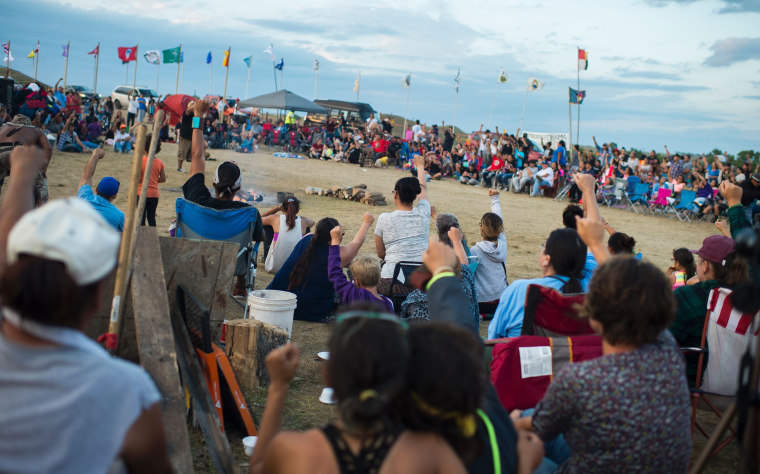 Tribal Chairman Dave Archambault II called the ruling "disappointing," but he told NBC News: "We aren't done with this fight."
For months, thousands have joined more than 300 federally recognized American Indian tribes at Cannon Ball, N.D. — the site of the Oceti Sakowin Camp — to protest the pipeline.
The protests forced a halt in construction in late August after the Standing Rock Sioux sued the U.S. Army Corps of Engineers, which has jurisdiction over the land, arguing that it did not adequately consult with them before granting Energy Transfer Partners fast-track approval in July, as required under the National Historic Preservation Act.
The court's ruling acknowledged that it was "not the final word," noting that the final decision lies with the Corps of Engineers. While it said the tribe hadn't met the strict requirements of the act to force a halt to construction, the three-judge panel said it "can only hope that the spirit" of the act "may yet prevail."
That note, Archambault said, is the court's signal "to not proceed" with the project.
"It seems they are coming to the same conclusion as the federal government in acknowledging there is something wrong with the approvals for the pipeline," he said. "We see this as an encouraging sign."
Last month, the Army Corps, the Justice Department and the Interior Department announced that they would not allow work to proceed on federal land near or under the Missouri River, pending more reviews of previous environmental decisions. That decision, the court said, "is likely weeks away."
An Energy Transfer Partners spokesperson could not immediately be reached for comment.