The estimated 2 to 3,000 protesters camped out in Cannon Ball, North Dakota, to protest the controversial Dakota Access pipeline must immediately evacuate, North Dakota Gov. Jack Dalrymple declared Monday night.
Dalrymple said the camp's semi-permanent shelters were not "suitable for winter habitation" in accordance with state building codes.
The order immediately threw the Standing Rock Sioux's months-long fight to stop the Dakota Access pipeline into possible disarray.
Related: Dakota Pipeline Protesters Vow to Stay Despite Army Corps' Order
A source close to Standing Rock Sioux Chairman Dave Archambault II told NBC News that they worried the order "could put lives at risk" if protesters and activists — who refer to themselves as "water protectors" — were forced to immediately leave the camp in sub-freezing temperatures.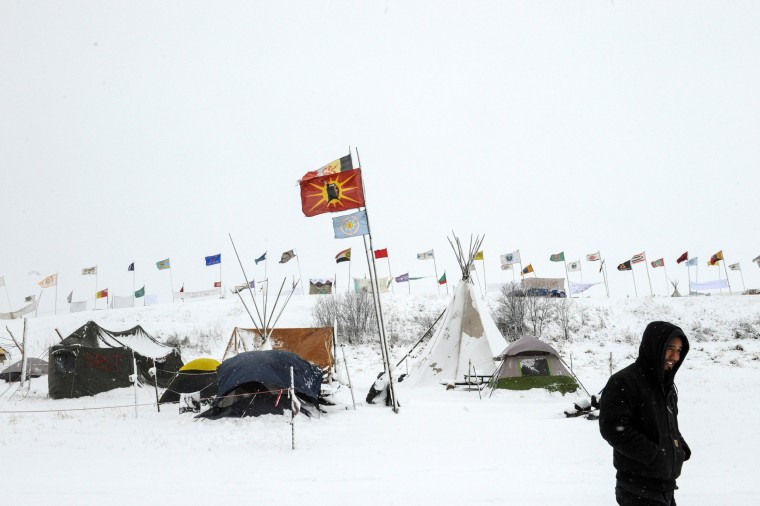 The camp is located on a slice of land at the confluence of the Cannonball and Missouri Rivers, and is under the jurisdiction of the U.S. Army Corps of Engineers.
In his executive order, Gov. Dalrymple recognized the land was under federal, not state, control but cited his power under the North Dakota Disaster Act of 1985 as the state's top elected official to protect citizens in "the best interest of public safety."
The law allows the governor to "direct and compel" evacuations from any area in the event of a natural or man-made disaster.
The U.S. Army Corps of Engineers did not issue an immediate response to the governor's order.
The order appeared to be a means to protect the state from liabilities of any kind, said Jennifer Cook, Policy Director for the ACLU in North Dakota.
Cook questioned how effective the order could be, however, given that a spokeswoman for North Dakota's Department of Emergency Services said that the state would not call on law enforcement or the National Guard to enforce the order.
"They are clearly going to deny the protesters the right to emergency treatment so this is a way of protecting the state from any civil liabilities, specifically," Cook told NBC News. "The other intention of the order is clearly to stifle free speech and the right to peacefully assemble, which we find to be deeply concerning and possible infringements on protesters' First Amendment rights."