A 21-year-old woman is undergoing surgery and may lose her arm after she was hit with a projectile in clashes with police near the Dakota Access Pipeline construction site, according to her father.
Sophia Wilansky joined the pipeline protest three weeks ago and was bringing water to fellow activists — who call themselves water protectors — when she was hit by a concussion grenade, according to the Standing Rock Medic and Healer Council.
"She was trying to protect herself with a shield and the shield was falling down so she reached to grab it, and they threw the grenade right at her," Sophia's father, Wayne Wilansky, said in a phone interview from the Hennepin County Medical Center in Minneapolis, referring to police. "The force of the explosion blew the bone out of her arm and all of the arteries and all of the muscle that supports her arm. It just blew out."
Related: Dakota Pipeline Protesters Soaked With Water in Freezing Weather
Wilansky said FBI agents were on site at the hospital and gathered his daughter's clothing and her cell phone "for evidence."
An FBI spokeswoman said they could "neither confirm nor deny the existence of an FBI investigation."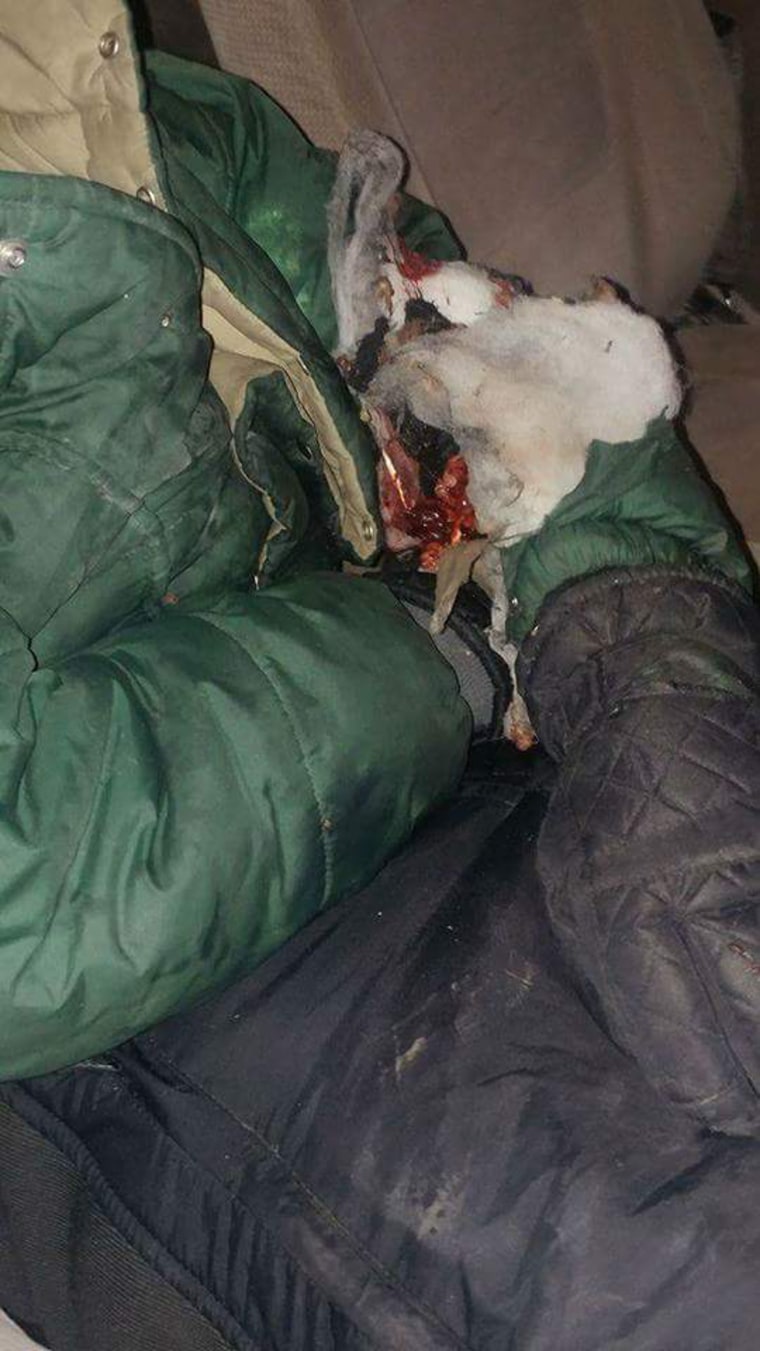 Police officials claim that they did not fire concussion grenades at her and insist that she was injured in some other way.
In a statement, Highway Patrol Lieutenant Tom Iverson said that Wilansky's injuries were "inconsistent with any resources utilized by law enforcement and are not a direct result of any tools or weapons used by law enforcement."
Standing Rock Sioux Tribe Says Police Used Excessive Force
An estimated 300 protesters were injured Sunday night and early Monday morning when police in riot gear sprayed water from a fire hose mounted on an armored vehicle. Video posted live on Facebook and later on social media showed protesters being hosed down with water, even as temperatures dipped to a frigid 23 degrees Sunday night.
In a press conference Monday, Morton County Sheriff Kyle Kirchmeier said that the fire hoses were used on the assembled protesters because they were "acting very aggressively towards the officers."
Kirchmeier said fire hoses were not a "normal" crowd tactic for his department, but they were used because, "We're not just gonna let people and protesters in large groups come in and threaten officers. That's not happening."
In a statement to NBC News, Standing Rock Sioux Chairman Dave Archambault II called Wilansky's injuries "the direct result of excessive force by police."
"There was no reason to launch an attack against water protectors at the camp in the middle of the night unless you wanted to try and prevent the media from seeing what you were doing," said Archambault. "Blasting these innocent people with concussion grenades, rubber bullets the size of baseballs and a water cannon in freezing weather was a deliberate act of terror sanctioned by the Sheriff."
On Sunday evening, the Morton County Sheriff's Office said the water from the fire trucks was used only to put out fires, but Sheriff Kirchmeier backtracked Monday saying: "Some of the water was used to repel some of the protest activities."
Despite video posted on social media showing protesters being doused with continuous streams of water, he also claimed the water was "sprayed more as a mist and we didn't want to get it directly on them but we wanted to make sure to use it as a measure to keep everybody safe."
Violence Erupted Because of Highway Roadblock
The conflict erupted Sunday night after activists from the Oceti Sakowin water protector camp near the Standing Rock Sioux Indian Reservation attempted to remove a barricade on a bridge that has been in place since late October. The bridge is on Highway 1806 just down the road from the Dakota Access Pipeline's construction site. Iverson told local station Valley News Live that law enforcement moved in because those protesting have "made it very well-known that their intent is to move north to that pipeline corridor to trespass on that property, disrupt construction of that."
Civil rights advocates don't think there was justification for the force.
"Even if law enforcement cites traffic or safety concerns or future unlawful behavior, it doesn't justify a roadblock for weeks on end for a lawful protest," said Jennifer Cook, Policy Director for the ACLU in North Dakota. "While there may be some protests that are intent on civil disobedience or trespassing, the road block in itself acts as a prior restraint on speech and the freedom to assemble."
Linda Black Elk, a member of the Standing Rock Medic and Healer Council who treated protesters for injuries and hypothermia Sunday, said the roadblock was an inconvenience and posed a risk for emergency personnel trying to access the protest camp. "People were first soaked down with tear gas and then sprayed with a bunch of water," Black Elk said Monday.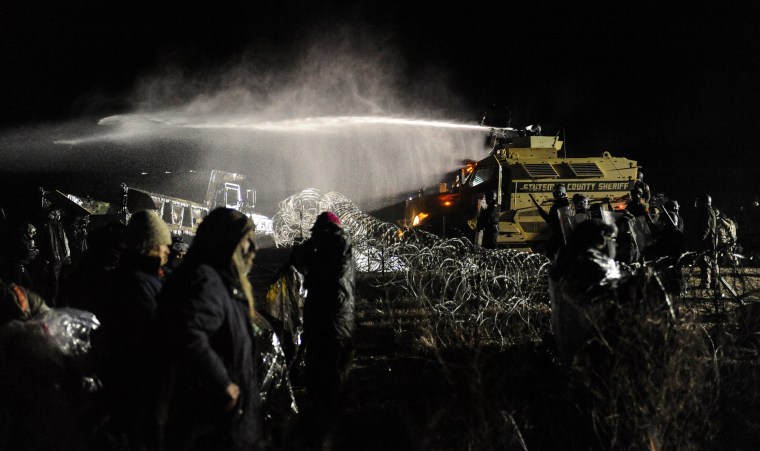 Cheyenne River Sioux Tribal Chairman Harold Frazier, who says he was hit with tear gas at the protest in the clashes, said he didn't see "any aggression from the people" or attempts to cross the police barricade. "People were just trying to get out and avoid being sprayed," he said.
The Morton County Sheriff's Department described Sunday's events as a "riot," and formed a line of officers there to prevent protesters from "breaching the bridge" and proceeding north towards the pipeline's construction site.
Chairman Frazier questioned why law enforcement sought to block protesters from moving north. "How can we be trespassing on our own land? Particularly on that bridge — that's federal land," said the Chairman.
Law Enforcement Says Explosion Was Protester's Propane Cylinder
Sheriff Kirchmeier said officers heard an explosion on the south side of the bridge and later recovered propane cylinders from the area, suggesting that protesters were rigging the canisters for explosives to use on officers. Wilansky called the claim "completely nonsensical."
"They didn't have any canisters of any kind," said Wilansky, noting that his daughter's surgeon removed shrapnel from her arm. "They were just fleeing the bullets and blasts of cold water," said Wilansky,
"She saw them throw it right at her," said Wilansky. "We have pictures of the grenades. There is no question as to what happened."
The Standing Rock Medic and Healer Council released graphic images of his daughter's injured arm to NBC News, but not any photographs of the grenades he described. The photographs show exposed muscle and bone from Sophia Wilansky's left arm.
Mr. Wilansky said his daughter was also hit 14 times with what he thought were rubber bullets. "They create huge welts. They're all over her body," he said.
The Morton County Sheriff's Office maintains that no rubber bullets were used by law enforcement Sunday evening, despite reports from protesters to the contrary. In a statement, Morton County said law enforcement used bean bags and sponge rounds when protesters refused to leave the Backwater Bridge north of the protest camp.
They also released photos of what the Sheriff's Office described as "improvised weapons:" a rock, sock filled with rocks, and a small propane tank that police reported finding near the Backwater Bridge. One police officer was hit in the head by a thrown rock Sunday evening, according to the Morton County Sheriff's office.
Wilansky faces several surgeries over many months, but even with her severe injuries, she urged her father:
"Please go out there and say it's not about me. It's about the indigenous peoples — what's happening to them."