Vermont Senator Bernie Sanders and four other senators on Thursday asked President Barack Obama to stop the controversial Dakota Access Pipeline, just days after more than two dozen protesters were arrested at a construction site in North Dakota.
In a two-page letter, the senators called on the president to suspend the project's permits and to halt all construction until "a complete environmental and cultural review" could be completed. The letter urged the president to intervene in light of Sunday's federal appeals court decision that denied the Standing Rock Sioux Tribe's request to halt construction of the 1,170 mile pipeline.
The Obama administration stepped in after the ruling Sunday and requested that Energy Transfer Partners — the Dallas-based company funding the $3.7 billion project — voluntarily stop all construction until the government finished its current review. The company, the senators noted, ignored that request.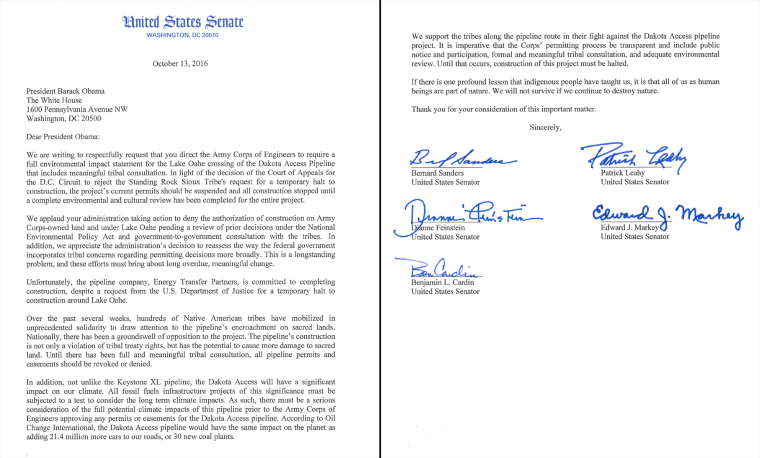 In a statement to NBC News, an Energy Transfer Partners spokesperson said the company was "pleased" with Sunday's decision and that "Dakota Access looks forward to a prompt resumption of construction activities east and west of Lake Oahe on private land." The spokesperson refused to comment on the senators' letter.
The senators — Sanders, I-Vt., Patrick Leahy, D-Vt., Dianne Feinstein, D-Calif., Benjamin Cardin, D-Md., and Edward Markey, D-Mass. — called for further research into the pipeline's "potential climate impacts", citing data provided by Oil Change International, an advocacy organization.
"The Dakota Access pipeline would have the same impact on the planet as adding 21.4 million more cars to our roads, or 30 new coal plants," the senators said.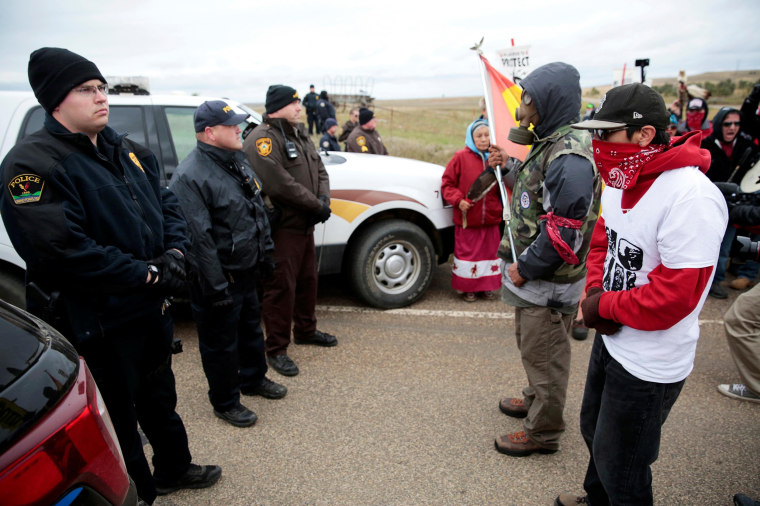 In a statement to NBC News, Standing Rock Sioux Chairman Dave Archambault II said the senators "join nineteen members of Congress, nineteen city governments, more than 300 tribes and millions of people in calling for a stop to construction of the Dakota Access Pipeline."
The pipeline again garnered international attention this week after more than 100 heavily armed police on Monday raided a peaceful gathering of 300-400 protesters at a construction site 20 miles from Cannon, Ball, N.D. — the site of the Oceti Sakowin Camp. The protesters had assembled to celebrate the holiday, which many Native Americans refer to as Indigenous Peoples Day.
In a statement to NBC News, Morton County Sheriff Kyle Kirchmeier contested the groups' claim that the protest was a peaceful one. "The individuals were involved in criminal activity by attaching themselves to equipment and trespassing on private property." Kirchmeier said.
NBC News spoke to two protesters who were present. Vic Camp, an Oglala Sioux activist, was among the 29 arrested. Camp was charged with criminal trespassing and engaging in a riot and forced to post a $500 bond to leave jail. If convicted, Camp told NBC News he faces upwards of 30 days in jail and a $2,000 fine.
He said the police response was unwarranted but that it would not deter the protesters' efforts to ultimately stop the pipeline.
"This is a David vs Goliath story." Camp told NBC News. "And we're going to win."