CANNON BALL, N.D. — For months, Dustin Monroe has made the 11-hour drive from his home in Missoula, Montana, to this remote part of the frozen North Dakota plains to bring supplies and support to the thousands protesting the controversial Dakota Access Pipeline.
The Oceti Sakowin camp has become a second home, a place that has given him a new purpose.
As a Native American U.S. Army veteran, Monroe, 35, has for years struggled with regret. He struggled with fighting in the Iraq War for a nation that had displaced millions of his people. When he was deployed in Iraq, he says, he noticed the parallels between Iraqis and Native Americans.
Both, he said, had suffered for centuries from colonial rule, brutal military occupations and loss of their land through re-written borders. For Monroe, the fight at Standing Rock to protect the Standing Rock Sioux Tribe's sacred lands and water was an opportunity to right those wrongs.
"I'm able to forgive myself now for some of the stuff that went on in Iraq," Monroe said. "Feels good now that I'm forgiven and when I go to the other side and I cross the other side that I can be proud of this life I lived."
On the first weekend in December, Monroe was one of the more than 2,500 veterans who descended upon the camp vowing to act as "human shields" against any possible clashes between demonstrators and law enforcement.
The U.S. Army Corps of Engineers, which has jurisdiction over the land, had ordered a mandatory evacuation on Monday, Dec. 5 for the nearly 10,000 people at the camp because of worries about the plunging temperatures.
The veterans came despite requests from the Morton County Sheriff's Office and a group of North Dakota-based counterparts who asked they not join the protests. Monroe joined the National Guard after high school in 2000 and after 9/11 he signed up for active duty.
"A lot of Native veterans are like, 'Why the hell did we serve when they are just going to come and do this to us here?'" Monroe said.
On Sunday, just one day before the Corps deadline, Monroe and the thousands of Native Americans and climate activists — who call themselves water protectors — received unexpected news: the Corps had denied a permit to Energy Transfer Partners, the Dallas-based company financing the 1,172 mile pipeline, to cross the Missouri River.
The camp erupted in cheers. Men and women danced. There were tears.
Monroe, meanwhile, was stoic. After looking at the news on his phone, he raised his head to look out at the camp. No celebrations were in store.
Related: Dakota Pipeline Was Denied After Engineers Recommended Approval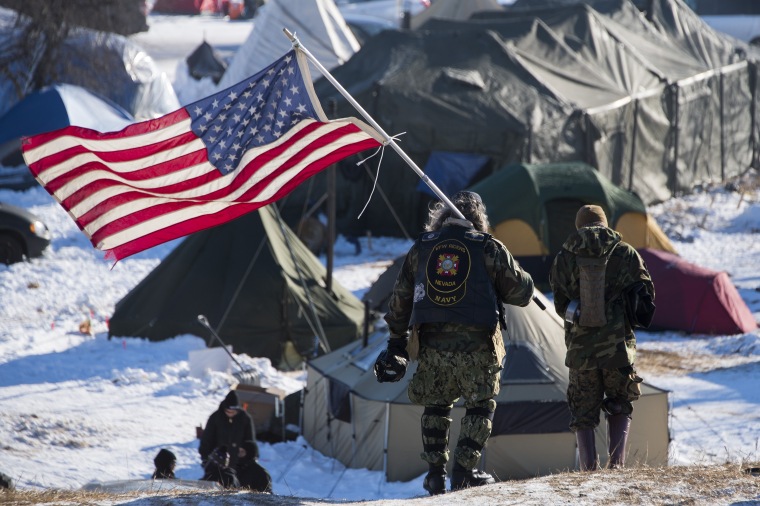 Like many Native Americans, Monroe remained distrustful of the decision and cognizant of the reality that it could be reversed by a Trump administration.
He said he has no plans to give up the fight.
"This is the first time that all the tribes in America have ever come together," Monroe told NBC News. "We have to stand our ground."
As a member of the Nakoda tribe, Monroe's roots trace back to Cannon Ball. As his ancestors fought foreign invaders to save their land from dispossession, Monroe says he and his peers fight with peaceful protest.
"We're fighting a spiritual battle," Monroe said. "And that's why we're winning."