CANNON BALL, N.D. — In this remote part of the frozen North Dakota plains, the Oceti Sakowin camp is a striking scene that stands on its own.
Medical tents here treat the ill or injured. Food stands feed and hydrate thousands. An ubiquitous odor from propane gas heaters spills out of the hundreds of semi-permanent structures that dot the rugged landscape.
And more than 350 flags of America's Indian Nations greet visitors as they enter, flying alongside "water is life" banners displaying messages of solidarity from places as far away as India and Japan.
Sitting on less than 50 acres of federal land, this bustling camp community is a refuge for those fighting a $3.7 billion pipeline project pitting people who fear it will destroy the environment against a Dallas-based energy corporation that wants to build it for transporting crude oil.
While the federal government has given the activists, which include Native American tribes members and non-tribes members alike, a Monday deadline to vacate the camp because of worries about the plunging temperatures, the protesters remain defiant.
PHOTOS: Pipeline Protesters Defy Winter's Chill
"We're here and we're not going anywhere," Aldo Seoane, a member of the Wica Agli Tribal Nations in South Dakota, told NBC News on Friday as he gathered around a fire near his small teepee that he's called home since early August.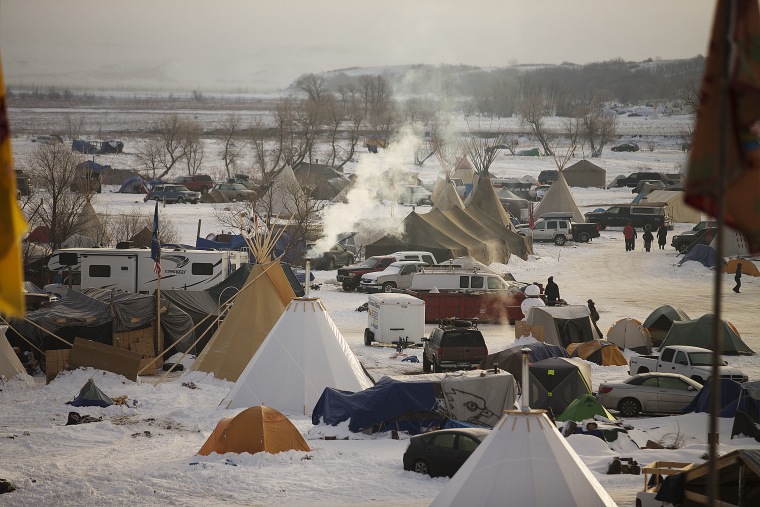 The camp sits at the confluence of the Missouri and Cannonball rivers where more than 5,000 people such as Seoane now reside — watching as an intensifying conflict over the future of the Dakota Access Pipeline brews all around them.
"We are our own community here and it doesn't matter what happens between Dakota Access, the governor or the sheriff or whoever because our movement is so much bigger now than just a pipeline," Seoane said, hinting at how the pipeline battle, which has garnered national attention, has opened a larger discussion on Native American rights.
Less than a half-mile from his teepee sits a blockade manned by an expansive force of law enforcement officers from Morton County and surrounding states who've blocked the Backwater Bridge going north on Highway 1806. It was the site of clashes in late October that resulted in over 140 arrests.
Moving further east alongside the signless border where the U.S. Army Corps of Engineers' land meets private property, there are dozens of floodlights that shine down on pipeline workers who work through the night and bitter cold to finish a pipeline that is now more than 90 percent complete.
"We're here and we're not going anywhere."
Their goal is to reach the banks of the Missouri where they then will have to cap the pipeline, pending an easement review being conducted by the Army Corps.
Related: Standing Rock Protest: Veterans Pledge to Protect Protesters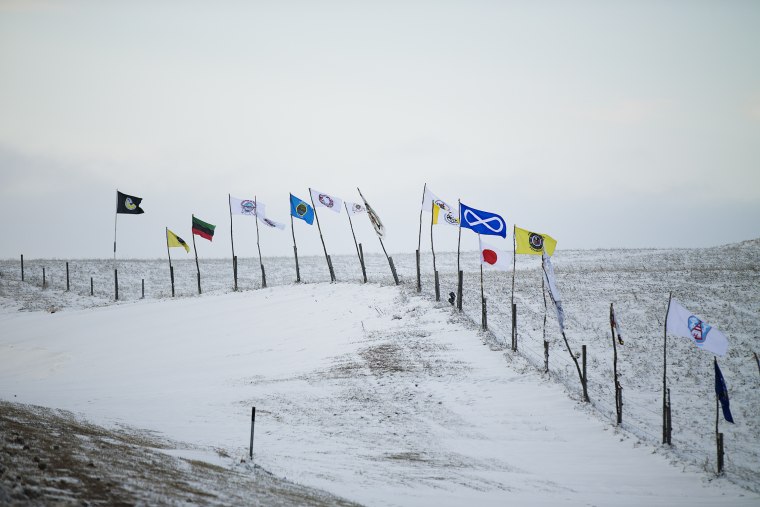 The Obama administration has on multiple occasions asked that Energy Transfer Partners, the company behind the project, voluntarily stop construction. The installation of hyper-beam lights here last month shows that request has been ignored.
Energy Transfer Partners CEO Kelcy Warren, who remained publicly silent on the pipeline for months as protests forced a halt in the pipeline's construction, told NBC News in an interview last month that he was "100 percent sure that the pipeline will be approved by a Trump administration," regardless of what the Army Corps ultimately decides.
Warren labeled most of the protesters near the Standing Rock Sioux reservation, who call themselves water protectors, as "violent mobs."
Warren appears to have the support of both Gov. Jack Dalrymple, who has urged the Obama administration to quickly issue an easement, and Morton County Sheriff Kyle Kirchmeier. For months, Kirchmeier has defended his department's actions against demonstrators despite reports of police brutality, unlawful arrests and mistreatment in jail.
"Law enforcement is not the aggressors here," Kirchmeier told NBC News. "We are only reacting to what protesters are doing against law enforcement."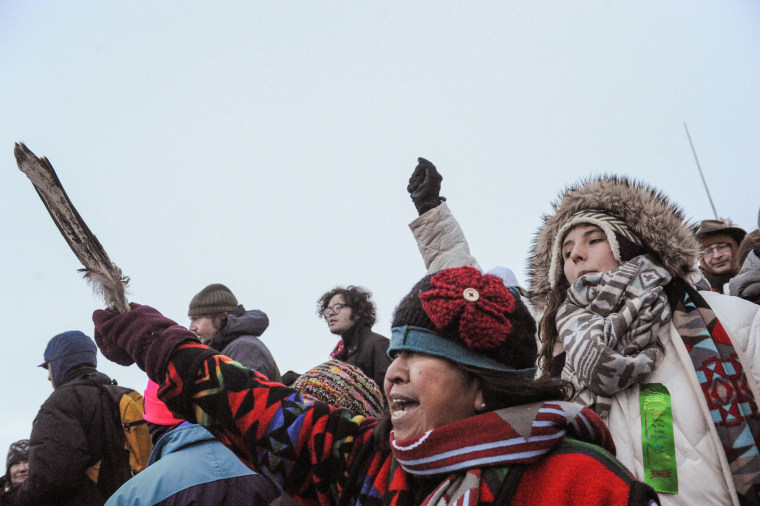 Like Kirchmeier, Standing Rock Sioux Chairman Dave Archambault II has held to his resolve that the pipeline would destroy his people's water supply and ancient sacred sites that date back 15,000 years.
"It poses a threat to our culture, our way of life, our land, our environment," Archambault told NBC News.
Back at the Oceti Sakowin camp, the warring between the governor's mansion and Standing Rock Sioux hasn't dampened the mood among the activists. But that could all change in two days, when the Army Corps has given an order that they must leave the camp over fears that lives will be jeopardized.
But one thing would remain: The view of the impending pipeline, easily visible just across the river.