Monday marked an emotional turning point for Dallas Police Chief David Brown.
For three days, he'd given the country stoic updates on an ambush that had killed five city officers. But now it was time to prepare for their funerals.
With the first service to be held Tuesday — along with a visit from President Obama — Brown said he hoped to find "a quiet place and get my head around" what was about to happen. "It's going to be the most challenging thing in my life, to be quite honest with you," he told reporters. "I don't know how I'm going to get through the week."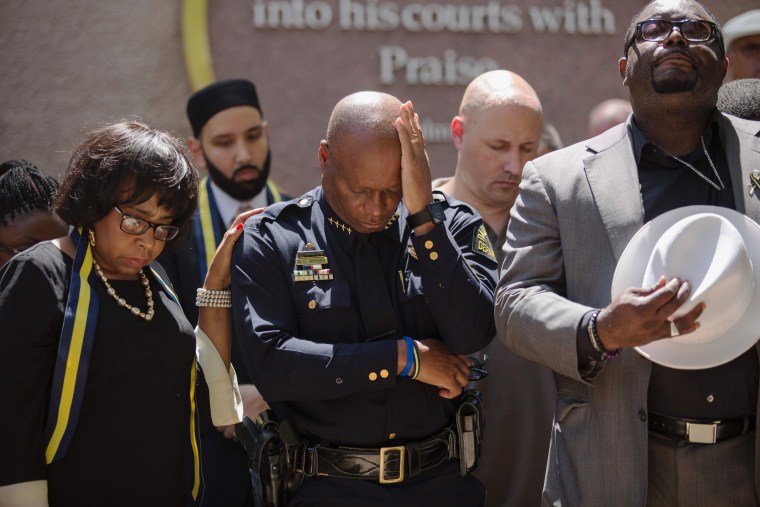 That kind of candor was remarkable for Brown, a devout, intensely private man known for his bluntly serious — and, to his critics, imperious — demeanor. Brown's sensitive, introspective side hasn't gotten much public exposure — not when his former partner was shot on the job, not when his brother was murdered by drug dealers, not when his troubled own son shot and killed two people, including a suburban cop, and was killed himself.
But the events of last Thursday night — when a gunman angered by prior police shootings took aim at cops at a downtown protest — forced some of his deepest feelings out into the open. As the face of Dallas police, and a black man who grew up fearing cops, Brown occupies rare space in a furious national divide, and has tried to show a path forward.
Related: Dallas Police Chief David Brown on Bombing Attack Suspect: 'I'd Do It Again'
In a strikingly personal news conference on Monday, Brown, 55, who has been chief since 2010, gave an impassioned defense of American police and his own efforts to strengthen police-community relations. He challenged protesters to become officers themselves, and complained that other parts of government have left it to police to solve myriad social problems.
"I have raw feelings about all of what we do, and don't ask me if you don't want the answer," he said.
His sense of duty traces from his decision in the early 1980s to leave college early and become a police officer after seeing what crack cocaine had done to his Oak Cliff neighborhood. He planned to become a lawyer eventually. But after being assigned to patrol his own neighborhood, he saw he could have a more immediate impact on the city he loved.
"I'm the kind of person that I probably wouldn't protest or complain," he said. "I get involved and do something about it by becoming part of the solution."
Brown excelled at a number of patrol assignments and plainclothes postings, including internal affairs and SWAT, and rose through the ranks. He did a yearlong stint as an assistant city manager before returning to the force in 2008 as first assistant chief.
In that job, he oversaw the department's crime fighting strategies during a historic drop in crime rates. That record helped win him the top job two years later.
In a revealing account shared with the Dallas Morning News, a city official recalled coming across Brown eating in a restaurant alone just before he was made chief. "You know I'm a loner, man," Brown was quoted as telling the colleague. "I don't run with nobody."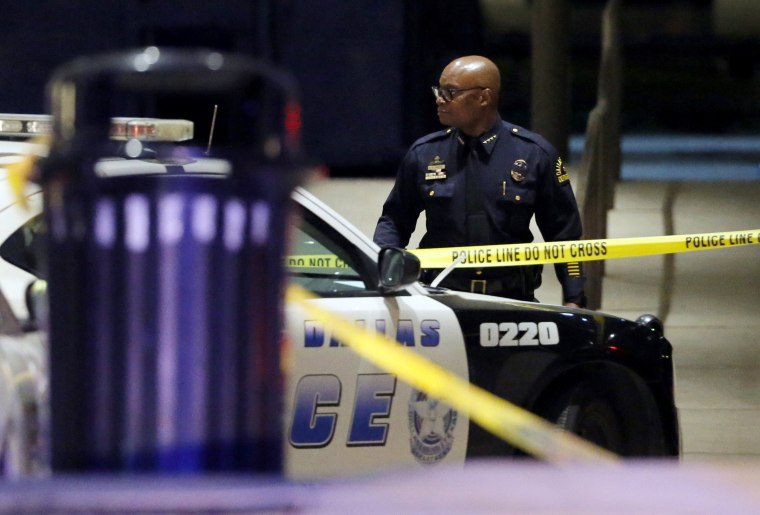 Seven weeks after being sworn in, his adult son, David Brown Jr., went on a gun rampage, shooting a stranger and a police officer the nearby town of Lancaster before being killed by police.
The chief's grief was deep and painful, but he betrayed only a little of it in public.
"This hurts so deeply I cannot adequately express the sadness I feel in my heart," he said in a statement. He visited the families of both victims. Then he went back to work.
He'd inherited a force that was, by many accounts, already running well. But Brown tweaked it to reflect his emphasis on a modern version of community policing, aimed at building trust between communities and police through public transparency, reforming the department's of use-of-force policies and cracking down on officer misconduct. The number of shootings by police and complaints of excessive force dropped, and crime continued to decline, albeit with a troubling uptick so far in 2016.
Related: Dallas Shootings Took Heavy Toll on Officers of the Southwest Division
Brown's approach drew national attention after the August 2014 death of Michael Brown in Ferguson, Missouri, reignited a national reform movement. But it also rankled many officers, and several of the city's police unions, who accused him of being overbearing and inflexible. Last fall, his opponents tried to have him fired, but the mayor and city manager backed him. Since weathering that challenge, Brown has called for increasing officers' pay.
Despite his emphasis on releasing information on police shootings and other high-profile cases publicly, Brown has a complicated relationship with the media. In recent days, he's used his national soapbox to chide reporters for disseminating unverified information, and has bemoaned the leaks of information by other police officials. After scheduling a number of one-on-one interviews with news outlets on Monday, he canceled them and held the press conference instead, saying he was too frazzled, and wanted to prepare for this week's funerals.
Related: Dallas Police Made Reform Efforts in Recent Years
Brown, who is bald and square-jawed and wears thick black-framed glasses, speaks openly of his Christian faith and how God has helped him deal with struggles and personal flaws. On Monday, he said he'd get through the current crisis the same way.
He has showed little self doubt, defending his department's detention of armed protesters as potential suspects and the use of a robot to deliver a bomb that blew up the attacker, Micah Johnson, 25.
Brown, who is divorced and remarried with a young daughter, revealed that he got a death threat on Facebook after the attack.
He spoke with concern about the widening rift between police and communities across the country. Despite Thursday's attack on officers, Dallas remains a model for the country, he said.
Asked how his officers would return to community policing with tensions so high, he responded: "With steel resolve. Bravery and courage. That's how they do it. And knowing that community policing makes them safer."
He's also showing them more of his softer side, he said. "You won't see me walking past an officer without grabbing them and hugging them, and shaking their hand and telling them how grateful I am for their commitment and sacrifice," he said.
He delivered a surprising message to the people marching against police around the country: send him your resumes.
"Get off that protest line and put an application in, and we'll put you in your neighborhood and we will help you resolve some of the problems you're protesting about," he said.
He offered himself as an example.
"I've been black a long time," he said. "It's not so much of a bridge for me. It's everyday living. I grew up here in Texas, third generation Dallasite. It's my normal to live in this society that has a long history of racial strife. We're in a much better place than we were when I was a young man here.
He continued: "We have much work to do, particularly in our profession, And leaders in my position need to put their careers on the line to make sure we do things right and not be so worried about keeping their jobs. That's the way I approach it."