At least three Baton Rouge police officers were killed and three others injured in a shooting Sunday morning — just hours after the last of the five officers killed in the recent attack on law enforcement in Dallas was laid to rest on Saturday.
These are the deadliest incidents for law enforcement officers in the United States since 1900. The data were compiled by NBC News and the nonprofit National Law Enforcement Officers Memorial Fund.
Related: A Look at Recent Shootings That Targeted Police
Sept. 11, 2001 — 72
Seventy-one officers — including 37 from the Port Authority of New York and New Jersey and 23 from the New York Police Department — die responding to the terrorist attacks on the World Trade Center in New York City. A U.S. Fish and Wildlife Service officer is also killed aboard United Airlines Flight 93 outside Shanksville, Pa., when he and other passengers try to retake the plane from hijackers.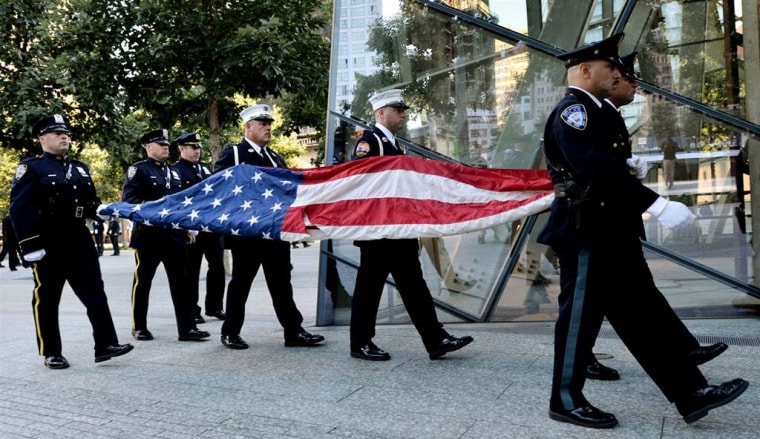 Nov. 24, 1917 — 9
A bomb at a police station kills nine Milwaukee police officers. The culprits, believed to be anarchists, are never caught.
April 19, 1995 — 8
Eight federal officers, including four Secret Service agents, are among 168 people killed when Timothy McVeigh and Terry Nichols bomb the Alfred P. Murrah Federal Building in Oklahoma City. McVeigh's execution in 2001 is the first federal execution in 38 years.
Oct. 30, 1950 — 8
Members of a nationalist party seeking to overthrow the government of Puerto Rico shoot and kill eight Puerto Rico police officers in San Juan, including Chief Aurelio Miranda-Rivera. The revolt is put down by the U.S. military, the FBI and the CIA.
Oct. 3, 1929 — 8
Thirteen people are killed in an inmate riot at the Colorado State Penitentiary in Canon City, including eight state corrections officers.
Jan. 2, 1932 — 6
Six officers from two Missouri agencies are killed as they surround a house where two suspects wanted in the murder of a Greene County marshal are holed up. The suspects flee to Texas and commit suicide when authorities track them down.
Dec. 31, 1972, and Jan. 7, 1973 — 5
Mark James Essex, a member of the Black Panthers who was discharged from the Navy for going AWOL, kills nine people in New Orleans, including five police officers, in two sniper attacks. Essex is killed later Jan. 7 by police sharpshooters who riddle his body with more than 200 bullets. Authorities find the walls of his apartment covered in anti-white graffiti.
July 8, 2016 — 5
One officer with Dallas Area Rapid Transit and four officers with the Dallas Police Department were shot and killed by a sniper while protecting an evening protest of police tactics. Micah Johnson, 25, an Army reservist who deployed to Afghanistan, was identified as the sole shooter. Johnson, who had no formal ties to any violent groups, was killed by a bomb strapped to a robot in the early hours the next morning after negotiations with police failed.
April 6, 1970 — 4
Career criminals Bobby Davis and Jack Twinning kill four California state troopers in a four-minute gun battle in Los Angeles County. Both men escape. Twinning commits suicide when authorities surround a house where he is holding a hostage; Davis is soon arrested and, almost three decades later, commits suicide at Kern State Prison.