Inside the inconsolable Dallas Police Department, one squad was particularly shattered by last week's sniper shootings: the Southwest Division family, where half of the 12 officers served.
Three of the five officers who were killed called the Southwest home: Lorne Ahrens, Michael Krol and Patrick Zammarripa. So do three of the seven who were wounded: Gretchen Rocha, Ivan Saldana and Jorge Barrintos.
Related: Dallas Police Ambush: These Are the Slain Officers
"There are no words" to capture the special bond and the grief among the officers, who formed a team, Maj. Thomas Castro, second in command of the division, said Sunday.
"It's just too much," Castro said, adding: "I personally knew each one of them. They were my go-getters, for a lack of better words."
Ever since the horrific attack Thursday night, the Southwest has seen a steady stream of visitors from the community it serves. Sunday, they included José and Priscilla De La Garza and their son, Evan.
It was important that "we come shake the hands of the police officers that protect us," said José De La Garza.
"A lot of times, they don't get the respect that they deserve," he said. "One of the biggest things, I think, that stands out to me is that when the bullets were flying, they're running towards the bullets — not away from them."
Priscilla De La Garza grew up locally, and while she didn't know the officers personally, "I feel I'm connected to them in some way," she said.
"We just said a little prayer for them, and we asked God to be with the families, and, you know, just look over their loved ones," she said. "They're going to be truly missed."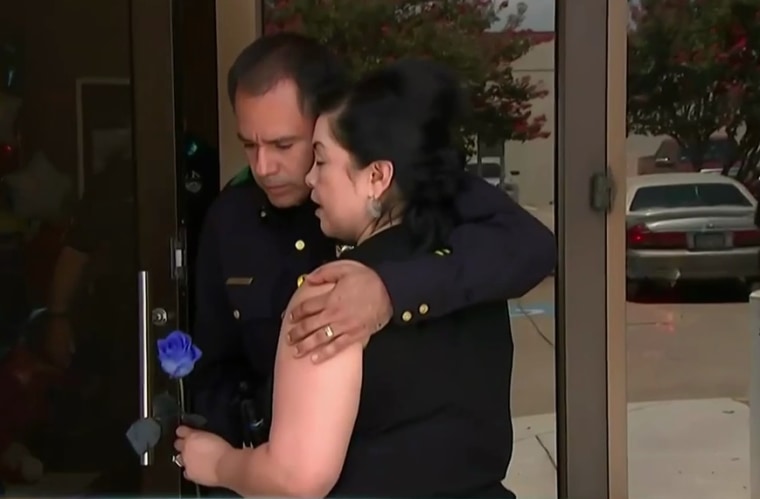 For the officers of the Southwest, "this is like losing a family member," said Don Gieseke, a volunteer chaplain with the nonprofit Crisis Response Ministries.
And as their grief envelops them, many have let the cracks in their hard professional facades show, he said.
It's hard to get "inside the shell" of a police officer, Gieseke said. "They're a bit cynical sometimes, and they're a bit afraid to let their emotions out. But what I saw just blew me away — seasoned veterans hugging each other, openly crying."
Each has his or her own way to cope, "and we saw every one of them displayed on Friday morning," he said.
The shootings Thursday occurred as a protest march was drawing to a close in the aftermath of police killings of black men in Baton Rouge, Louisiana, and Falcon Heights, Minnesota — events that again laid bare deep suspicions among African-American communities and law enforcement across the country.
Related: Suspect 'Wanted to Kill White People, Especially White Officers'
But on Sunday, Ministering Evangelist J.K. Hamilton and members of Church of Christ at Mountain View, a prominent African-American congregation in Dallas, made a point of showing their support for their local officers.
The congregation left memorials at division headquarters and convened a prayer service, where — black hand in white — they prayed for the victims.
"We have a partnership, and sometimes the troubles and woes that happen in society can put a rift in that," Hamilton said Sunday.
"I'm here to say — with the Mountain View family all here — that this does not put a rift in our relationship with the Southwestern Division," Hamilton said. "We're still praying with you and for you. We still intend on partnering with you on making this community, changing the dynamic of this community and making an impact on this community."
Hamilton lamented that "this thing has gotten to a place where nobody wins."
"But the Lord always wins," he declared. "And so we use the tool he's given us to cover you all, so that you'll be more covered than the bulletproof vests that you have to wear — you'll be covered by the grace of God."