Hillary Clinton now leads Donald Trump by 8 points, her highest advantage since the general election match-up question was first asked on May 2, according to the latest NBC News|SurveyMonkey Weekly Election Tracking Poll.
This week, Clinton enjoys 49 percent support of registered voters to Trump's 41 percent. Her 8-point margin over Trump grew from 6 points in last week's poll.
Clinton maintains a 6-point advantage over Trump—42 percent to 36 percent—when Libertarian candidate Gary Johnson and Green Party candidate Jill Stein are included as choices in an alternative version of the horse race question, according to the poll, conducted online from June 20 to June 26.
Although the Weekly Election Tracking Poll indicates that Clinton is picking up considerable momentum against Trump, Republican and Republican-leaning voters are rallying behind their party's presumptive nominee and rejecting the "Stop Trump" movement. A large majority of Republican voters would like to see Trump nominated at the Republican convention.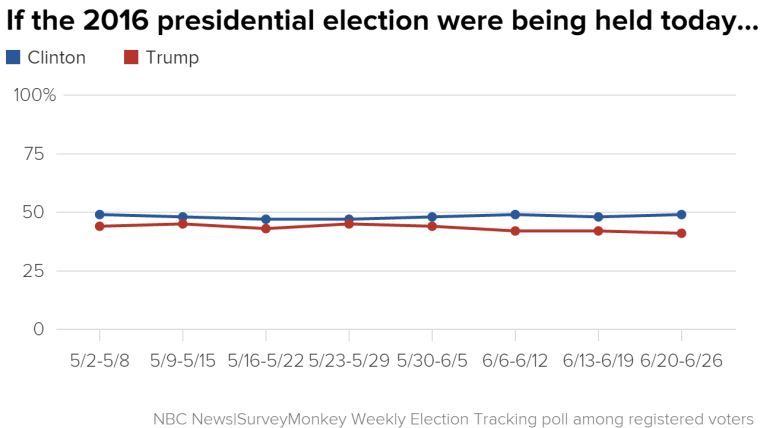 There has been a lot of talk among Republican Party elites and political pundits about whether the Republican Party should retain Trump as the nominee or move to nominate a different candidate at the convention. A majority of Republican and Republican leaners—67 percent—said if it were up to them, they would have the delegates nominate Trump at the Republican convention. Three in 10 Republicans said they would open the convention and choose another candidate.

The strong support for Trump's nomination comes during the same week that prominent U.S. evangelical James C. Dobson met with the presumptive nominee. Trump caught criticism from several religious conservatives in the early days of his primary campaign because he had apparently never asked for God's forgiveness and could not name his favorite Bible verse despite it being his favorite book. Though Trump went on to win white evangelical voters during the primaries, Ted Cruz remained competitive with him throughout the election and actually did better than Trump among voters who attend church frequently. Dobson spoke positively of Trump after the meeting.
In this week's poll, Trump leads Clinton among white evangelical voters by 53 points—72 percent to 19 percent. He has consistently dominated Clinton by large margins among that group.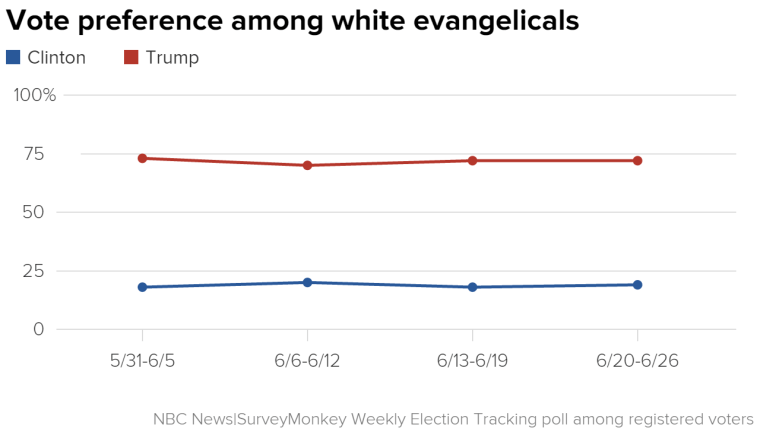 While it seems many Republicans are united in their approval of Trump's nomination, he did fall nationally against Clinton this week. Some of Clinton's momentum can be attributed to gains among white voters and millennials. After murmurs from Sanders that he will most likely vote for Clinton in November, the presumptive Democratic nominee enjoyed an 8-point boost among 18-24 year olds this week from last week. She now has 68 percent support among younger voters—up from 56 percent last week. Sanders' stronghold over millennial voters in the primary are considered a key demographic for Clinton's campaign to win over in the coming months.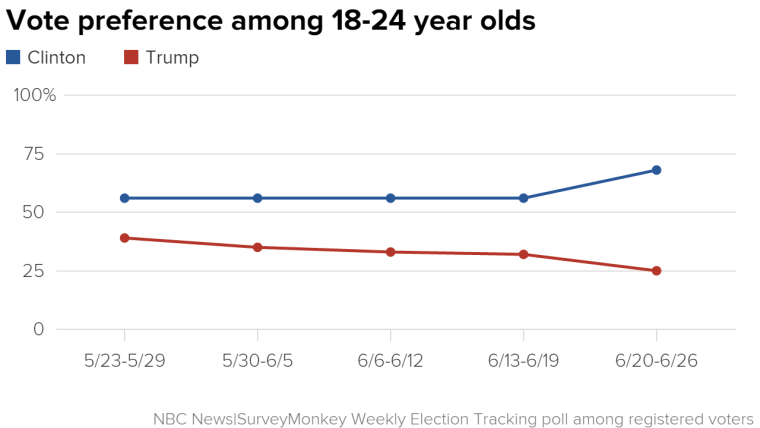 Clinton also continues to make gains among white voters. Although Trump is still ahead among this group of voters, he dropped from a 12-point advantage last week to an 8-point advantage this week; 41 percent of white voters now support Clinton and 49 percent support Trump.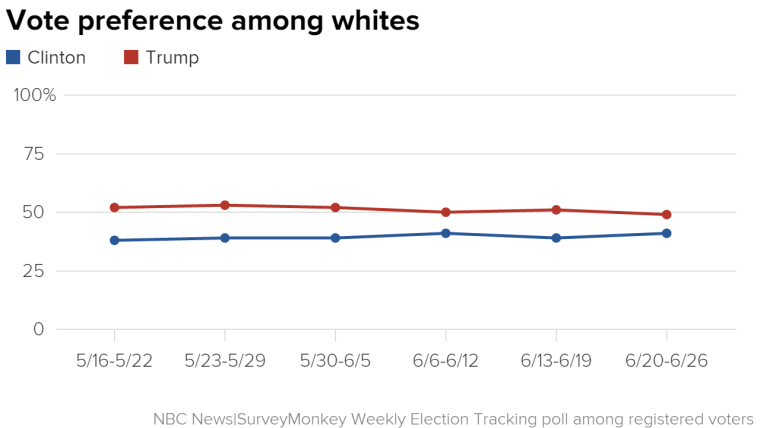 The next couple of weeks will be critical moments for both candidates as they prepare for the national conventions by cementing their campaign staff and making important choices like deciding who their vice presidential running mates will be.
The NBC News|SurveyMonkey Weekly Election Tracking poll was conducted online June 20 through June 26, 2016 among a national sample of 6,556 adults aged 18 and over including 5,818 who say they are registered to vote. Respondents for this non-probability survey were selected from the nearly three million people who take surveys on the SurveyMonkey platform each day. Results have an error estimate of plus or minus 1.8 percentage points. For full results and methodology, click here.