If a single group in the electorate can be found to explain this surprising presidential election, it may be working class whites. Perhaps no major voting bloc moved more dramatically between 2012 and 2016 than whites who do not have a college degree. And nowhere did this shift cost Hillary Clinton more dearly than in the Rust Belt, which includes several states that were a part of her firewall. In 2012 working class whites in Pennsylvania, Ohio, Michigan, and Wisconsin broke for Mitt Romney by 12 points, but this year they went for Donald Trump by a whopping 30 points, according to the NBC News Exit Poll.

That mass defection from the Democratic Party looks to be motivated in large part by deep dissatisfaction with the federal government. Six in 10 working-class whites disapprove of the way that Barack Obama is handling his job as president, and more than seven in 10 say are either dissatisfied or angry about the way that the federal government is working.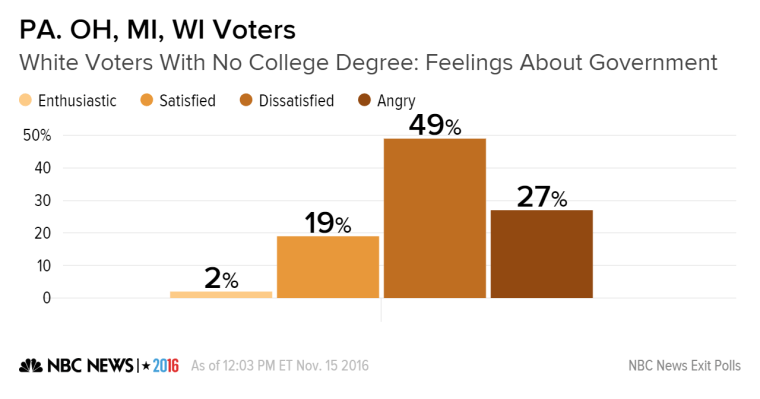 Trump's protectionist views on trade policy resonated deeply with these voters. A clear majority of working-class whites in the Rust Belt say that trade with other countries takes away U.S. jobs, compared to about a quarter who say it creates jobs and 10 percent who say it has no effect.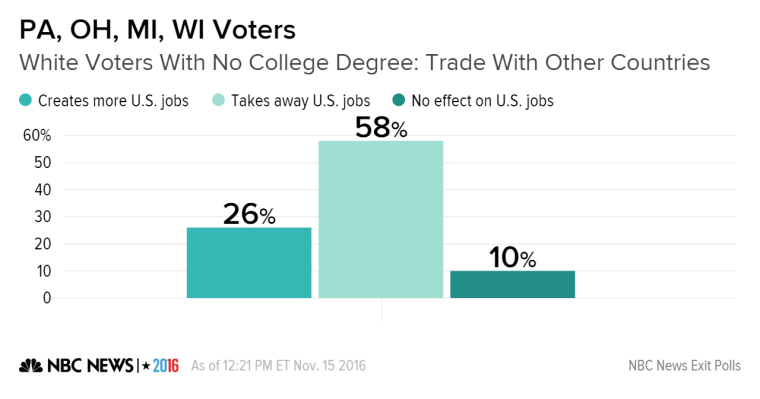 Among these working-class white voters who said that trade takes away U.S. jobs, about three-quarters voted for Trump.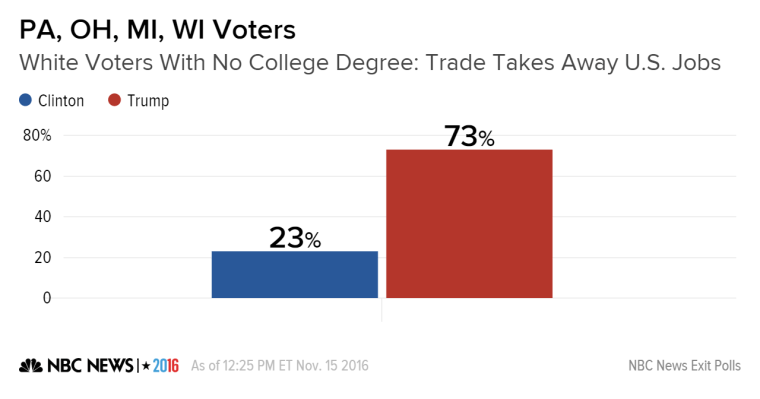 These are the types of voters who feel left behind by globalization and are strongly disaffected with the government. A clear majority of them no longer feel at home in the Democratic Party, and in Trump they have found a candidate who they hope can bring about some of the change — particularly economic change — that they are looking for.