More than 1.5 million votes have been cast nationwide in the 2016 presidential election as of Saturday, according to new analysis by the NBC News Data Analytics Lab.
In the 12 battleground states below -- where campaigns are especially focused on mobilizing voters -- 1,021,092 early votes have now been cast.
In 2012, more than 15 million voters cast ballots before Election Day in these same states. This very first batch of 2016 early votes is therefore only a small sliver of the early vote that is expected to roll in over the next several weeks.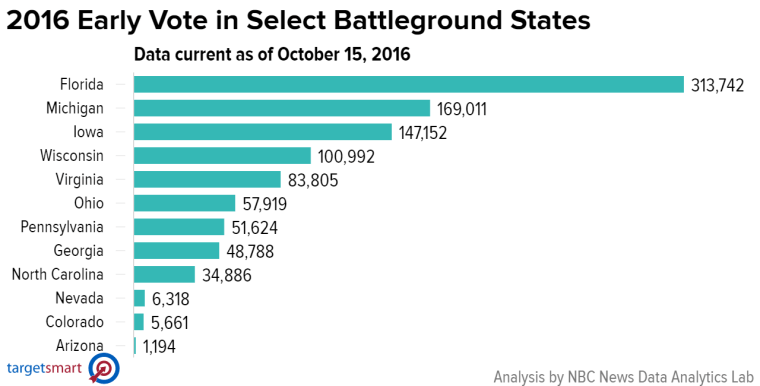 The NBC News Data Analytics Lab — using voter file data provided by TargetSmart — will tabulate and analyze early vote totals as they are made available in each battleground state throughout the 2016 election cycle. The early votes compiled so far reflect either absentee ballots returned, in-person no excuse absentee voting or in-person early voting. Early in-person voting has not yet started in most states, so these early vote numbers will increase significantly in some states as these voting windows approach.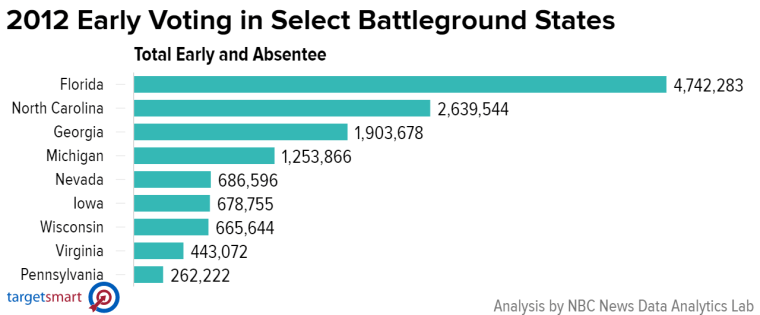 The number of voters casting ballots before Election Day via absentee or early in-person voting has been steadily increasing in the past decade. In the 2012 presidential election, nearly a third of voters cast ballots before Election Day via absentee or early in-person voting. In some crucial battleground states, early voting was much higher than the national average.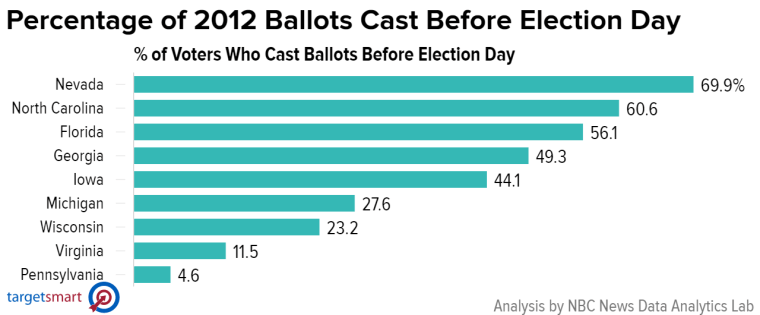 As ballot requests, registration applications and the first early votes start trickling in, campaigns will undoubtedly examine every piece of data related to Election Day 2016 with a microscope. But because election administrators in every state only maintain records of whether someone voted (not who the vote was cast for), campaigns use other pieces of registration information to give them clues as to how the race is going.
One such method is through a voter's party affiliation. Historically, party affiliation is a strong predictor of vote choice, so this information is a helpful way to estimate which candidate a voter may have supported.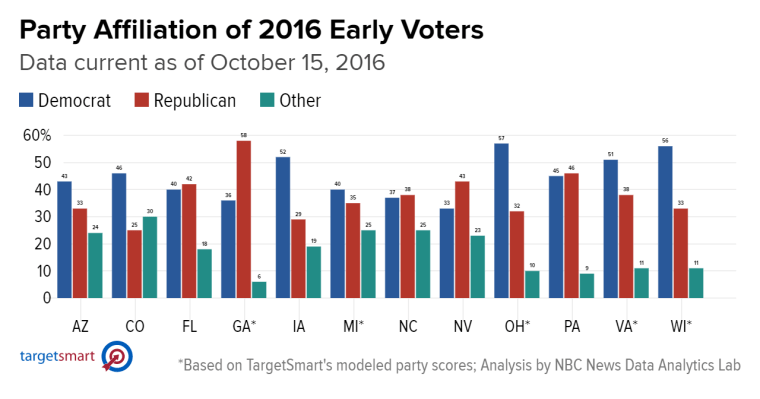 As of October 15, more Democratic-affiliated voters have cast early ballots in Arizona, Colorado, Iowa, Michigan, Ohio, Virginia and Wisconsin. In Florida, North Carolina, Nevada, Pennsylvania and Georgia, however, more Republican-affiliated voters have cast ballots so far. It is important to note in some of these battleground states, very few ballots have been cast. And in Florida, early voting was potentially slowed down due to Hurricane Matthew and the bulk of the counties affected by the storm are more Democrat.
Though early information is still incredibly important for campaigns and voters alike, it is important to keep in mind that early vote "leads" do not necessarily equal victories. This is illustrated empirically with 2012 voter file data.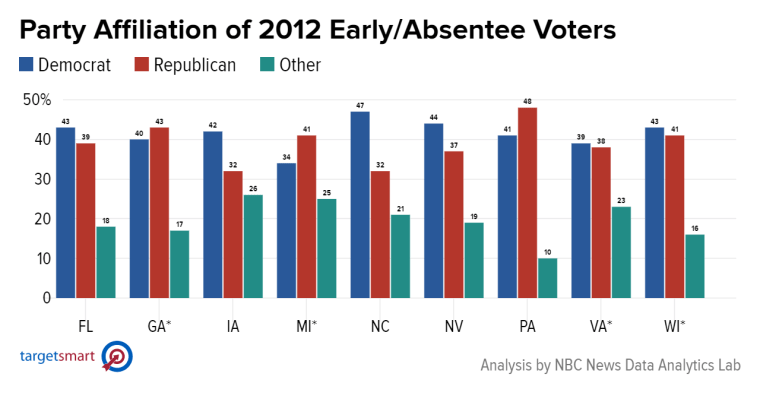 In 2012, more Democratic-affiliated voters cast early ballots than Republicans in Florida, Virginia, Iowa, North Carolina, Wisconsin and Nevada. President Obama won all but one very crucial battleground state -- North Carolina—which also showed the highest Democratic early voting "lead" among all battlegrounds. Additionally, Obama won Michigan and Pennsylvania in 2012, but more Republican-affiliated voters cast early ballots than Democrats in these states.
Many strategists attributed Obama's narrow victory over Mitt Romney in 2012 to the early vote lead the president secured in many states before Election Day. According to NBC News Exit Polls, Obama held a 7-point lead over Romney nationally among early voters. Among Election Day voters, the candidates were tied. Mobilizing early voters is thus an increasingly important aspect of campaigning. As more 2016 early votes roll in, it will be interesting to assess whether either party's candidate has been successful in this strategy.
To be sure, parsing out this data and making comparisons to 2012 help contextualize the information, but it is important to keep in mind that turnout in every election varies in volume, method and demographic composition. Changes in voter identification laws, candidate-specific enthusiasm (or lack thereof) and even the weather can affect who turns out to vote.
Regardless of these significant unknowns, early voting is an increasingly important aspect of voter participation and campaign strategy, so early glimpses into the 2016 vote as it currently stands are informative.
As this early vote continues to roll in, the NBC News Data Analytics Lab will update early vote counts and partisan breakdowns in nearly every battleground state as frequently as possible leading up to Election Day.
For methodological details, please click here.