Despite a number of years of steady employment gains and stock market growth, many Americans are feeling financially strained and pessimistic about the nation's economic future. The latest NBC News online poll conducted by SurveyMonkey from Tuesday to Thursday shows that the country is divided on a number of economic issues – but somewhat united in negative feelings toward businesses and corporations.
A third of American voters indicate their family's financial situation is secure, saying they earn enough to save money and buy some extras. But nearly half – 48 percent – say they are just making ends meet, only earning enough to pay their bills and obligations. And 17 percent express financial insecurity, saying they don't make enough to pay all their bills.
Asked about a list of economic issues facing the country, taxes and government spending were seen as the most important by 32 percent of voters, followed by the gap between the wealthy and everyone else at 20 percent. Not surprisingly, party identification separates Americans on these economic issues, even more so than one's financial status. A slim majority of Republican voters ranked taxes and government spending as the most important problem compared to a third of independent and about 1 in 8 Democratic voters. Democratic voters were more divided on economic issues. The gap between the rich and everyone else was a top priority for 35 percent, but unemployment, stagnant wages, the cost of healthcare, and taxes were important to about 1 in 8 Democrats each.
While a number of Republican candidates talked about the regulatory burden on businesses during the debate, only 7 percent of Republican voters ranked that as their most important issue. With the national unemployment rate now at 5.1 percent, it is perhaps not surprising that unemployment is ranked lower by voters in this poll – a sharp contrast to the 2008 and 2012 election cycles, when the lack of jobs was a dominant theme.
Voters are nearly evenly split on how best to spur the nation's economic growth. Half prefer to lower taxes on individuals and business and cut some government programs to pay for that spending, while nearly the same number say to spend more on education and the nation's infrastructure, and raise taxes on wealthy individuals and businesses to pay for that spending. Not surprisingly, these approaches break down along partisan lines, with Republican voters in favor of lower taxes, Democrats in favor of spending on government programs, and independent voters splitting down the middle.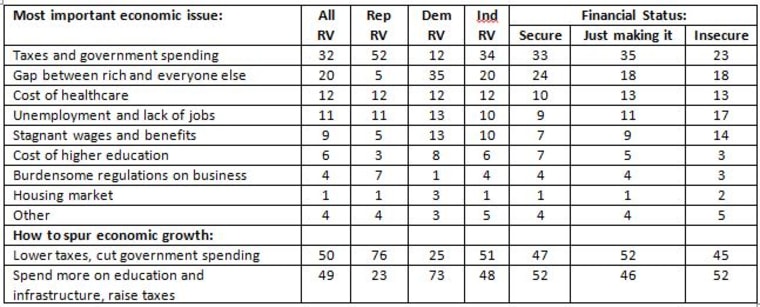 Economic Pessimism
The American dream – that if you work hard, you'll get ahead – does not hold true anymore for a majority of American voters anymore. Fifty-seven percent say the principle that hard work brings reward once held true, but no longer does, while 34 percent say the American dream still holds true. A much smaller number – just 9 percent – say the American dream never held true in the first place. While half of financially secure voters believe in the tenet that working hard yields prosperity, 84 percent of voters facing economic hardship say it no longer works, or never did.
Feelings about the American dream's demise are basically shared across parties, with slightly more Republican voters saying it still holds true and slightly more Democratic voters saying it never held true. Donald Trump's slogan "Making American Great Again" is definitely resonating with those who are more pessimistic – among leaned Republican voters who think the American dream is obsolete, 34 percent support Donald Trump, while 21 percent support Ben Carson. On the Democratic side, Hillary Clinton has the support of 59 percent of leaned Democratic voters who still believe in the dream, compared to 19 percent of this group who support Sanders.

And there is little optimism that the country's next generation will do better. Only 12 percent of American voters say that most children in the United States will grow up to be better off financially than their parents. Fifty-nine percent say today's children will be worse off, and another 29 percent say they would be about the same. Republican and independent voters are more negative than Democratic voters, but pessimism for the future is widely shared across parties and financial status levels.
A Majority of Americans Show Disfavor for Business
Nearly two-thirds of American voters (64 percent) say that business corporations do not strike a fair balance between making profits and serving the public interest. Just one third agree that corporations balance their profits with serving the public. Even 51 percent of Republican voters agree that corporations are not placing enough emphasis on the public good.
About 8 in 10 voters say that business corporations do not share enough of their success with their employees, including 46 percent who strongly agree. Among Republican voters, two-thirds think businesses are not being generous enough with their workers, as do three-quarters of independent and 9 in 10 Democratic voters.
Hannah Hartig, Stephanie Psyllos and Josh Clinton contributed reporting.
The NBC News Online Poll was conducted online by SurveyMonkey from October 27-29, 2015 among a national sample of 8,706 adults aged 18 and over. Respondents for this non-probability survey were selected from the nearly three million people who take surveys on the SurveyMonkey platform each day. Overall results have an error estimate of plus or minus 1.5 percentage points. A full description of our methodology and the poll can be found here.
The poll was produced by the Data Analytics Lab of NBC News in conjunction with Penn's Program on Opinion Research and Election Studies with data collection and tabulation conducted by SurveyMonkey.