Hillary Clinton's national lead over Donald Trump continues to narrow. Clinton now leads Trump 48 percent to 44 percent, a decline of 2 points since last week, according to results from the latest NBC News|SurveyMonkey Weekly Election Tracking Poll.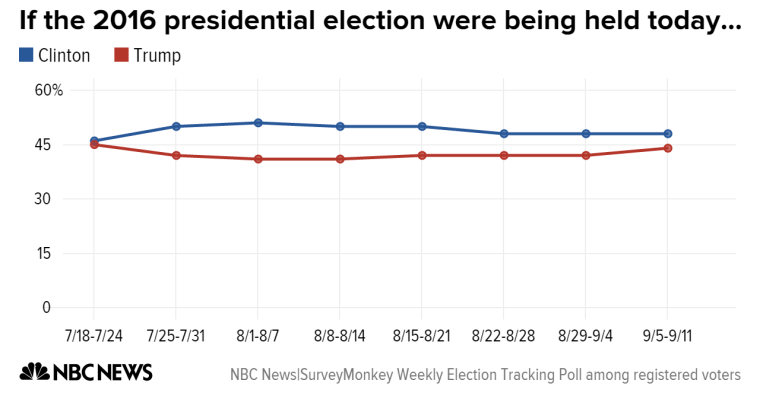 In a four-way match-up, Clinton leads Trump by just 2 points — 42 percent to 40 percent. Libertarian Gary Johnson maintains 11 points, essentially unmoved even after his "Aleppo" campaign gaffe, and Green Party candidate Jill Stein maintains 4 points.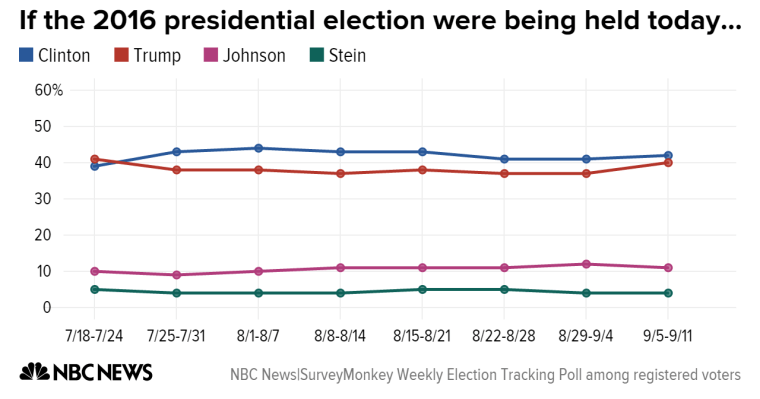 The latest NBC News|SurveyMonkey poll was conducted online from September 5 through September 11 among 16,220 registered voters.
About five weeks ago, just after the Democratic convention, Clinton saw a sizable 10-point lead over Trump. In several battleground states, and nationally overall, the race has tightened considerably. One notable area where Trump has made up ground is among independents who do not lean toward the Democratic or Republican Party.
A few weeks ago, when Clinton was enjoying a double-digit lead over Trump, she also held a double-digit lead among independents. This week, she leads the Republican candidate by just 2 points among these voters — 38 percent to 36 percent. It is clear that non-partisans will play a significant role in deciding the ultimate winner of the presidential race in November.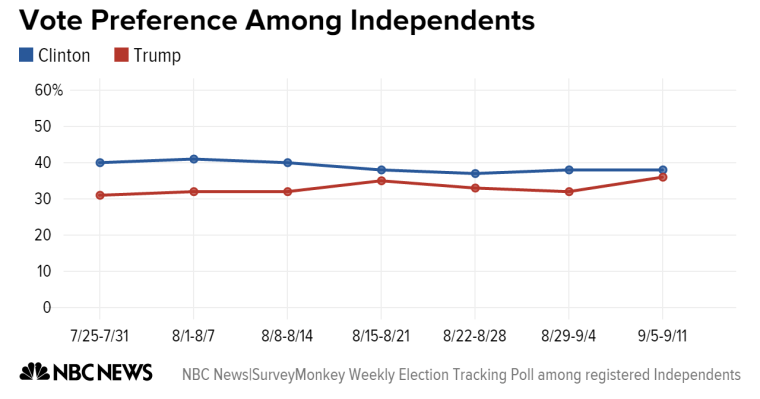 Trump also received a slight boost in his favorability ratings. Though a majority of voters say they have an unfavorable impression of Clinton (59 percent) and Trump (60 percent), the number of voters who say they have a strongly favorable opinion of Trump has increased by 4 points — from 12 points to 16 points — since the questions was last asked about a month ago.
Currently, 38 percent of registered voters now have a favorable impression of Trump. Nearly an identical number — 39 percent — have a favorable impression of Clinton.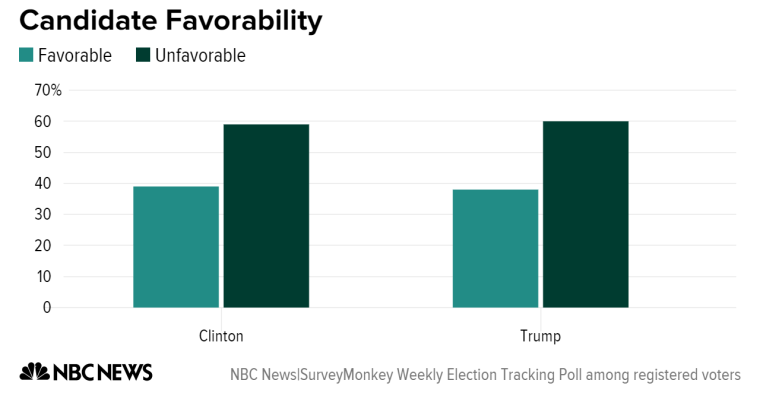 The NBC News|SurveyMonkey Weekly Election Tracking poll was conducted online September 5 through September 11, 2016 among a national sample of 16,220 adults who say they are registered to vote. Respondents for this non-probability survey were selected from the nearly three million people who take surveys on the SurveyMonkey platform each day. Results have an error estimate of plus or minus 1.1 percentage points. For full results and methodology, click here.