With the primary season officially over, attention has shifted to the general election match-up between presumptive nominees Hillary Clinton and Donald Trump. The most recent NBC News|SurveyMonkey Weekly Election Tracking poll has Clinton ahead of Trump by 6 points, close to the 7-point lead we saw last week. Clinton's 6-point lead is up from only a 2-point spread a few weeks ago.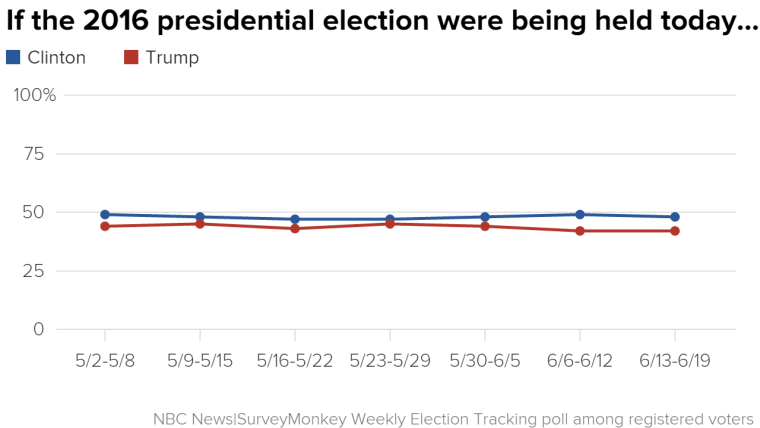 But those top line numbers obscure important information about which voters are supporting each candidate and it is important to look at how this support differs between groups.
The lead that Clinton has opened up in the last two weeks in our tracking poll has reignited the debate about Trump's position at the top of the GOP ticket, with some Republicans using the gap to support efforts to replace their party's presumptive nominee. In fact, several Republican elites have wavered in their support of Trump; House Speaker Paul Ryan on Meet the Press over the weekend advised other Republicans to "follow their conscience" when it comes to supporting the nominee.
RELATED: Speaker Ryan Says Voters Picked Trump, 'That's Not Something I Can Control'
But is the hand-wringing about the presumptive nominee that is going on by the political class also occurring among the Republican electorate? Looking deeper reveals the answer.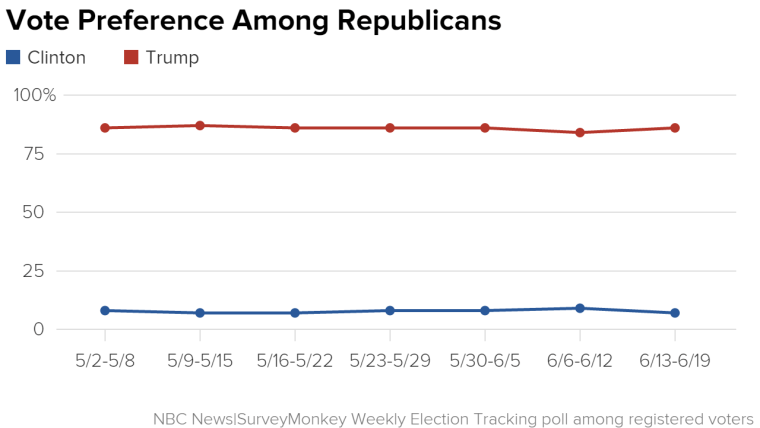 Among Republican and Republican-leaning voters, Trump's support is actually up 2 points this week from last week, from 84 percent to 86 percent. Overall, Trump's support among Republicans has been consistently high across the past seven weeks — his GOP support this week is exactly the same as the share of support among Republicans he got when we first asked the question the week of May 2. While members of the Republican establishment may be getting increasingly worried about their presumptive nominee, there is no evidence that Republicans voters have similar worries.
Trump's support among Republicans is nearly as high as Clinton's support among Democrats. There is no evidence of a damaging primary contest with Bernie Sanders, as 90 percent of Democrat and Democratic-leaning voters indicate they would vote for her. This level is relatively unchanged from last week when she got 89 percent support and the same as when we started asking the general election match-up question on May 2.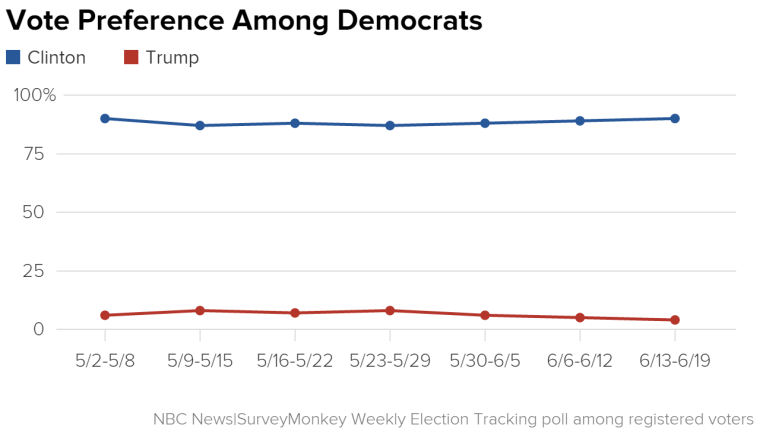 Taking a step back, for all the talk about the parties splitting apart after a long primary process, it is clear that both presumptive nominees have a high amount of support from voters of their parties. There is no indication that partisans from either side are likely to vote against their party's presumptive nominee in a general election match-up.
What accounts for Clinton's lead over Trump? Generally, Democrats make up more of the electorate than Republicans and Clinton is winning Democrats by a few more points than Trump is winning Republicans. But among Independents who do not lean towards either party, Trump and Clinton remain very competitive. This week, 36 percent of Independents said they support Clinton and the same number said they support Trump. In the past, however, this group of voters has generally preferred Trump over Clinton.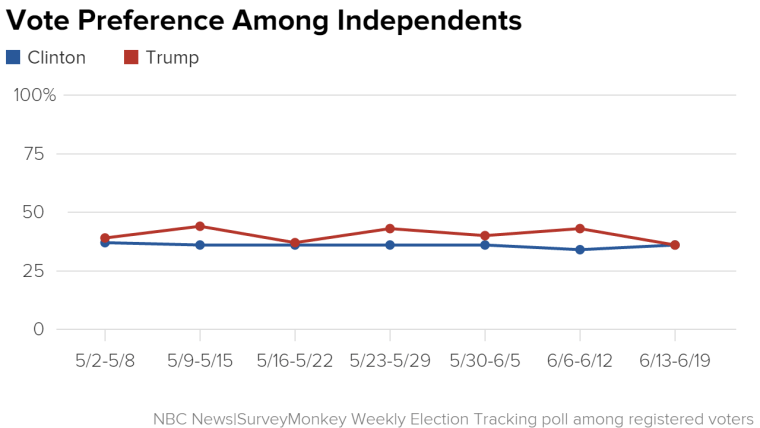 Taken together, these findings reveal several important insights about the general election contest.
First, our tracking poll results reveal that the electorate is very polarized — Republicans are likely to continue to support Trump and Democrats are likely to continue to support Clinton. If so, the critical question will be whether these voters actually turn out for their party's candidate come Election Day.
Second, Independents remain split in their support and competition for this group of voters appears as though it will be a fierce and pivotal contest going forward. Winning this important group in addition to keeping the support of their base will be key to a victory in November.
Finally, while Republican elites have been making their displeasure with the presumptive Republican nominee increasingly heard, there is no evidence that Republican voters are having second thoughts. Republican voters are as supportive of Trump as they were in the beginning of May.
The NBC News|SurveyMonkey Weekly Election Tracking poll was conducted online June 13 through June 19, 2016 among a national sample of 18,208 adults aged 18 and over including 16,135 who say they are registered to vote. Respondents for this non-probability survey were selected from the nearly three million people who take surveys on the SurveyMonkey platform each day. Results have an error estimate of plus or minus 1.1 percentage points. For full results and methodology for this weekly tracking poll, please click here.