Hillary Clinton and Donald Trump are virtually tied in the polls as the Republican National Convention convenes in Cleveland this week. Clinton now just barely edges out Trump in a direct head-to-head match-up, 46 percent to 45 percent. This is slightly down from the 3-point lead she held in last week's tracking poll numbers.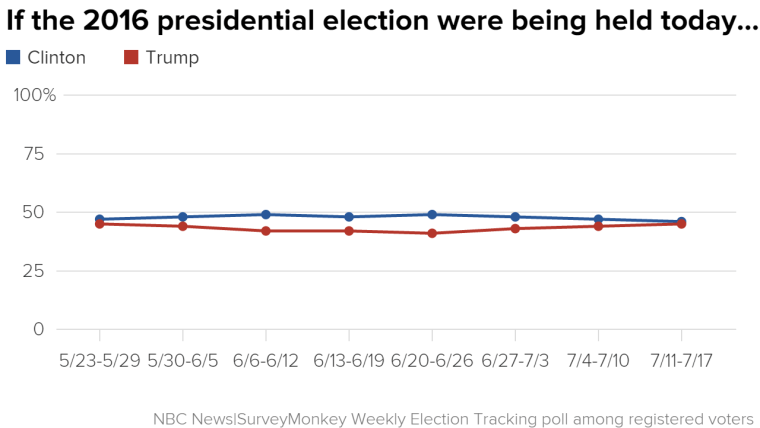 The contest is also competitive in a four-way general election scenario between Clinton (39 percent), Trump (40 percent), Libertarian Gary Johnson (10 percent) and Green Party candidate Jill Stein (5 percent). These results are according to the latest from the NBC News|SurveyMonkey Weekly Election Tracking Poll conducted online from July 11 through July 17, 2016 among 9,353 adults who say they are registered to vote.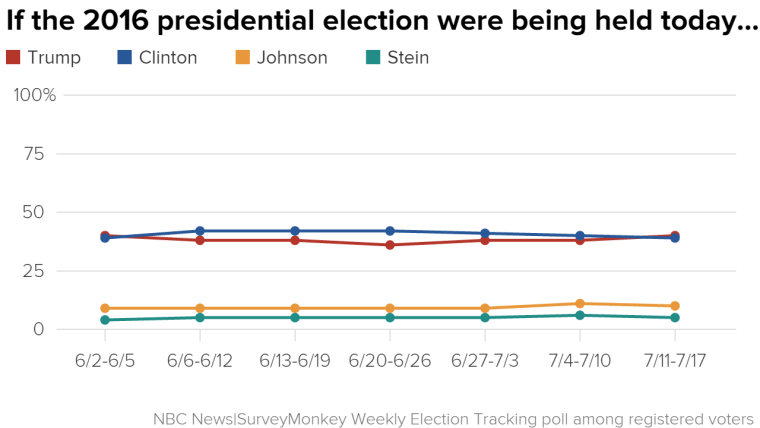 As the Republican National Convention gets underway this week, party leaders will concentrate on rallying Republicans behind their candidate. Currently, just 11 percent of Republicans and Republican-leaning voters think the GOP is unified now; half think the party is divided now, but will unite by November; and nearly four in 10 think the GOP will still be divided in November. These numbers are virtually unchanged since they were last asked in the middle of June.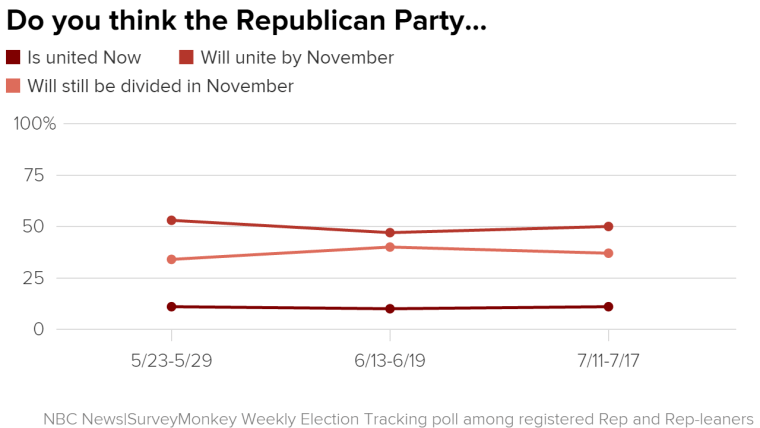 Rallying GOP voters behind Trump may be challenging as many prominent Republicans will be noticeably absent from the convention, including Ohio Gov. John Kasich — whose state is hosting the event. Though Ohio was the only state Kasich won during the GOP primary, it is critical swing state in the general election. And among those primary voters who cast ballots for Kasich earlier this year, 49 percent said they would not vote for Trump in the general election in the fall, preferring Clinton, Johnson or Stein instead. Trump will need to work with several Republican leaders in Cleveland to bring these voters back to the party in time for the general election in the fall.
On the Democratic side, Clinton scored a key endorsement from her primary opponent Bernie Sanders last week. However, his announcement came just two weeks ahead of the Democratic convention in Philadelphia. According to results from this week's Election Tracking Poll, just a quarter of Democratic voters said his approval makes them more likely to support her in the fall. Most Democrats, (72 percent) said his endorsement makes no difference to their vote.

Though the senator's endorsement did not seem to bolster Clinton's poll standing against Trump, Sanders' move may have helped persuade Democratic voters that the party is more unified than before. A plurality (44 percent) think the Democratic Party is united now, up 13 points from 31 percent who said the party was united last month.
The NBC News|SurveyMonkey Weekly Election Tracking poll was conducted online July 11 through July 17, 2016 among a national sample of 9,436 adults who say they are registered to vote. Respondents for this non-probability survey were selected from the nearly three million people who take surveys on the SurveyMonkey platform each day. Results have an error estimate of plus or minus 1.4 percentage points. For full results and methodology, click here.