As Election Day looms, Hillary Clinton's 6-point lead over Donald Trump remains unchanged from last week according to the final NBC News|SurveyMonkey Weekly Election Tracking Poll.
Over the course of months of NBC News|SurveyMonkey polling, the numbers have remained remarkably stable. Clinton has not only maintained a lead over the Republican nominee since the end of July, but the margin of her lead has been between 4 to 6 percentage points since the second week of September.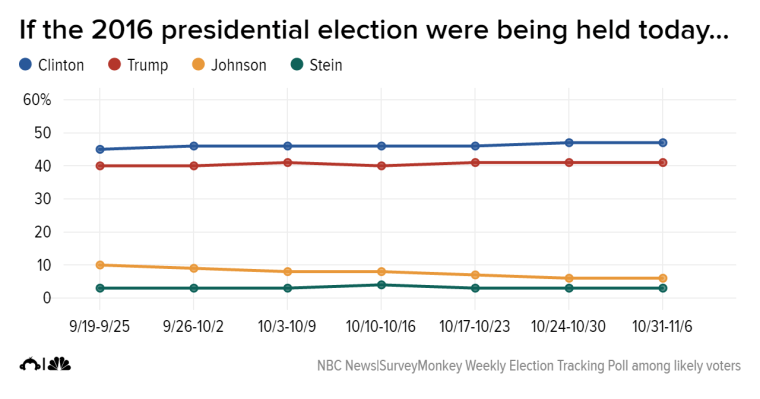 The national NBC News|SurveyMonkey Weekly Election Tracking Poll has shown less variability than most other polls that have tracked the race this election season.
According to results from the final week of polling from the NBC News|SurveyMonkey Weekly Election Tracking Poll between October 31 and November 6 among likely voters, Clinton continues to lead Trump in a four-way contest with 47 percent to Trump's 41 percent.
Our results continue to show that campaign news over the past several weeks — including the surfacing of an "Access Hollywood" tape showing Trump making lewd comments about women and FBI Director James Comey's letter to Congress about its review of additional emails related to Clinton — have had almost no lasting impact on the opinions of likely voters. However, these events may have influenced who is willing to take public opinion surveys at any particular moment.
In fact, Trump has only led twice in a four-way match-up over the past 17 weeks of our tracking poll since July 11. More than 300,000 respondents were interviewed during that time. Trump's largest lead was 2 points, and the last week he led was July 18 through July 24 — during the week of the Republican National Convention.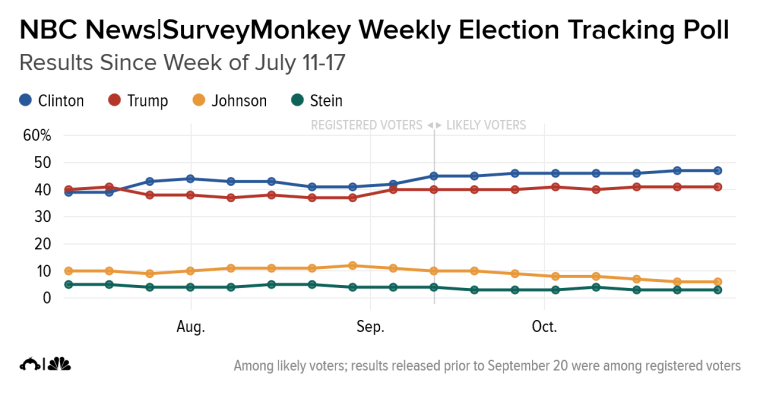 This pattern of stability we continue to observe is relatively unprecedented in modern political campaigns.
The NBC News|SurveyMonkey Weekly Election Tracking poll was conducted online October 31 through November 6, 2016 among a national sample of 70,194 adults who are likely to vote. Respondents for this non-probability survey were selected from the nearly three million people who take surveys on the SurveyMonkey platform each day. Results have an error estimate of plus or minus 1.0 percentage points. For full results and methodology, click here.