It took just 60 terrifying seconds for the hillside in Oso, Wash., to collapse and smother a square mile of trees and homes with mud and debris, a new computer model shows.
An animation by volcano experts with the U.S. Geological Survey and shared with NBC affiliate KING5 breaks down what happened when the mudslide unexpectedly struck, charging down the hill at 60 miles per hour.
In 20 seconds, the slide crossed the Stillaguamish River, headed for Steelhead Drive, where many of the 35 dead and 11 missing lived. Residents there had no time to react, said Richard Iverson, a landslide specialist with the USGS' Cascades Volcano Observatory.
Then, within 30 to 40 seconds, the slide basically covered the entire neighborhood at the bottom of the hillside. By the time one minute passed, the debris had already reached the edge of the far side of the valley, where it came to a rest, the animation shows.
About 30 homes were flattened by the fast-moving mud. Nothing would have stopped the 10 million cubic yards from pushing through, Iverson told KING5.
"In this case, it would be like a wall of semi-trucks, shoulder to shoulder, a kilometer wide — all moving at 60 miles per hour," he added. "That's how I picture it."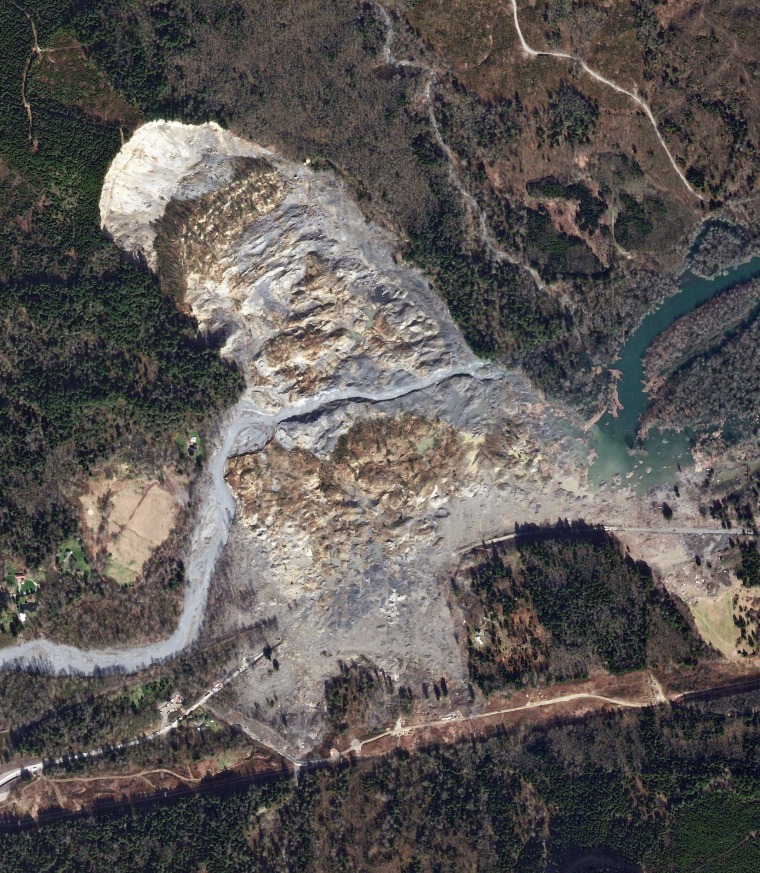 — Erik Ortiz