DARRINGTON, Wash. — Local churches offered prayers on Sunday for the victims of last week's devastating mudslide in Washington state and words of solace for grieving families and friends, many of whom are still waiting for news of missing loved ones.
The presumed body count stood at 28 from the March 22 catastrophe northeast of Seattle, with the official tally of those killed at 18, based on bodies extricated and identified by medical examiners.
The number of missing fell to 30 from 90 as officials were able to account for dozens of people as "safe and well."
Heavy rains and flooding made efforts difficult for searchers combing through debris, officials said, after a rain-soaked hillside above the north fork of the Stillaguamish River gave way without warning and sent a wall of mud cascading over dozens of homes near the rural Washington town of Oso.
No one has been pulled alive from the rubble since the day the landslide hit, when at least eight people were injured but survived. Rescuers have found no signs of life since then.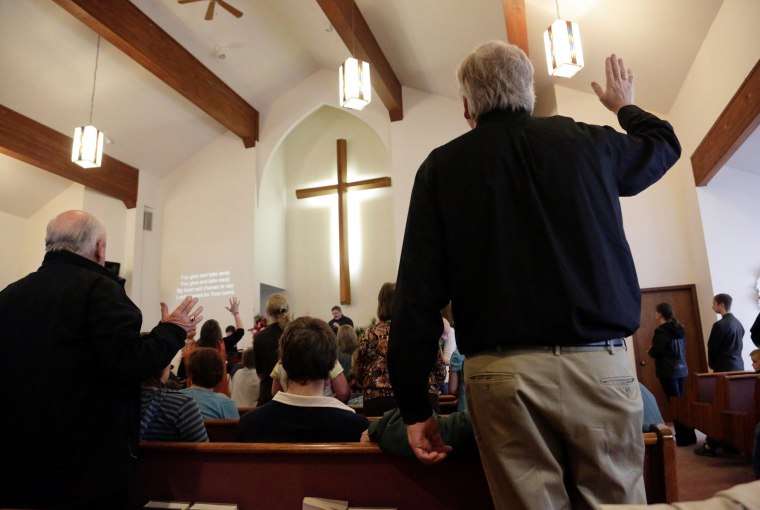 Many of those living close to the disaster area gathered for services at the Glad Tidings Assembly of God church in nearby Darrington, where Pastor Les Hagen urged them to stay strong.
"We're all hurting," he said. "We've had a terrible week. It still continues, but life must go on.
"Stay in your routine," he said. "Keep putting one foot in front of the other. Because eventually all of this will be in the rear view mirror of your life and it will be a memory. It will be a horrible memory, but it will be a memory."
Recovery workers have been searching through a debris field that covers a square mile with the help of local volunteers hunting for personal items such as photographs and other keepsakes.
Once found, such items will be cleaned and stored until they can be claimed by their owners or their survivors, said disaster response spokeswoman Kris Rietmann at a news conference.
"A lot of people lost their homes. They lost friends and family, and so to be reunited with some of their physical belongings, if that's found out on the site, is a really important thing," Rietmann said.
Among those praying at the Glad Tidings Assembly of God was Todd Wright, a 32-year-old carpenter.
"It's nice to get it out. Tears go, and it makes you feel damn better," Wright said after the service.
Daniel Botamanenko, a 21-year-old college student at the service, added: "This is a place where people can hopefully find some degree of comfort from others. It's a healing place, really."
At the Oso Community Chapel, where about 100 people filled the pews, a helicopter could be heard overheard as prayers were said for those who died.
One man read aloud a passage from the Bible's Book of Isaiah to start the service: "Though the mountains be shaken and the hills be removed, yet my unfailing love for you will not be shaken nor my covenant of peace be removed."
Pastor Gary Ray told the congregation: "We've been knocked down, but we won't be knocked out. I don't know how many days and minutes we have left, but I know we have this one here."
Ray asked people to share their personal thoughts, and many were tearful as they rose to speak.
"I genuinely love this place," one woman said. "I love these people."
Funeral preparations were being made as well for those lost in the tragedy.
At the Weller Funeral Home in Arlington, only a few miles from the site of the mudslide, staff members who typically plan two to three funerals weekly said they were preparing for 12 this week.
— Reuters