It could take weeks, months or years for families of the dead and injured and other local residents to recover from the mile-wide mudslide that buried a rural Washington town under tons of mud and debris in one of the worst landslide disasters in U.S. history.
At least 16 people were confirmed dead on Tuesday evening and dozens of reports of missing people have been received by authorities.
Eight more bodies were located and were expected to be pulled from the pile of trees, mud and other debris Wednesday in the Cascade foothills community about an hour northeast of Seattle.
As the recovery effort continues in its grim task, here are several questions that linger about the tragedy:
How did the mudslide happen?
The hillside across from the small town of Oso, by the North Fork of the Stillaguamish River, has been a known landslide area for more than 60 years, according to geologists.
The river has been eroding the base of the slope since at least the 1950s, bringing down earth and debris that muddied the river and threatened salmon runs in stretch of water that has lured fishermen to the area for ages. Then in 2006, a small slide damaged homes in a small riverside neighborhood.
Over the winter, heavy rains saturated the soil on the unstable slope perched precariously above the neighborhood.
Then, on Saturday morning, the soaked earth gave way — possibly disturbed by a tiny 1.1 earthquake about two weeks earlier.
A massive load of some 15 million cubic yards of mud, clay and wood roared across the river and buried the neighborhood and other rural homes before it raced across state Highway 530.
How many people were killed?
The day of the slide, four people were confirmed dead. Since search-and-rescue operations began another 12 bodies have been pulled from the slide zone, and officials expect the number to increase as more bodies are recovered.
"I believe in miracles. I believe that people can survive these events."
John Pennington, head of Snohomish County's Department of Emergency Management, acknowledged on Tuesday that the chances of finding survivors were slim but said the effort remained a rescue and recovery operation.
"I believe in miracles," he said. "I believe that people can survive these events."
Why are so many people still missing?
Four days after the deadly landslide, authorities still did not have an accurate number on how many people were missing in the disaster. The potential number keeps going up. At first it was 18, then 108, as of Tuesday it stood at 176.
The confusion, officials said, comes from using what are essentially raw numbers — reports called into a hotline by family, friends and others that could be false alarms and also likely include duplicates.
The emergency agency director, Pennington, on Tuesday said, "the 176, I believe very strongly is not a number we're going to see in fatalities. I believe it's going to drop dramatically."
What challenges do search crews face?
Search efforts are likely to be long and complicated given the isolated location, weather and the nature of the debris, a senior federal official monitoring the rescue effort told NBC News.
"The ground is still moving. It's really not good," the official said of the situation.
And, sadly, the slowly moving debris pile is likely is causing significant damage to any bodies still buried in the debris, the official said.
Any future forensic work will be painstaking, reminiscent in some ways of work after the World Trade Center attack in September 2001, the official said.
The situation on the debris field is also complicated by the high number of potential casualties, a lack of electrical power at the site, the cold weather, an absence of nearby shelter, and the many agencies involved in the operation (law enforcement, rescue crews, medical examiner, utilities, and others), the official said.
"It's just slow tedious work," said Snohomish County District 21 Fire Chief Travis Hots, who said he's seen cars twisted and torn into pieces by the force of the slide.
Did residents have a warning about the disaster?
The mudslide happened without an evacuation order or any other alert at about 11 a.m. local time on Saturday, March 22.
County officials have insisted they couldn't have anticipated the slide, but records dating back to the 1950s show that the hillside in Oso was unstable.
John Pennington, head of Snohomish County's Department of Emergency Management, on Monday called the slide "completely unforeseen."
"This came out of nowhere," he said.
Yet a 1999 report for the Army Corps of Engineers by geomorphologist Daniel Miller warned of the potential for a massive collapse.
Snohomish County Executive John Lovick and Public Works Director Steve Thomsen have said they were not aware of the 1999 report.
Will property owners receive insurance or other compensation from the damage?
Fewer than 1 percent of homeowners in Washington state have insurance against landslides, according to Karl Newman, president of the Northwest Insurance Council.
Newman said 4,700 of properties — homeowners and businesses — in the state have such coverage. There are 1.5 million single family homes, according to the U.S. Census.
Known as a Difference in Conditions (DIC) policy, the policies cover disasters not include from the typical homeowner's or business policy. A DIC policy can cover landslide, mudflow, earthquake, and floods.
Cost of the policies vary by risk and are written not by familiar names in homeowner's insurance but by Lloyds of London and other companies.
Though it is unknown how many in Oso had such insurance, Newman said generally four factors seem to keep homeowners from signing up for the policies:
They underestimate the risks of a steep slope or other hazard.
They expect Federal Emergency Management Agency's disaster coverage to pick up the costs. But grants are capped at $33,000, and the rest of support comes by way of low-interest loans. Also, FEMA flood insurance likely will not cover mudslides-landslide damage but might cover "mud flows," Newman said.
They are optimistic and don't expect a bad event to happen to them
They don't want to spend what could be $1,000 or more for a DIC policy on a $300,000 house.
How are emergency crews searching?
Officials are using maps that they have overlaid on the slide zone, and they have also talked to a number of local residents to get an idea of what specific locations — homes and other residences where people were known to be dwelling — should be targeted for searches.
"We haven't lost hope that there is a possibility that someone will be found alive."
Search and cadaver dogs often lead the way into the slide zone where emergency crews, including firefighters, police as well as local residents, are digging through the mess of earth and wood debris.
Bulldozers and smaller backhoes are on hand to help the digging, and helicopters to help in spotting and transportation.
"We haven't lost hope that there is a possibility that someone will be found alive," Hots, the fire chief, said late Tuesday. "We're going full steam ahead."
At times, searchers are climbing atop flattened houses and cutting holes in the structure with chain saws.
After President Barack Obama declared an emergency, the Federal Emergency Management Agency requested 18 California firefighters with special training in urban rescue to join the effort.
Members of the Urban Search and Rescue teams are specifically deployed to find people trapped after a disaster.
The work, however, is made difficult by the sheer amount of debris – an estimated 15 million cubic yards of muck and wreckage.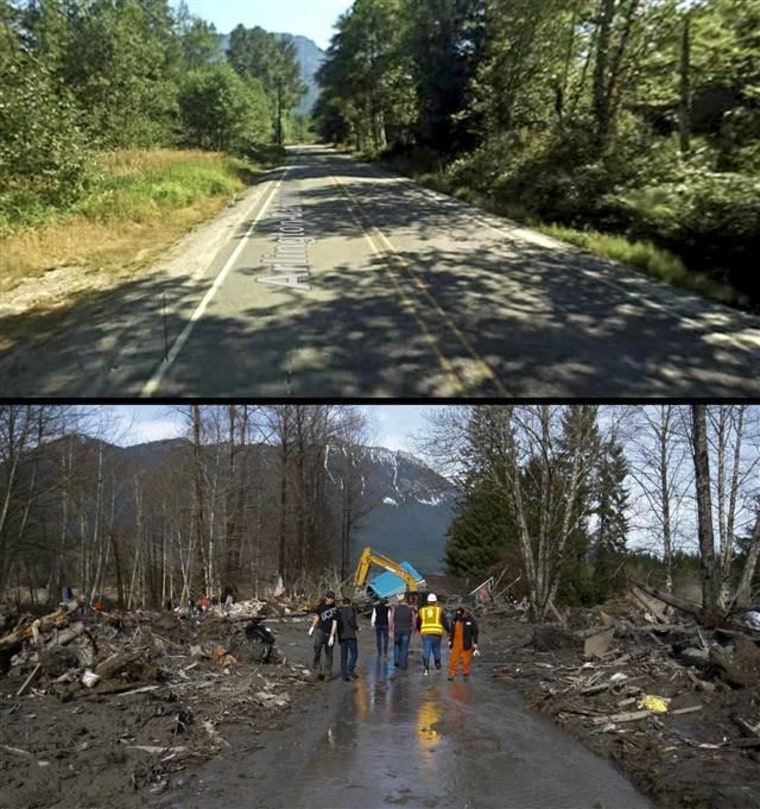 How do people move on and recover from a mudslide?
If the history of such disasters is any guide, it could take weeks, months or even years for the community to completely recover from the tragedy.
On Wednesday, a family assistance center for relatives to identify victims will be set up in the nearby town of Arlington. A special crisis line has also been created where residents dealing with anguish can call.
State road crews are clearing snow from the Mountain Loop Highway, normally closed until Memorial Day, in order to give residents a route into the largest town in the area Darrington, which has been cut off by the slide.
People are also gathering at churches to pray for loved ones as well as healing and strength for the community.
The Red Cross as well as some local banks have are receiving donations to help the community recover.
Still, the emotional toll of survivors is hard to measure.
"Some of these are our friends, family of some people that serve with us." Jeff McClelland, a local volunteer firefighter helping find victims, told NBC station KING TV. "A close firefighter friend lost his wife and his granddaughter. That's tough."
He said he will continue working to free people trapped in the debris pile in order to give friends and neighbors a final resting place.
After that, the town might begin to move on.
Bill Dedman and Richard Esposito of NBC as well as The Associated Press contributed to this report.