The numbers are certain to keep rising in the coming days, but so far only eight people have been identified as victims of the Washington state mudslide. From a little girl enjoying a weekend morning at home with her sailor dad to a retiree who died right next to her husband, here are their stories:
A librarian for more than 30 years, Linda McPherson took pride in the fact that she finished more than 100 books last year. She and her husband, Gary, were reading the newspaper together on Saturday morning when the mudslide hit their home, killing her and injuring him.
The 69-year-old mother of two, who grew up in the area, also served on the Darrington school board for 17 years and was a regular visitor to the school where her daughter Kate is a special-education teacher.
"She's a very giving person. She hated to see people who had a need, and she always wanted to help them," Kate McPherson said. "She's an amazing person, and she didn't deserve to go."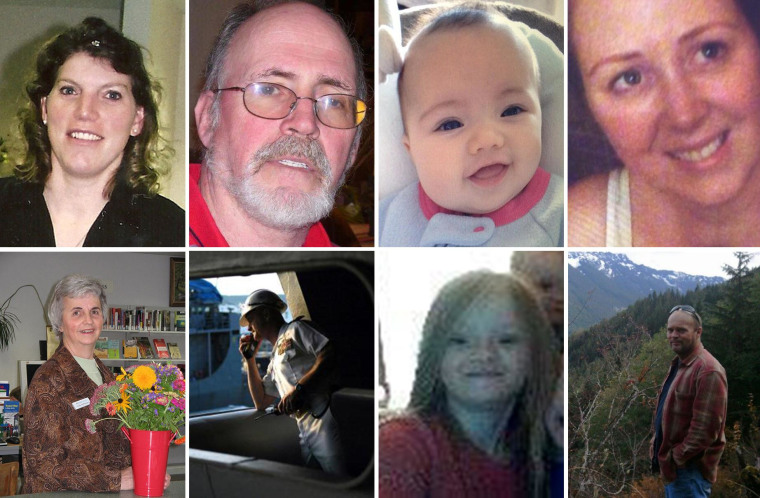 **********
John Regelbrugge III spent 32 years in the Navy, rising through the ranks until he was appointed commander in 2012. He was put in charge of the Puget Sound Naval Shipyard just three weeks ago.
"He was a commander and would have made captain shortly, too," his father, John Regelbrugge, told NBC San Diego.
A father of five — two of his sons are in the Navy — Regelbrugge and his wife, Kris, were supposed to be out of the house early on Saturday but decided to sleep in. They were still home when the hillside collapsed. Kris is still missing.
Regelbrugge's family had hope he would survive. "He's a strong man and committed father. If there's a way to dig himself out of this, he will," his brother Greg told NBC on Sunday. But two days later, three of the brothers found his body.
**********
Christina Jefferds was an 18-year-old single mother when she had her daughter, Natasha Huestis. Two decades later, when Huestis had her own baby, Sanoah, her mother taught her everything she knew about being a good parent.
Jefferds, 45, who managed a dental clinic, told Huestis, 26, the first step was taking care of herself and she encouraged her daughter to go to a yoga class on Saturday morning. So Jeffereds was home alone watching 4-month-old Sanoah when their home was crushed by the mudflow.
"That little girl brought so much joy to her life," Huestis told NBC News.
Sanoah was remembered as a happy baby who loved to smile but had not learned to laugh yet. She was doted on by Jefferds and her husband, Seth, a firefighter, and Huestis took solace in the fact that she died with her grandmother.
"She's with my mom," Huestis said. "And she's in a beautiful place."
**********
During the week, Summer Raffo was a janitor at the Darrington High School, but in her free time she worked as a farrier, indulging a lifelong passion for horses.
On Saturday, Raffo left the home she shared with her husband of two years and went to pick up some tools for a horseshoeing job at a family friend's farm that morning. She never made the appointment, and her family figured out she would have been on state Route 530 in the mudslide's path.
Raffo was one of 13 siblings, 10 of them adopted like herself. Her brother, Dayn Brunner, led relatives on a five-day search of the debris for his sister's car. "My mom wants to hold her one last time," he said.
On Thursday, Brunner helped a rescue crew extricate her body from the driver's seat of her blue Subaru. She was still wearing her seatbelt.
At least, he said, "she didn't suffer.'
**********
Bill Welsh, 66, came home alive from Vietnam, but he never made it back from what was supposed to be an easy job installing a water heater for a new homeowner in Oso last weekend.
Welsh, who was head of the electrical department at Whitley Evergreen, left his house in Arlington at 10:30 a.m. on Saturday to meet his friend Steve Neal, 55, a plumber. He told his wife of 43 years, Barbara, that he would be back by noon.
Authorities believe both tradesmen were killed when the mudslide obliterated the house they were working on. At least one other worker and the owner of the house are still missing.
"He's a fighter," Barbara said Monday, three days before his body was identified.
Welsh was a father of two. Neal, 55, was the married father of three children and had six grandkids.
"He was always there for me. He was always there for everyone," his daughter Caroline told NBC affiliate KING 5 of Seattle.
**********
Five-year-old Kaylee Spiller was looking forward to joining the Girl Scouts. Her mom, Jonielle, a nurse, was going to be the troop leader and her dad, Billy, a chief petty officer in the Navy, had promised to volunteers.
She had wispy blond hair and a sweet smile. She rooted for her old stepbrother's football team. She dressed up as a tiger for Halloween.
On Saturday morning, she was home with her dad and her siblings: Jovon Manual, 13, Jacob Spillers, 4, and Brooke, 2. Only Jacob made it out alive — and Billy, Jovon and Brooke are still listed as missing.
Kaylee's mother was at work when tragedy struck. Mid-week, she posted a message for her missing family on Facebook: "Billy and kids hold on I love you and we are waiting for you for as long as it takes stay strong honey."