Among those missing in the landslide that devastated a small Washington community is the leader of a group that sought to secede from Snohomish County over land-rights issues, including whether government could restrict property owners from building in risky or environmentally sensitive areas like the one buried by the slide.
Thom Satterlee, 65, and his wife, Marlese, 61, both are missing from their home in the community of Oso in the wake of Saturday's landslide, which spewed tons of mud and debris over homes scattered along the Stillaquamish River. A daughter, Andrea Hulme, did not respond to an interview request from NBC News, but a message on her answering machine said, "My parents are missing in the mudslide."
Snohomish County officials were well acquainted with Thom Satterlee, a leader of a polarizing movement to secede and establish a new "Freedom County" that began in the mid-1990s.
By the time it petered out in the late 2000s, Satterlee and his fellow secessionists had announced their independence from Snohomish County (based on a petition that drew more than 12,000 signatures), appointed a sheriff (a former FBI agent who legally changed his name to "Fnu Lnu") and demanded that Snohomish officials halt governance of the roughly 1,000-square-mile area that they claimed as their own.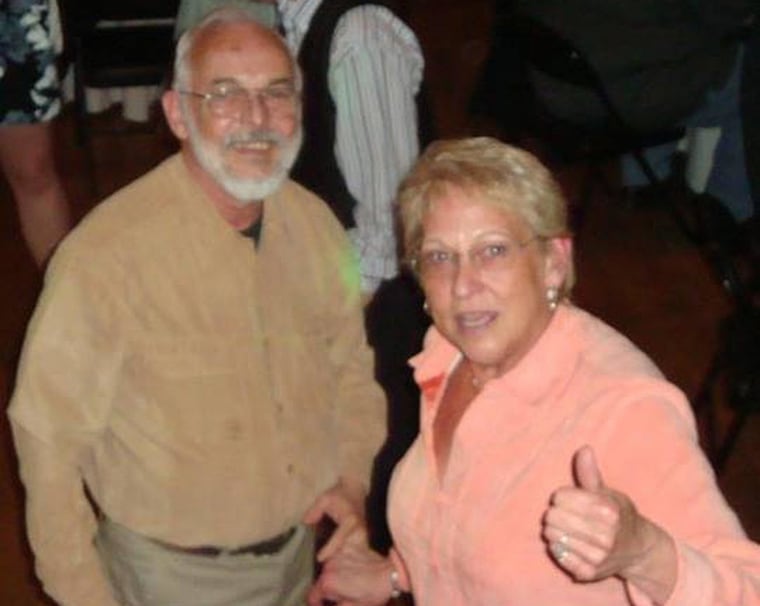 During the course of the dispute, which led to several court cases that resulted in rejections of the breakaway bid, Satterlee accumulated his share of detractors.
"He threatened me many times," former Snohomish County Sheriff Rick Bart told NBC News as searchers continued to dig through the debris in a desperate hunt for survivors or victims. "He was going to arrest me on one occasion. He was a pain in my rear end for a long, long time."
Others had more measured memories of the political firebrand.
"In all aspects, you could call Thom a good and interested citizen," former Snohomish County Executive Bob Drewel said at his Arlington, Wash., home, overlooking the Stillaguamish River Valley. "Thom had some firmly held beliefs, none of which I agreed with. (He) was never discourteous to me, but there were times when things were argumentative."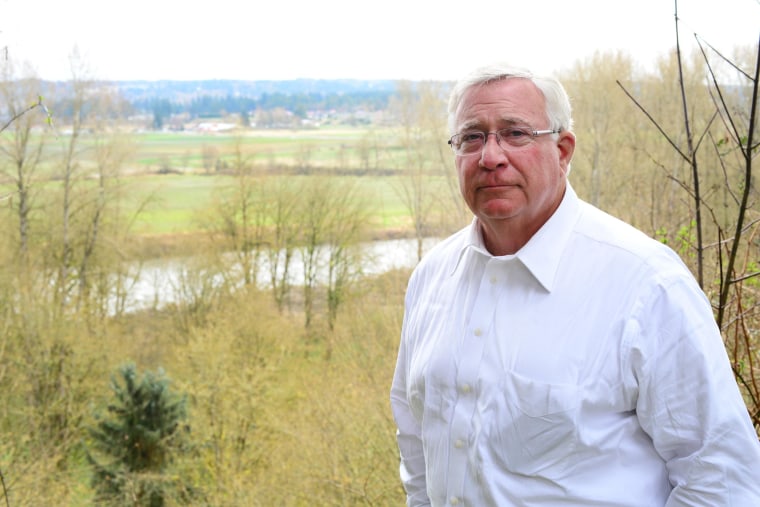 According to a history of the Freedom County movement published by the Everett Herald, the drive to secede was sparked by concerns over state land-use legislation known as the Growth Management Act. The act, signed into law by Gov. Booth Gardner in 1990, aimed to channel growth by imposing new rules on private property development that preserved farmland and restricted building on wetlands and floodplains, among other things.
A small group of residents of mountainous northern Snohomish County rebelled against the new restrictions and began gathering signatures on a petition that would carve out a new county, to be named Freedom County, in 1993.
Mark Potok, who tracks extremist political groups for the Southern Poverty Law Center, said that groups like Freedom County were part of a mainly Western-based property-rights movement and were closely linked to the broader anti-government Patriot Movement taking hold at the time.
"Satterlee and many principals of the Freedom County movement were part and parcel of the Patriot Movement and shared its philosophy," he said.
Satterlee initially wanted nothing to do with the independence movement, according to John Stokes, an early advocate who now hosts a controversial right-wing Internet talk show called "The Edge" from Montana.
"He never even signed the petition," Stokes said Thursday. "I tried to get him involved but he just wasn't interested."
But Stokes said that after he moved to Montana in 1994, Satterlee joined the group and became a leader.
Organizers eventually gathered more than the 12,000 signatures on a petition to form the new county and submitted it to the Legislature in April 1995. According to an archived version of the Freedom County homepage from June 2004, signatories "delivered consent to governance by Freedom County … (and) a clear and unambiguous withdrawal of consent for governance by Snohomish County."
"(His) big issue was that he didn't feel the rural people were getting their voices heard."
Satterlee and another man, David Guadalupe, soon emerged as the public faces of the movement, saying they were elected as "commissioners" of the new county during the bus ride to Olympia to deliver the petition.
John Koster, a Republican who represented northern Snohomish County in the state Legislature at the time and now serves as the county ombudsman, told NBC News he met with Satterlee on numerous occasions to discuss the drive for independence.
"Thom didn't like the way it was going, and felt that that it was a government diktat telling homeowners what they could and couldn't do with their property," he recalled. "… (His) big issue was that he didn't feel the rural people were getting their voices heard on how the act was going to be implemented."
Koster, "never a big fan of the Growth Management Act myself," said he advised Satterlee and other advocates that legislation to codify the petition was required to legally establish the new county and agreed to introduce a bill to create Freedom County and other breakaway local governments in neighboring counties. But when the bill stalled after passing the state House, he said, Satterlee and other leaders of the movement decided they didn't need the Legislature's stamp of approval.
"They wanted to argue that they didn't need the legislation, that the petition itself created the county," Koster said. "… Then things got kind of nasty."
Satterlee was at the forefront of the nastiness on the Freedom County side, essentially acting as county attorney in disputes over the validity of signatures on the petition, creation of "public wealth rebate notes" purportedly backed by liens filed against federal officials and the appointment of Fnu Lnu as sheriff, along with a coroner and an auditor. (The "rebate notes" were later confiscated by the Secret Service when Satterlee attempted to redeem them at a local bank.)
The standoff produced many theatrical confrontations in public meetings and courtrooms.
Among other things, Satterlee:
Filed a lawsuit alleging that Snohomish County elections officials manipulated ballots to deny his bid for election to a Snohomish County charter review commission.
Requested that the United Nations investigate the standoff, alleging that Freedom County backers were having their rights violated in violation of international treaties.
Appeared in court with a critic of the Internal Revenue Service who had bombarded Sheriff Bart with self-generated criminal complaints and arrest warrants. According to the Everett Herald, he affixed his personal seal – bearing the words "Bishop of the Way" and "Yoshua's Talmadin" -- to court documents filed by the man. The newspaper said Satterlee declined to discuss the meaning of the seal, except to say that he was a bishop in an unidentified Judeo-Christian religion.
Filed a lawsuit jointly with Guadalupe demanding $125,000 from Snohomish County for work they'd done representing their breakaway constituency and took it all the way to the state Supreme Court, where it was rejected as "legally incoherent despite a heavy larding of pseudo-legal rhetoric."
What may have been the most dramatic confrontation between the two sides occurred on Oct. 24, 2000, when the newly sworn-in Fnu Lnu -– a name derived from a law enforcement acronym for "first name unknown; last name unknown -– showed up at Snohomish Sherriff Bart's office to inform him that there was a new sheriff outside town.
Lnu, a former Army officer and FBI agent, according to an archived biography posted on the Freedom County homepage, presented Bart with a notice asserting his authority and told him that federal agents were no longer allowed to seize property for back taxes within the Freedom County territory, according to published accounts at the time.
"Sheriff Bart just needs to lighten up."
Bart responded by telling Lnu, who according to the Seattle Times had legally changed his name from Robert V. Bender, he would be arrested for impersonating an officer if he attempted to exercise any law enforcement powers and threw him out of his office, according to published accounts.
"Sheriff Bart just needs to lighten up," Lnu told the newspaper afterward. (Lnu could not be reached for comment by NBC News.)
Lnu made assurances that he did not intend to carry a firearm in carrying out his new duties, but Snohomish County officials grew more concerned that the group could pose a threat of violence, particularly after two Freedom County supporters showed up at a county councilman's home in the dead of night to demand $750 million. The councilman armed himself with a shotgun and escorted the men off his property, the Everett Herald reported.
Potok, the SPLC's expert on extremist groups, said that wasn't an outlandish concern, citing a 2001 report by his group that stated the FBI was keeping an eye on the Freedom County movement.
"There was always an implied threat of violence, and that is what concerned authorities," he said. "They didn't say we will fight you with weapons, but they did say that the government had absolutely no authority over them."
But Koster, the former state legislator, said such concerns were "a trifle overblown."
"To the extent that I knew people who supported the movement, I would not have been worried about that from these guys," he said. "They were adamant in their beliefs, yes, but I never sensed from any of those folks that there was any inkling to resort to violence."
By this time, the Freedom County movement was starting to lose steam, as losses in state and federal courts began to mount and support from other residents seemed to wane.
Stokes, the leader of the early movement who moved to Montana, blamed his successors for squandering what he said was a great opportunity to strike back against "the idiots controlled by the Audubon (Society)."
"I gave it to 'em on a silver platter. All they had to do was work the Legislature correctly and they blew it," he said.
Satterlee's involvement with the movement, particularly his role as the courtroom advocate, also came to a bad end.
He was convicted in May 2002 of unauthorized practice of law in a jury trial in Snohomish County, then sentenced to 30 days in jail and fined $300.
Fnu Lnu also eventually had his long-threatened run-in with the law. In 2002, he was convicted of second-degree criminal impersonation and other charges for flashing his badge at a police officer in Tukwilla, south of Seattle.
"I'm devastated," he told the Seattle Times afterward, that the court "wouldn't allow me to explain what Freedom County was."
Drewel, the former Snohomish County executive who left office in 2003, said Satterlee seemed to mellow after the Freedom County movement ran its course.
"If he had had a passion that blinded him to anything beyond what he had wanted to accomplish, we would never have talked," Drewel said. "… (But) no one can maintain that kind of intensity forever."
Gil Aegerter of NBC News contributed to this report.