A task force of rescue experts was due to arrive in Washington on Tuesday to bolster the increasingly desperate search for survivors after an immense mudslide.
Officials have battled dangerous quicksand-like conditions at the mile-square debris field near Oso, Wash., but have failed to find anyone alive since Saturday.
Six more bodies were pulled from a jumble of mud, trees and destroyed homes on Monday – putting the official death toll at 14. There were 176 reports of people missing, but authorities were keen to stress that some of these could be false alarms or duplicates.
Following a declaration of emergency by President Barack Obama, the Federal Emergency Management Agency requested 18 California firefighters with specialist training in urban rescue join the effort.
Members of the Urban Search and Rescue teams, receive hundreds of hours of training in a regime described by FEMA as "intensive, to say the least."
They are specifically deployed to find people trapped after a disaster. In addition to their general training, different members of the team have individual expertise in finding the victims, digging them out and treating them at the scene.
"A massive slide like this requires an all-hands on deck approach"
Dogs are to used to sniff people out and they carry what FEMA calls a "comprehensive equipment cache."
"Incidents like these are exactly what we train for and we know the call can come any time," said LaWayne Hearn, chief of Riverside City Fire Division, which sent personnel to Washington.
Another, San Diego Fire Chief Javier Mainar, added: "Our Urban Search and Rescue responders train under unique conditions year-round to be ready to respond to all hazards."
John Pennington, director of the Snohomish County Emergency Management Agency, said Monday that a 50-person search team from the National Guard was also en route to the area.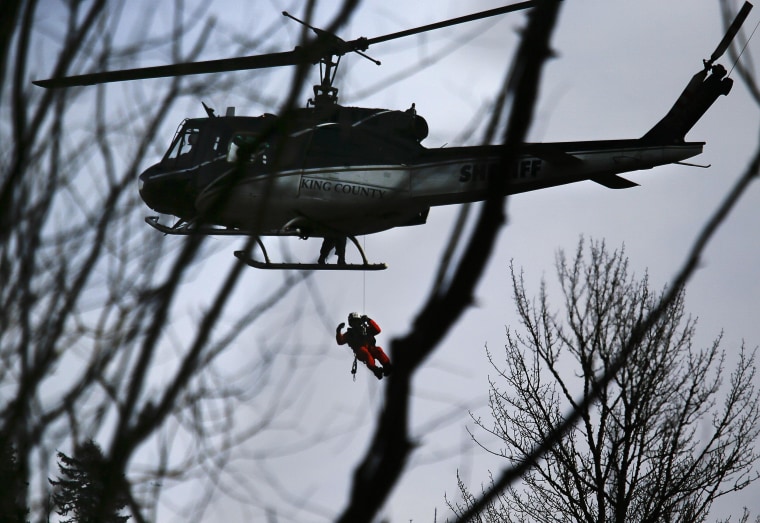 The California Governor's Office of Emergency Services dispatched the personnel Monday at the request of FEMA.
"Our thoughts and prayers are with the communities impacted by Saturday's debris slide and we are activating these highly-skilled responders into the area for emergency assistance," Cal OES Director Mark Ghilarducci said.
"A massive slide like this requires an all-hands on deck approach," added Sacramento City Fire Chief Dan Haverty. "We are getting our California personnel and gear to the impacted area as fast as possible."
The search so far has included helicopters, firefighters, police officers, dogs and heavy equipment operators.
Snohomish County Fire District 21 Chief Travis Hots told a news briefing Monday night that they were "looking in areas where there are most likely survivors."
Saturday's mudslide flattened dozens of homes in an area that was 4,400 feet wide by 4,400 feet long — shy of a square mile — leaving muck and debris in its wake.
It peeled off a section of the hill that is 1,500 feet wide and 600 feet high. The concern was the land behind that so-called head-scarp might be unstable.
The mud and debris also dammed up a river, which was causing flooding upstream. The water was up to the eaves in seven homes, and officials were considering further evacuations.