People across Washington state observed a moment of silence on Saturday to mark one week since a massive mudslide washed over a square mile of Snohomish County.
And although rescuers are still sifting through rubble in "miserable" conditions for dozens of missing victims, the community is strong and will build a town that was better off than before the disaster, residents said.
"Oso is made up of extremely resilient people," said Bonnie Rose, the manager of the Rhodes River Ranch and Restaurant, one of the few businesses in Oso.
Forty-nine homes were destroyed by the mudslide, and 17 people are confirmed dead, while another 90 are still missing, Snohomish County officials said Friday night.
"The people that we lost are irreplaceable."
"Everyone knows someone who was affected," since the town is less than four square miles and the population is under 300, said Aaron Hall, the manager of Fruitful Farm, a family-owned business in the town.
While small in numbers, the community is a tough one. "These people are just hardworking folks, these are salt of the earth people," Rose said.
Oso "used to be an old logging town that slowly declined," Rose explained, telling of the general store that went out of business when the owner fell ill and an old schoolhouse that hasn't been functional for years.
But that schoolhouse is now serving as a place for volunteers sleep at night after long days of sifting through debris for the missing.
Rhodes River Ranch is also serving as a makeshift residence for some employees, Rose said. Otherwise, they would have to travel 200 miles each way to get to work, since they commute from Darrington, a town cut off directly from Oso by the landslide across state Route 530.
Meanwhile, another part of the ranch is functioning as a collection center for donations, Rose said.
Hall also described Oso as "close-knit," and said everyone in the community has rallied to help one another. A recovery meeting on Wednesday at Oso Community Chapel drew 150 people, Hall said, and "I'm getting calls all the time, people asking 'how can I help' — even people I don't know."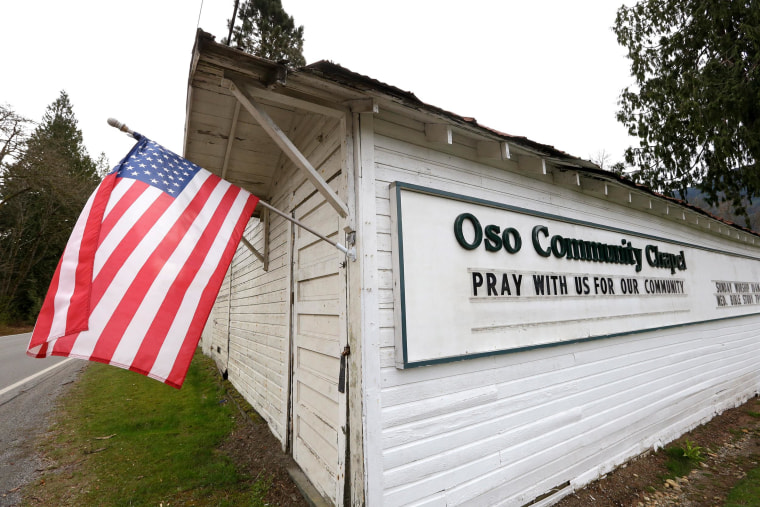 For that reason, Oso, which "was hurting even before the disaster" will rebuild and emerge stronger than before, Hall said.
"I know that there will be a unified feeling of 'let's get back on our feet here,'" Hall said.
"Some of the infrastructure is no longer here, but there is a lot of life," Gary Ray, the pastor of Oso Community Chapel told NBC station KING 5 of Seattle. Still, he realizes, "this is probably a two-year recovery plan, minimum, that we're looking at."
"This is going to be a really long-term recovery," said Jennifer Ramieh, a Red Cross development officer working in Oso. Ramieh pointed out that the Red Cross was still working in Moore, Oklahoma, hit by a tornado in 2013, and New York, pummeled by Hurricane Sandy in 2012.
While physical rebuilding may take years, Rose said the emotional recovery process will take even longer, given the bonds that people of a town as small as Oso inevitably have with one another.
"I don't know if it will ever be quote, unquote normal," Rose said. "The people that we lost are irreplaceable."
But Rose said the people who are left will remain "Oso strong" and won't give up on their little town. "There's generations here," she said, "loggers and farmers and people who aren't afraid to get their hands dirty — people who work shoulder to shoulder."