Eighteen people were still unaccounted for in the wake of a mudslide in Washington state as the death toll rose to eight Sunday evening.
Lt. Rob Palmer of the Snohomish County Sheriff's Office told NBC News that a total of eight bodies had been found in the square mile of debris, rocks, trees and mud by nightfall Sunday.
At a news conference earlier Sunday, Snohomish County Fire District 21 Chief Travis Hots said, "We didn't find anybody alive. There was no sign of life" after emergency crews scoured much of the affected area on foot.
The number of people missing people is "fluid," Hots said.
The slide, which occurred around 11 a.m. (2 p.m. ET) Saturday, turned land that spanned neighborhoods into "quicksand," Hots said earlier Sunday.
The mud is up to 15 feet deep in places, according to the Snohomish County government, making some search techniques impossible to employ. "Thermal imaging cameras are generally effective on a surface area. If someone's buried, that won't be effective," Hots said.
On Saturday night, search teams heard people yelling from a home in the path of the slide, but a rescue operation "was not successful."
"The mud was just too thick and deep," Hots said.
"The voices they're hearing are literally encased in 20 feet of mud," said Greg Regelbrugge, whose brother, John, and sister-in-law are among the missing.
"John's 32 years in the Navy," Regelbrugge said. "If someone can survive it, it's him. And he's with his wife I'm sure."
Rescuers who tried to reach affected homes on Saturday "got dragged in up to their armpits and had to be dragged out by ropes themselves," said Washington Gov. Jay Inslee during a briefing Sunday.
Two helicopters were deployed to search for victims, in hopes that rescuers would be able to trudge through the hazardous conditions to free them, Hots said.
Another risk to the 100 rescuers was the potential overflow of the Stillaguamish River, which has been blocked by the slide and was rising 10-12 inches every half hour, said John Pennington, director of the Snohomish County Department of Emergency Management.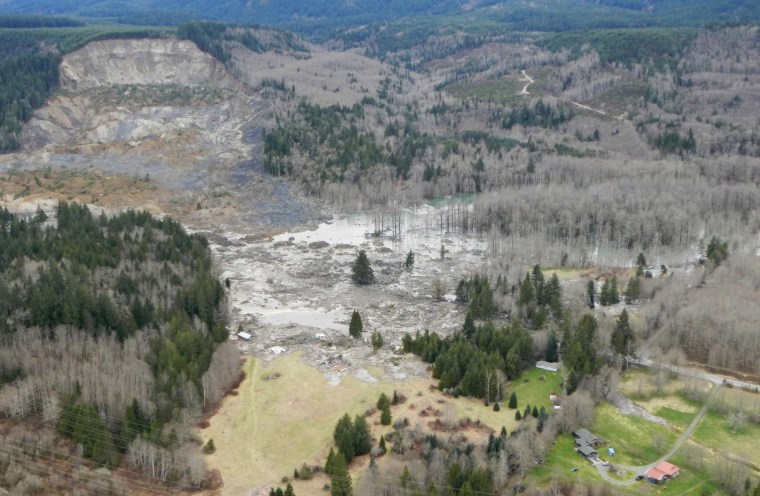 The river could eventually back up and slowly cause a flood — or quickly break through the blockage and cause a deluge, Pennington said.
The National Weather Service issued a flash flood warning in Snohomish until Sunday at 5 p.m. (8 ET).
"We really have two disaster operations going, one that has occurred ... and another that most likely can occur," Pennington said Sunday.
The river's dam breached "slightly" Sunday afternoon, according to the Snohomish County Sheriff's Office, but officials assured the "flow won't be catastrophic."
Evacuation orders were lifted during daylight hours, but Pennington urged residents of the 180-person town of Oso to keep radios on and be ready to flee their homes at a moment's notice.
The Snohomish chapter of the American Red Cross has set up two evacuation centers for those who were displaced and those who may need to evacuate, said spokesman Colin Downey.
Gov. Jay Inslee proclaimed a state of emergency Saturday.
"We want to stress that this federal declaration is an issue of finances," Inslee said Sunday. "There will be significant losses."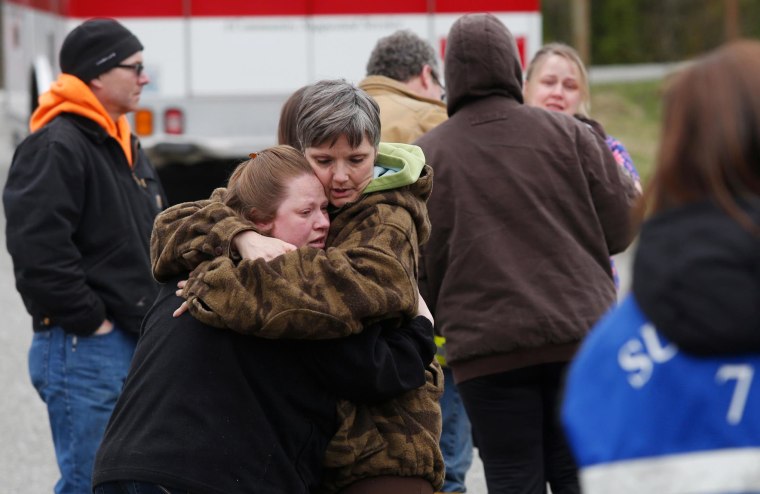 Inslee said he flew over the disaster area in a helicopter Sunday and viewed, "something I've never seen before."
"People have seen pictures of course, but it is 10 times more devastating when you see it yourself," he added.
Among the injured was a 6-month-old in critical condition, according to Harborview Medical Center in Seattle. The hospital was also treating a 37-year-old man and an 81-year-old man, both in critical condition, and a 58-year-old man and a 25-year-old woman in serious condition, said spokeswoman Susan Gregg.
Officials did not identify any of the victims who died beyond saying that they were "Washingtonians," Inslee said.
A mile-long stretch of State Route 530 remained closed Sunday "with a big wall of mud and debris," Hots said.
The cause of the slide appears to be that the ground was oversaturated by heavy rainfall, the Snohomish County government said in a statement.
"We've set records for rainfalls in the area this March," Washington State Patrol Trooper Mark Francis told NBC News on Saturday.
Rodney Rochon of the Snohomish County Sheriff's Office told NBC affiliate King 5 that the slide is the worst he's seen in the area in decades.
"Think back to what Mount St. Helens and the Toutle River looked like (following the 1980 eruption) — and that's what we're looking at," Rochon told the station.