A satellite image could be a clue in determining whether river erosion was a factor in the fatal hillside collapse in Washington state, a landslide expert said.
The undated image on the Google Earth website was apparently taken some time after the 2006 landslide in Oso forced engineers to construct a retaining wall along the Stillaguamish River, reported NBC affiliate KING5. The wall was created to reinforce the riverbank.
The image shows a bend in the north fork of the Stillaguamish and what appear to be broken-off logs cluttering the river at the northeast end of the wall. The wall was swept way Saturday in a mile-long mudslide that flattened homes on the other side of the river, killing at least 17 people.
It's too early to say whether the wall's failure played a part in the slide, but it could be studied in the event the river had eaten away at the hillside's stability, said Dave Montgomery, a geologist at the University of Washington.
"You can clearly see the river cutting into the toe of the slope," Montgomery told KING5.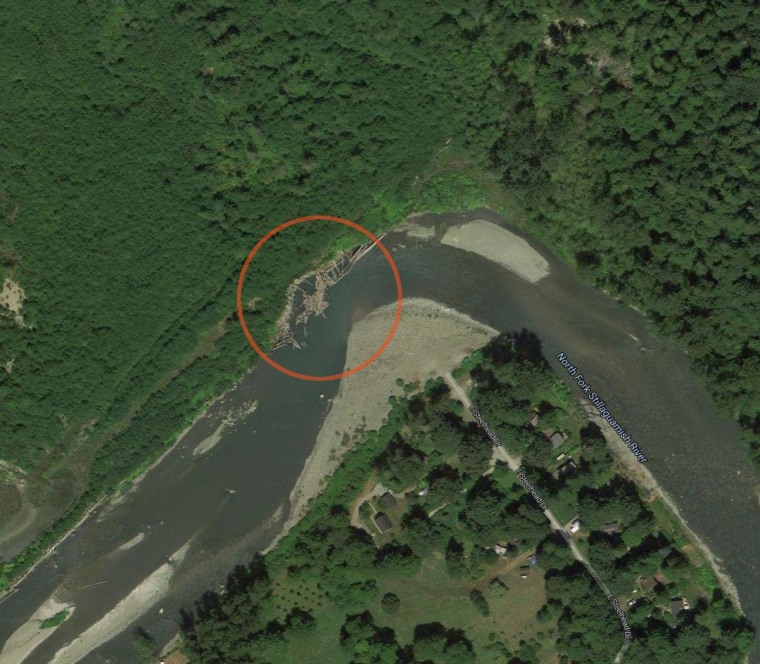 But the Stillaguamish Tribe of Indians, which oversaw the building of the $1 million wall, doesn't believe the wall's condition contributed to the collapse. The tribe's environmental manager, Pat Stevenson, told KING5 that the wall was also built to hold back sediment that was hurting the river's fish run — and not meant to support the entire slope.
The tree-filled hillside has been known as a landslide area for more than 60 years, and the river has eroded the base of it since at least the 1950s, geologists said.
While there was state-approved logging at the top of the hillside in 2005, the area immediately around the head of the slide was restricted from harvesting, according to state officials.
A Seattle Times report, however, found that logging was still done in the restricted area. Logging can contribute to slides because it removes trees that would otherwise absorb the water on the land.
— Erik Ortiz