A May snowstorm closed hundreds of miles of a highway and snarled traffic in Wyoming and Colorado on Monday, while the Plains cleaned up from tornado damage and expected further frustrations from imminent thunderstorms.
Nearly 400 miles of Interstate-80 in Wyoming was closed for about 24 hours after the spring storm on Sunday dumped up to 3 feet of snow in parts of the state.
A major east-west truck route, I-80 reopened in Wyoming on Monday a day after its closure stranded thousands of travelers and truckers. The interstate quickly became crowded with the trucks that had packed rest areas.
The slick roads and poor visibility were to blame for at least one fatal accident on U.S. Highway 285 southwest of Denver, according to The Associated Press. The slippery roadway became an accident-trap. Two law enforcement cruisers were hit within the same hour after responding to other accidents, the AP reported.
"May snow certainly isn't unheard of here in Colorado, even down in the Denver metro area," said David Barjenbruch, a Boulder-based weather service meteorologist. "If we see the total accumulations that we are anticipating from this storm, we are certainly going to see a top 10 May snow event for the Denver metro area."
Texas was dealing with another precipitation dilemma on Monday as thunderstorms brought heavy rains, prompting the National Weather Service to place most of the north of the state under a flash flood watch.
The rest of the southern Plains could also expect flash flooding, damaging winds, large hail and possible tornadoes through the evening hours, according to Weather.com.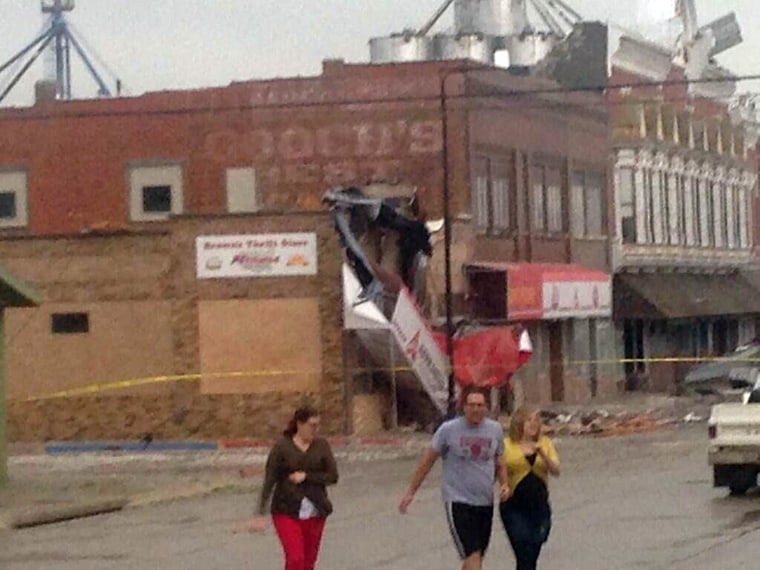 "The [tornado] threat area today goes from southern Michigan into Minnesota and then southeast into Missouri," The Weather Channel's Kevin Roth said. "Iowa and Wisconsin could also be threatened."
Powerful thunderstorms produced tornadoes as they moved across Nebraska on Sunday caused damage in several towns and rural areas in the east of the state.
Officials said the storms damaged homes and businesses in or near Sutton, Garland, Cordova and Daykin, and knocked out power to 18,000 utility customers.
Homes were also damaged in Iowa, according NBC station WOWT.
In Missouri, where a tornado damaged up to 300 homes in the town of Orrick on Saturday, Gov. Jay Nixon issued an emergency declaration and urged people to stay alert and heed weather warnings.
The Weather Channel's Roth said the tornado threat would "almost completely" be gone by Tuesday, but added: "There will be another storm system coming through the Tennessee and Ohio Valley areas. We can't rule out tornadoes but there doesn't look like a severe threat at this point."
Meanwhile, farther to the west, soaring temperatures and gusty winds led to dangerous conditions for wildfires.
The conditions in the Los Angeles and Las Vegas areas translated into "red flag" fire warnings, with authorities saying that any wildland flames would quickly spread out of control.
In the San Francisco Bay Area, the service said to expect "a robust warming trend" through Wednesday, with projected highs in coastal areas near 90 degrees and inland highs around 100 degrees.
The Associated Press contributed to this report.