Florida officials are investigating whether a county jail's flooded laundry room was the source of leaking gas that sparked the massive explosion that killed two inmates and injured 150 others.
The blast triggered chaos that has carried into Thursday and caused conflicting reports from officials regarding the whereabouts of all of the jail's 600 inmates.
Escambia County Sheriff David Morgan said the epicenter of the late Wednesday explosion was at the rear of the jail, where the inmate laundry rooms are located. Pounding rains from a week ago had caused a retaining wall at the Pensacola facility to collapse, and may have exacerbated the problem as more rain Wednesday hit the region, Morgan told reporters.
The sheriff said that gas is the likely cause of the explosion, which rocked the building around 11 p.m. local time (midnight Thursday ET) and nearly gutted the entire structure.
A memo e-mailed to the Pensacola City Council confirmed that "preliminary investigations indicate that the laundry room flooded and may have been leaking gas which [was] not reported yesterday."
Morgan wouldn't say whether inmates had earlier smelled gas.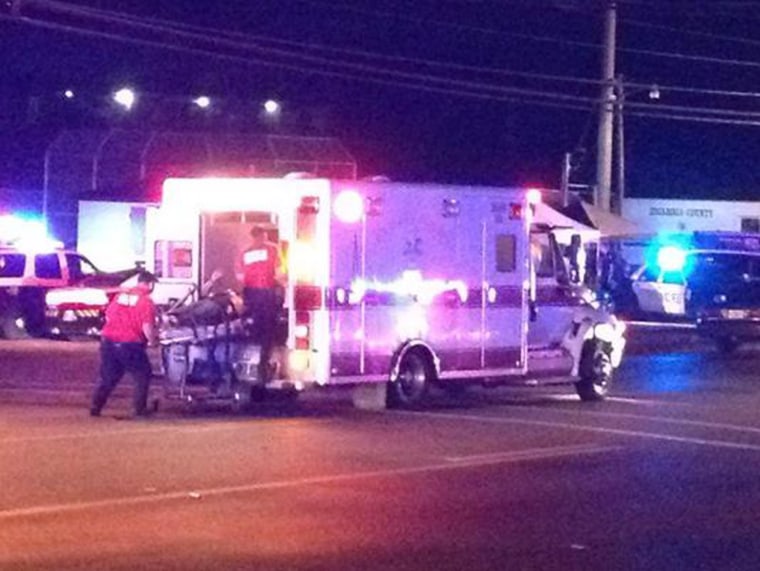 A woman identified as Sheila Travis interrupted the sheriff's news conference and claimed inmates did complain Wednesday about the smell. She said she was unable to reach her 23-year-old son, an inmate at the jail.
"I was here last night. I have seen more than two body bags come out. And my son, I called and I have called," said Travis, adding, "My son has not been accounted for."
NBC News has confirmed that three inmates remain unaccounted for, although it wasn't immediately known if they were also dead, in the hospital or had escaped.
Morgan told reporters Thursday morning that officials didn't have an accurate inmate headcount, an assertion quickly refuted by Escambia County spokeswoman Kathleen Dough-Castro, who insisted, "We know where they are."
James McLean, who works at the Circle K gas station just a few hundred feet away, said the blast felt like an earthquake.
"There was a big flash that lit up the whole sky and the whole area shook for what felt like a good five seconds," he told NBC News.
More on this story from breakingnews.com
The injured, including both inmates and corrections officers, were transported to five local hospitals for treatment.
West Florida Hospital took in 37 patients with "very minor, non-life-threatening" injuries, according to a spokesman.
"All of them have been seen in our ER, treated and released back into custody," Kendrick Doidge told NBC News.
Sacred Heart Hospital said it treated 31 patients with minor injuries such as abrasions and neck pain.
Baptist Hospital and Gulf Breeze Hospital saw a combined 81 patients, according to Liz Branch, spokeswoman for Baptist Health Care, while Naval Hospital Pensacola confirmed it saw six patients with minor injuries.