The worst flooding in Florida in a generation — more than 2 feet of water in 26 hours, by one rain gauge — left drivers stranded overnight and into Wednesday, the latest pummeling from the monster storm system lumbering across the country.
Tornado warnings were posted in the morning in Florida, Alabama and North Carolina, and authorities reported two storm-related deaths in Georgia. The risk for tornadoes later in the day was highest from South Carolina to Washington, D.C., forecasters said.
They said that Wednesday would probably be the last day of the severe-weather threat from the storm system, which has killed 38 people in eight states in a relentless eastward push of wind and water.
On Tuesday, Alabama and the Florida Panhandle got the worst of it. At least one person was killed, a man in Florida whose car got stuck in rising water. He called for help, but the water was moving too quickly, authorities said.
Five inches of rain fell on Pensacola, Fla., in a single hour, from 9 to 10 p.m. Tuesday — more than during the entirety of Hurricane Ivan, which rolled through in 2004, said Kevin Roth, lead meteorologist for The Weather Channel.
"It went on and on and on. It was relentless," Cheryl Clendenon, who was stranded in her home in Pensacola Beach until a friend picked her up, told NBC News. "I used to like the sound of rain to help me get to sleep, but this was like Chinese water torture. It just did not stop."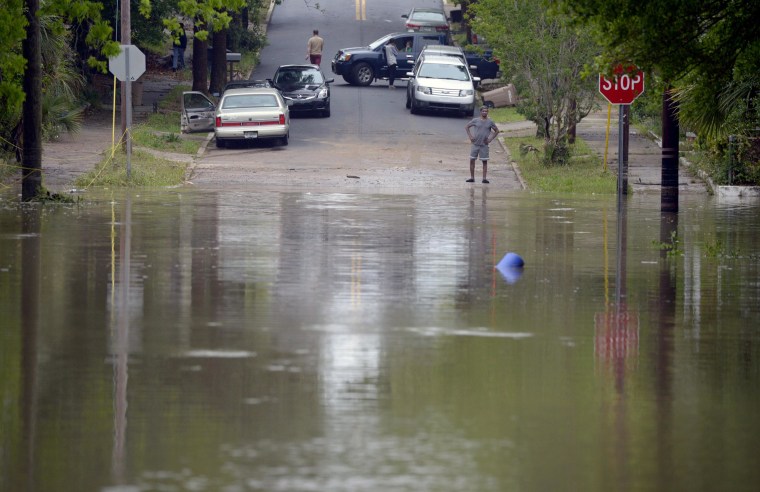 Forecasters figured that the rain in Pensacola set a record, but they could not be sure because a suspected lightning strike knocked out the National Weather Service reporting station there.
"We've had people whose homes are flooding and they've had to climb up to the attic," said Bill Pearson, a spokesman for Escambia County, which includes Pensacola. He said that authorities there described it as the worst flooding in 30 years.
The Florida Highway Patrol was still checking on stranded drivers early Wednesday. There was no estimate of how many were still stuck on the road, said Aaron Gallagher of the Florida Division of Emergency Management.
In Alabama, Interstate 10 was closed for several miles after it was overrun by water, much of downtown Mobile was flooded, an authorities sent a so-called reverse 911 alert to people along the Fish River, where water was at its highest level in 60 years.
At least 50 drivers were stuck late Tuesday as floodwater rose in Mobile County, Ala., on Tuesday. Most were helped by fire or police crews, said Glen Brannan of the county emergency management agency.
And the police and fire departments in Farmville, N.C., about an hour outside Raleigh, rescued people from 10 stranded cars and evacuated several hours as up to 3 feet of floodwater cascaded down the streets, the police chief told WITN, the NBC affiliate in Winston-Salem.