Residents of Vilonia, Ark., were left with a sense of deja vu Monday after the country's most powerful tornado this year flattened sections of their community, leaving many people huddled in darkness.
The town of around 4,000 north of Little Rock was hit by a twister three years ago this week, killing four people and forcing many to rebuild their homes and businesses.
Intial assessments after the Vilonia was hit again on Sunday suggested this disaster could be even worse.
"There is one neighborhood where there should be about 35 houses, but now you cannot see one house, it's pretty much flattened," Jill Bonnema, 39, told NBC News by phone early Monday.
"The town is practically shut down because there's power lines down and a gas leak," added Bonnema, who works in a part-time role as the executive officer of the town's chamber of commerce.
Vilonia was in the path of the most powerful tornado in an outbreak of at least 31 twisters to hit Arkansas and Oklahoma on Sunday.
In a matter of hours, the #PrayForVilonia hashtag had been tweeted more than 1,000 times by victims, their families and other people just wanting to show their support for the small town.
"There's just really nothing there anymore. We're probably going to have to start all over again," Vilonia Schools Superintendent Frank Mitchell told The Associated Press after surveying what was left of the building.
But the loss of life and property damage was even more acute in Vilonia because the deadly tornado of April 25, 2011, was still fresh in the minds of many people.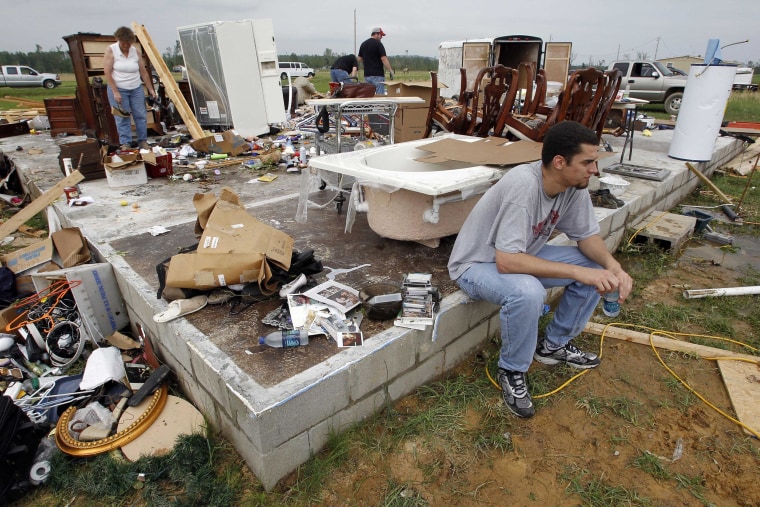 "A lot of people had to rebuild after the tornado three years ago," Bonnema said. "The town has fantastic community spirit and we will rebuild - not exactly how it was, but we will rebuild."
The Associated Press contributed to this report.