The victims include an Iraq veteran and two young brothers. A widow and a father and two of his daughters.
The deadly tornadoes buffeting the South since Sunday have killed 34 people across six states. The storms may still bring more devastation, leaving behind not just a trail of destruction, but entire communities grieving.
Here is what we know about some of the victims:
Daniel Wassom, 31, Vilonia, Ark.
Wassom, a father of two daughters — Lorelei, 5, and Sydney, 7 — died Sunday sheltering his family from the tornado. The man who everybody called "Bud" was with his wife, Suzanne, and his girls in a hallway in the center of their home when a large beam came toward him, crushing him to death.
Wassom, who served in the Arkansas Air National Guard as a load master moving cargo in and out of planes and had been deployed to Iraq, died shielding Lorelei from the beam.
"He was truly my hero and I'm going to miss him greatly," said Wassom's father, Daniel Ray Wassom, Sr., 53. "He was a great dad and a great son."
Wassom had been married to Suzanne for about 10 years, his father said. He described Wassom as always wanting to do the best he could for his family.
The rest of the family was hospitalized after the storm. Lorelei needed surgery on her shoulder, which got hit by the beam, but both girls have now been released. Suzanne, who suffered a concussion, is expected to be released Tuesday.
The family's home was leveled. Wassom, Sr., was digging through the rubble Tuesday morning, trying to find any mementos he could salvage.
"I couldn't ask for a better son," he said. "He was the joy of my life."
A fundraising page for the family had raised more than $30,000 as of Tuesday afternoon.
Rob Tittle, Tori Tittle, 20, and Rebekah Tittle, 14, Paron, Ark.
Three members of the 11-person Tittle family were killed when a tornado tore their two-story home down to the foundation. Emily Tittle, 17, told the Associated Press that her family took shelter under the stairs before the storm tore the walls away. Her father, Rob Tittle, her sister, Tori, 20, and another sister, Rebekah, 14, were killed; her six other siblings were hospitalized.
Friends and family shared memories of the Tittles on a Facebook memorial page for them.
"Tori was a constant friend. I can picture her strolling into heaven with her big smile and open arms," wrote Lydia Bush.
Nicholas Finn, godfather to Kerry Tittle, Rob's wife, told NBC News, "They're struggling but they're going to make it through. They know they'll be OK."
A Little Rock, Ark., church also set up a donations page for the family.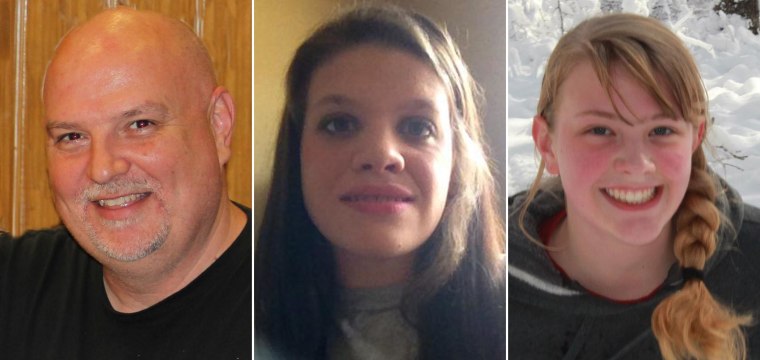 Cameron Smith, 8, and Tyler Smith, 7, Vilonia, Ark.
Brothers Cameron Smith and Tyler Smith and their parents, Daniel and April Smith, had moved to Vilonia last fall, according to the Associated Press, excited to live in a school district with a brand new intermediate school that the boys could eventually go to.
Third-grader Cameron Smith and first-grader Tyler Smith were killed Sunday when a tornado decimated the family's house. Daniel and April Smith survived, but were seriously injured. They are recovering in different hospitals; April was told Tuesday morning by a pastor that her sons died, while Daniel was told Monday.
Eric Hancock, a family friend who frequently babysat the boys, told the AP the Smiths were just getting settled in in Vilonia.
"They had found a great house at a reasonable price, and they were looking for schools and things. They had just built that new one. It just seemed right." Although the Faulkner County coroner listed Cameron's age as 8, Hancock said he was 9.
He told the AP the boys both loved fishing, baseball and God. Cameron also recently discovered a passion for hunting, trying it for the first time last October during deer season, Hancock told the AP. He fired shots at two deer but missed both times, overpowered by nerves. Tyler was an energetic "pistol," Hancock told the AP.
"He was just a light in the world," he said.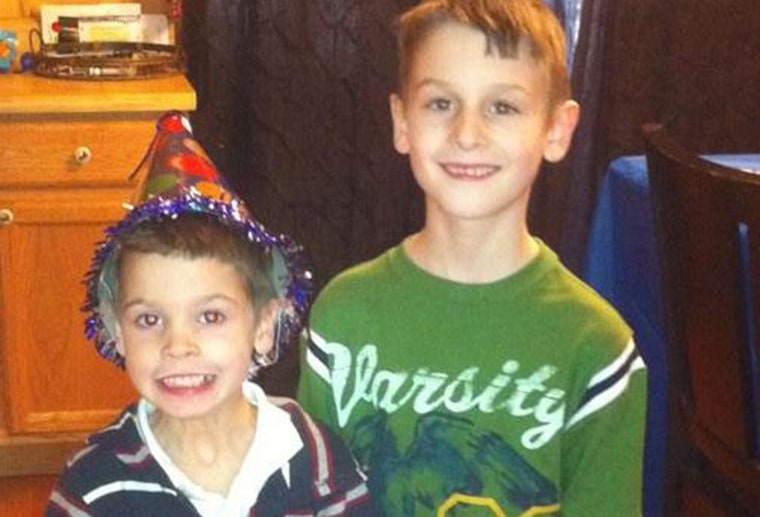 Paula Blakemore, El Paso, Ark., 55
Blakemore, whose husband died years ago, had lived alone in her mobile home for a couple of years, family told Atlanta NBC affiliate WXIA. Her children are grown, but she lived on the same street as her parents and her niece, Tina Chambers.
Chambers and her family lost their house but survived the storm, despite being inside at the time. Her husband, Robert Chambers, went to search for Blakemore. He found her about 200 yards from her mobile home, but wasn't able to save her.
Blakemore didn't have a storm shelter and wasn't able to get to her parents' home a few houses down, which did have one, Chambers said.
"There was just no time," she said.
John Servati, 21, Tuscaloosa, Ala.
Servati, a business major at the University of Alabama from Tupelo, Miss., died late Monday in the storms that swept through Alabama. He was a Dean's List student who was on the school's swim team, and had set multiple state swimming records in high school.
A Tuscaloosa city spokesperson told al.com that Servati died when a retaining wall in his basement collapsed on him. A woman who identified herself as a friend of Servanti's on Twitter, Anna Rae Gwarjanski, tweeted, "John Servati died a hero. Held up a concrete wall long enough for his girlfriend to get out from under it before it collapsed again on him."
University of Alabama head coach Dennis Pursley said, "John Servati was an extraordinary young man of great character and warmth who had a tremendously giving spirit."
Swim team captain Phillip Deaton was Servati's training partner for three years.
"John definitely had a genuine heart," Deaton said. "He was a carefree guy who always had this huge smile on his face."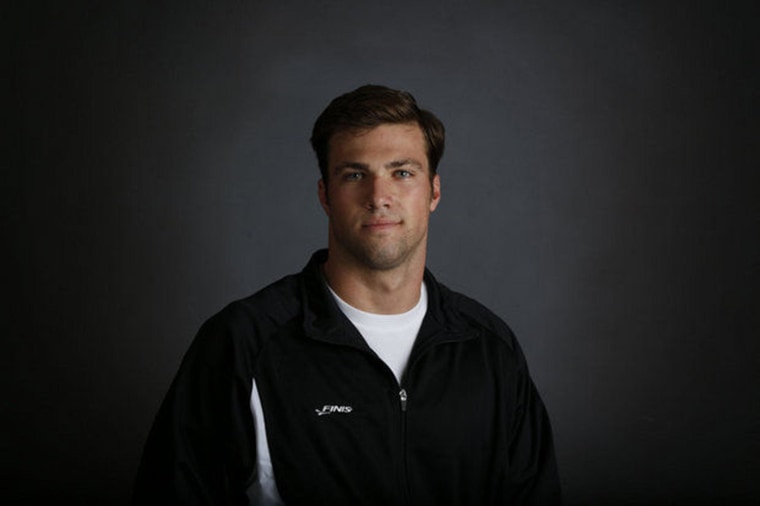 Dennis Lavergne, 52, and Glenna Lavergne, 53, Vilonia, Ark.
The couple was killed in the home that they shared with their oldest son, Chris Lavergne, 26. Chris wasn't home: He was working on his car down the street at his brother's house at the time.
A 15-minute storm warning sounded, which normally would have given the Lavergnes enough time to go to a shelter that's about 100 feet away from their house, but just five minutes later, the tornado hit. The Lavergnes had also survived a storm in 2011, but their house only got minor damage from that twister.
Travis Lavergne, 23, the couple's youngest son, said the tornado wiped their house right off its foundation. All that remained were the bamboo floors the couple had recently refinished. Shell-shocked, Travis said, "They were great parents."
Travis and Chris had rushed to their parents' house after the tornado blew through to see if they were OK. Their neighbors, friends of the family, had made it to the shelter, and came back in time to cover up the Lavergnes' bodies so Travis and Chris wouldn't have to see them.
On Tuesday, Travis rummaged through papers that were scattered over his parents' property.
"It's so random, the little things that survive," he said, holding up mail and bank statements, but pointing out that bigger items — such as the refrigerator — were nowhere to be found.
Glenna Lavergne had been a secretary at a day care center. Dennis was the manager of a local Auto Zone. Both came from big families: Glenna was one of six daughters, Dennis one of six sons.
Other confirmed tornado victims:
Mark Bradley, 51, Mayflower, Ark.
Jamye Collins, 50, Vilonia, Ark.
Helen Greer, 72, Mayflower, Ark.
Jeffrey Hunter, 22, Vilonia, Ark.
David Mallory, 57, Vilonia, Ark.
Robert Oliver, 82, Mayflower, Ark.
This story will be updated as more information on victims becomes available.
NBC News' Dan Shepherd and Tracy Connor contributed to this report.