Folks along the East Coast complaining about more than a foot of new snow — piled on top of already large season totals — should know that winter isn't picking only on them: 49 of the 50 states had some snow on the ground on Thursday.
Only Florida escaped a white mantle, according to a National Weather Service map of snow depth for the day.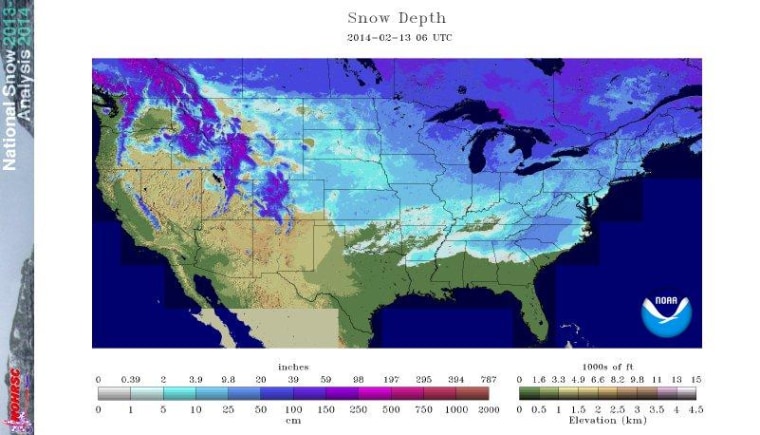 Of course, that might not totally console places like Pilot, Va., which got more than 27 inches in the latest storm, according to weather.com.
Even typically balmy places in the South weren't immune: Some 3.5 inches fell in Corinth, Miss., as the storm that paralyzed parts of the region.
Many cities in the Midwest and Northeast have seen total snowfall exceed the average by several times.
By the beginning of this week, Chicago had received more than 60 inches for the season. And Detroit received 39.1 inches in January, the city's snowiest month ever. The city now has more than 70 inches total. Its all-time snowiest season was 1880-1881, when 93.6 inches were recorded.
In the Northeast, towns and cities near some of the nation's biggest metro areas were struggling with more than a foot of snow from the latest storm.
More than 12 inches had fallen at Baltimore-Washington International Airport, and in Newark, N.J., more than 14 inches had been reported by Thursday morning, bringing the city's season total to 53 inches.
New York City has passed 51 inches for the season — it typically gets 16.4, the weather service says. Below was the look in New York's Orange County, and at the Fanwood, N.J., train station (courtesy of NBC News' John Makely).
But none of these places, while undoubtedly snowy, can top Erie, Pa., which has received more than 108 inches this season.
To get an appreciation for how much snow has fallen this season across the U.S., take a look at the National Weather Service's animation of its snow depth map.