A crippling ice storm appeared set to snarl Atlanta's morning commute and knock out power to towns and cities across Georgia and the Carolinas, forecasters warned early Wednesday.
"Be prepared for power outages, long periods in the cold/dark," The Weather Channel warned as the freezing weather system moved across the South.
Almost a third of the U.S. population, 93 million people, lives in areas that were under some form of winter weather advisory. A third of those — 32 million — were under winter storm warnings, meaning the only question isn't whether they'll get hammered Wednesday, but how badly.
It's the second winter major storm to slam the South this season, and the epicenter again looks to be Georgia.
Desperate to avoid repeating the fiasco of January, when children were stranded in school gyms overnight and drivers camped in their cars on frozen interstates for 24 hours, authorities rushed to get the word out Tuesday.
The National Weather Service warned of a potentially "catastrophic event," urging Georgians to "be prepared to be without power in some locations for days and perhaps as long as a week."
"We're not kidding. We're not just crying wolf," Georgia Gov. Nathan Deal said Tuesday. "It is serious business."
Ninety-one Georgia counties were under an emergency declaration Tuesday night, with 526 National Guard personnel on standby and 65 Guard shelters open, Deal said.
"This is one of Mother Nature's worst kinds of storms that can be inflicted on the South," he said. "And it is ice. It is our biggest enemy."
"There is no stronger message that we can make than: 'state of emergency,'" Atlanta Mayor Kasim Reed said Tuesday night. "The governor has declared it, and we need to all act like it."
He added: "The governor and I, at the end of the day, just want to get through the next 48 hours in a safe fashion."
And don't even think about traveling, said Nick Wiltgen, a meteorologist for The Weather Channel: "You can just forget about Thursday morning. It is going to be a mess."
The experience of two weeks ago was enough to scare Dianna Hodnett away.
"I'm staying home and I'm going to call in sick," Hodnett told NBC station WXIA of Atlanta. "I'm just not going to chance it, and I'm hoping I'll still have a job when I get back."
The state Transportation Department, meanwhile, told all truckers not to even bother trying to drive through Atlanta, directing them to stay outside the I-285 perimeter ringing the city.
President Barack Obama declared an emergency in Georgia, calling on federal agencies to lend a hand to state and local response efforts. And the Federal Emergency Management Agency announced that federal emergency aid has been made available to Georgia.
The Weather Channel reported that the storm was picking up a huge amount of moisture from the Gulf of Mexico as it swept across Texas, Louisiana, Mississippi and Alabama. It was projected to collide with extremely cold air moving in from the Northeast overnight and Wednesday — with the worst of the ice accumulating in a zone from metro Atlanta east to Augusta, Ga., and north through Columbia, S.C., and Raleigh, N.C.
With as much as a half-inch of solid ice expected to coat roads and power lines, the governors of both Carolinas, Alabama, Virginia, West Virginia and Maryland also declared states of emergency for much or all of their states. South Carolina Gov. Nikki Haley flatly said, "No one should be on the roads tomorrow at all.
"We do need to brace ourselves," she said. "This is going to be a pretty bad ice storm."
'The governor and I, at the end of the day, just want to get through the next 48 hours in a safe fashion.' - Atlanta Mayor Kasim Reed
The National Weather Service said ice and sleet could be "potentially crippling" in Raleigh and the rest of central North Carolina. Gov. Pat McCrory urged residents: "Check your neighbors. Take care of each other."
Amtrak said it would suspend service Wednesday on 10 trains in Georgia, Florida and the Carolinas "to reduce the exposure of Amtrak passengers, crews and rail equipment to extreme weather conditions."
At least six deaths were already blamed on the storm Tuesday as it gathered power over Texas and Mississippi.
Four people were killed in separate accidents on icy north Texas roads, including a Dallas firefighter who was knocked off an interstate ramp, NBCDFW reported. And two were killed in separate accidents in Mississippi, the state Highway Patrol said.
More than 1,300 flights into and out of U.S. airports had been canceled by 9 p.m. ET — and in a reversal of the norm, the great majority of them were at Southern airports like Dallas/Fort Worth International, Hartsfield-Jackson Atlanta International and Charlotte/Douglas International.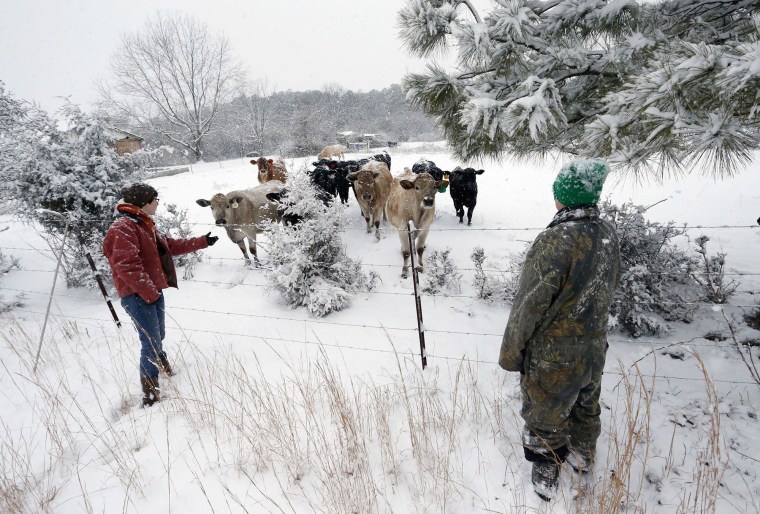 While Georgia officials hoped to get to the roads early to prep for slick conditions, residents were having trouble finding salt in the stores, a problem that plagues a good deal of the country after a treacherous winter.
Bates Ace Hardware in Atlanta was not only out of salt but also had already presold 150 bags that were coming in from a warehouse, manager Rod Brim said. He said the store was out of shovels, too, and he's not the only one scrounging for winter-weather supplies.
"Everybody's out," he said.
The storm was expected to progress up the East Coast late Wednesday. But while it will bring significant snow in the Philadelphia and New York City areas, warm air from the Atlantic should limit the ice impact, forecasters said.
Elisha Fieldstadt and Alastair Jamieson of NBC News contributed to this report.