A rare winter storm hatched a nightmare traffic jam that paralyzed parts of the South — especially the city of Atlanta — that is ongoing, nearly 24 hours after it began.
Here are some stories from the stranded:
'Just praying we get home safe'
Vontana Atkins, a wellness coordinator with United Cerebral Palsy of Georgia, said she had been stuck on Interstate 285, near the suburb of Marietta, since 2:30 p.m. Tuesday.
She was driving five men to their group home, a trip that should have taken 40 minutes. The men suffer various mental and physical disabilities, she said. They didn't all have their medications with them, and they've been without food and water.
"They're tired and they're hungry, but so far, so good," Atkins said. "I've been talking to them and encouraging them that we're getting there."
Traffic was at a standstill Wednesday morning. Atkins did have a cellphone charger with her, and was able to call her office and relatives of the men to let them know how they're faring.
"I called 911 several times, too, but they've been busy," she said. "We're just praying we get home safe."
They've been biding their time watching videos on Atkins' iPad and listening to gospel and country music. One thing Atkins hasn't gotten — sleep.
"I can't. I need to make sure everyone's OK," she said.
Starving and biding time
Tim Dougherty left downtown Atlanta for his home in the suburbs at about 3 p.m. Tuesday. Eighteen hours later, he was still stuck on the interstate, miles from home and with no relief in sight.
The trip normally takes half an hour.
"Tail lights. I just see tail lights," Dougherty told NBC News by phone from I-285 on Wednesday morning. "I have not moved an inch in 15 hours."

Dougherty has lived in the Atlanta area for 17 years but grew up in Indiana, so he's used to ice storms and blizzards.
"But I've never seen anything like this," he said. "I've got to say for a city, this is an epic failure."
By morning, a few people were walking down the interstate offering snacks and water. Dougherty was lucky enough to start with a full tank of gas, though he said he was down to half a tank and idling. He also had a phone charger.
Besides being frustrated, he said he was starving. And there wasn't anything to do.
"I am dominating Candy Crush," he said.
Born into gridlock
Tim Sheffield, a police officer in Sandy Springs, Ga., was on his way to check out a traffic accident when he saw a car on the side of the road. They didn't look like they were stuck. He pulled over to check on them.
"I asked the dad: 'Are y'all broke down?' He goes, 'No, we're having a baby,'" Sheffield said.
It was a couple on their way to the hospital. The man was on the phone with a 911 dispatcher. The woman was in labor.
Sheffield said he talked them through the delivery of a baby girl. The woman "did about 99 percent of it, and the father did a lot," he recalled.
"I had time to get the gloves," he said Wednesday in an interview on TODAY. "The father started to pull, I said no, don't pull, and the baby came out, and just happened quick. It was beautiful, and it was on my birthday."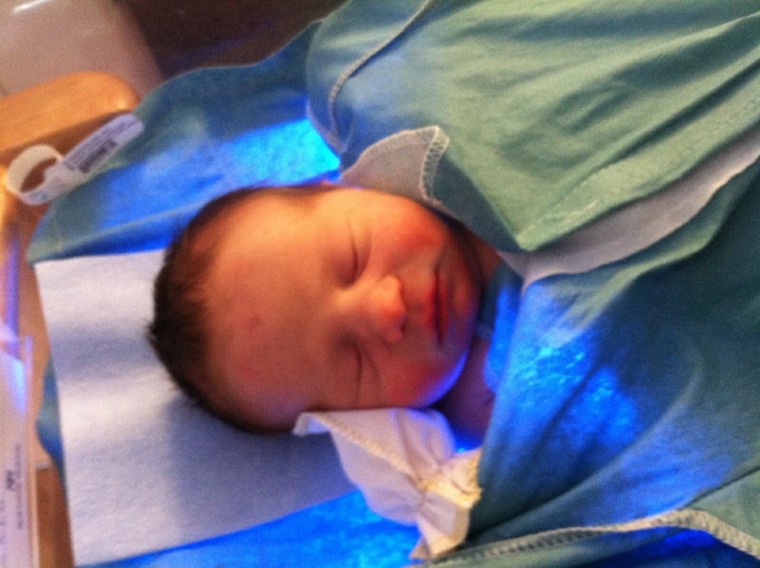 He said the new mother kept her cool the whole time.
"She was a trouper," he said. "She didn't have any anesthesia or anything, any medication or anything. It was 100 percent natural, but she did amazing. She really did."
Journey of peril
Friends Robert Warthen Jr. and James Hunt, both 52, left Atlanta at 1:30 p.m. Tuesday and were heading home to Smyrna when they got stuck in the monster gridlock. The drive should have taken 30 minutes.
Warthen said his car's battery died, and they remained stuck on the side of the road along State Route 401 on Wednesday morning.
"We're freezing to death. I'm shaking. I can't feel my feet," Warthen said, his voice choked with emotion.
Earlier in the night, the friends went to a hotel in Marietta, but they didn't have the $159 for a room. Warthen said he saw people smashing windows of parked cars and stealing items, and they decided to leave.
After getting stranded, they repeatedly called AAA, but couldn't get through.
"They could pick up the phone and say something!" Warthen said. "Not treat us like we're trash. The government's going to have a lot to answer for."
Stranded trucker: Never seen anything like it
Joe Schmitz, a trucker, was driving from Miami to Atlanta and was almost there when he got stuck at 2:30 p.m. Tuesday. More than 20 hours later, he said he hadn't moved.
"I've been driving a truck for 14 years, and I've never with my own eyes witnessed something like this," he told NBC News by phone.
He said that he knew of at least one baby who was stuck in a car without diapers — though Schmitz said he found one for her — and that truckers were taking people in to keep them warm. A truck can run for days on idle, he said.
"There are some people who are really kind of scared," he said, though he added that nobody had a bad attitude.
At about 2 a.m., he said, he walked two miles to a gas station, filled five or six bags with food and drinks, walked back and gave them to the stranded.
He said he had been told by authorities that the crisis could stretch through a second night.
Finally to school — and then stuck there
Katie Ganske, a psychologist who works in the city, got an email from E. Rivers Elementary School at about 2 p.m. Tuesday. After-school classes were canceled. She got in her car to retrieve her child.
"I looked it up later — it was seven miles, and it took me eight and a half hours," she told WXIA, the NBC affiliate in Atlanta.
By the time she arrived, just before 11 p.m., she decided to stay the night with the roughly 100 kids who were stranded at the elementary school. Her car had spun out on the drive over.
Brave rescue
Neighbors, churches and grocery stores took in strangers. And Chipper Jones, the retired and beloved Atlanta Braves third baseman, took to his 4-wheeler and rescued a former teammate who was stranded.
It started on Tuesday afternoon, when Freddie Freeman, the Braves' current first baseman, tweeted that he was stuck in the brutal jam:
By late Tuesday night, Jones' girlfriend decided to send him on a rescue mission:
The cavalry arrived:
The rescue was a success:
A memorable night for both of them:
Read more at NBC Sports' HardballTalk.
Nadia Sikander of NBC News contributed to this report.