A brutal winter storm – now blamed for 18 deaths – will deliver one last blow of snow and sleet before warmer air moves in Friday, forecasters say.
The nearly weeklong storm took a big toll from Texas to New England, producing a messy mix of ice-slicked roads, power outages and whiteout conditions that have battered millions of Americans enduring an already punishing winter.
About 400,000 homes and businesses, mostly in the South, remained without power Thursday evening following a vicious ice storm, millions more along the Interstate 95 corridor are struggling to dig out of more than a foot of snow in some parts.
Snow, it turns out, is on the ground somewhere in 49 of the 50 states. You win, Florida.
After a brief respite, the eastern storm was forecast to unleash a final burst of snow flurries overnight – some 2 to 4 inches is possible from Washington to New York City, according to The Weather Channel. But by daybreak Friday, the snow should end, and a period of warming is expected to set in.
Forecasters also warned that "thunder snow" — a thunder-and-lightning storm carrying snow instead of rain — was a possible in the Northeast. Numerous people took to Twitter to report experiencing it, but no official sources have yet confirmed an outbreak of "thunder snow."
Still, for those who were without power, particularly in Georgia, it could be days before electricity is restored, officials said.
The swift-moving storm — initially categorized as "catastrophic" — wreaked havoc across 22 states:
● The storm is being blamed for at least 18 deaths, mostly involving traffic accidents. A 36-year-old pregnant woman struck and killed by a snowplow in New York Thursday became the latest tragedy tied to the storm. Doctors were able to save her baby. Seven of those killed were in Texas, where the storm first hit, and included three people who died in an ambulance rollover near San Angelo on Monday night. There were also at least three deaths in North Carolina, two in Mississippi, two in Georgia, two in South Carolina and one in Virginia.
● There were still more than 468,000 power outages, mainly across the South, as of Thursday afternoon. Georgia and South Carolina bore the brunt of Wednesday's ice storm and account for 90 percent of the outages. Georgia's highways were virtually empty after officials warned drivers to stay off the roads — a vast difference from the Jan. 28 storm when commuters were stuck for hours in paralyzing gridlock.
● Areas around Washington, D.C., and Baltimore were slammed with at least a foot of snow overnight Wednesday as the storm moves up the coast at a rate of 1 to 2 inches per hour. Capitol Hill came to a standstill Thursday, with the federal government and courts closing, and the White House canceling a briefing with reporters. On Friday, federal agencies were reopening on a two-hour delay with some employees given the option for leave or working from home.
● Flakes fell in Boston around 7 a.m. ET, with 2 to 4 inches expected in the city and more than 10 inches outside by the late afternoon, forecasters said.The storm hit Philadelphia earlier, dumping more than 8 inches of snow after midnight and moving the winter of 2014 into the top five snowiest for that city. New York City, meanwhile, had 10 inches of snow by 1 p.m.
● The peak of the storm ended after noon for most East Coast cities, where the snow was turning into rain. But the tail end of the storm is expected to bring another blast of snow and potentially a couple more inches overnight into Friday. By the time the storm moves off shore, it will have dropped 1 to 2 feet of snow just west of I-95 from D.C. to Portland, Maine.
● Highways in North Carolina turned into parking lots as Wednesday evening commuters became trapped in traffic. State officials said Thursday trucks were moving abandoned cars to the shoulder or towing them to safe locations so that more than 1,400 salt trucks and plows could mobilize.
The snow will be a major headache for travelers in the Northeast, already weather-beaten by the relentless winter season, said Kevin Roth, a forecaster with The Weather Channel.
Communities "may have enough plows to deal with normal storms but with two inches an hour … the snow just builds back up," he added. "This will affect any roadways or airport runways in the region."
There were already more than 6,500 flight cancelations across the U.S. as of 10:30 p.m. ET Thursday and more than 4,000 delays, according to FlightAware.com. All the major airports in the New York City area remained open Thursday morning, even as hundreds of flights were canceled.
But in D.C., both Reagan National Airport and Dulles International Airport closed their runways.
Thousands of kids will get another snow day in Philadelphia on Friday after schools canceled classes in anticipation of the storm's "second wind." Flooding was also a possible concern should heavy rainfall mix with snow already on the ground. This, combined with strong winds could also lead to power outages, NBC Philadelphia reported.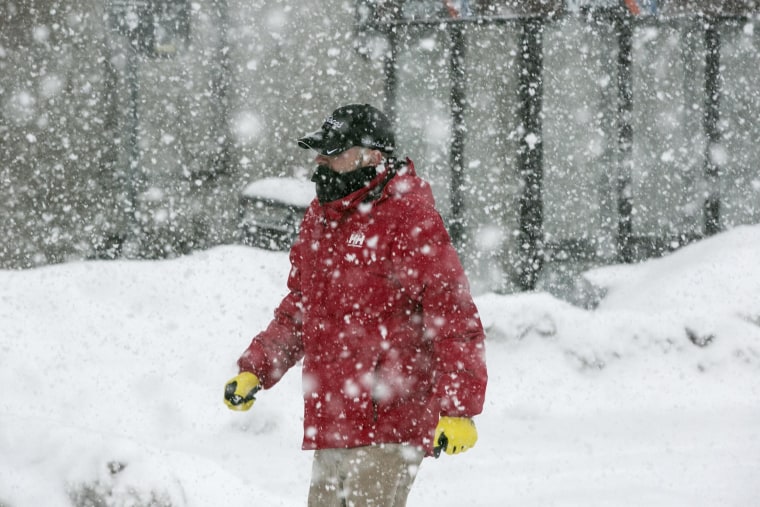 Gov. Chris Christie declared a state of emergency in New Jersey, where dozens of school districts canceled classes.
But public schools in New York City remained open Thursday even as New York Gov. Andrew Cuomo declared a state of emergency for the city, as well as the mid-Hudson and Long Island regions. Commercial traffic was closed on Interstate 84, from Connecticut to Pennsylvania, because of deteriorating conditions.
"These regions are expected to continue to receive heavy snow that may accumulate at rates of around two to three inches per hour, which will make it difficult for plows to keep some roads clear," Cuomo said in a statement. "New Yorkers should stay off of the roads and remain in their homes until the worst of the storm has passed."
Micah Asculai, a sous chef at Del Frisco's in Manhattan, arrived at the train station in Fanwood, N.J., for a challenging commute Thursday morning.
"I grew up in Canada," he told NBC News, "but I've had enough of this. ... Just 37 days 'til spring!"
NBC News' Bill Karins, Henry Austin, Alexander Smith and John Makely contributed to this report.