The frigid winter storm that sped through the Great Lakes and East Coast over the holiday weekend will give way to warming and rain – a nice break but that could spell flooding in many areas as the snow melts.
On Tuesday, snow accumulations topping 5 inches were reported in many parts of the Northeast. But that system was starting to wind down in the evening as it moved toward Canada.
It still, however, was expected to drop 3 to 5 inches of snow on Boston and even more to other parts of New England before moving offshore north of Maine on Wednesday.
"I'm ready for it to end," said Bill Long, 50, of Abington, Mass., told The Associated Press as he waited in line for lunch at a Boston food truck. "It's a pain to come home from work and have to dig out my driveway."
Snow was already tapering off in Pennsylvania, New Jersey, New York and Connecticut Tuesday evening, the Weather Channel reported.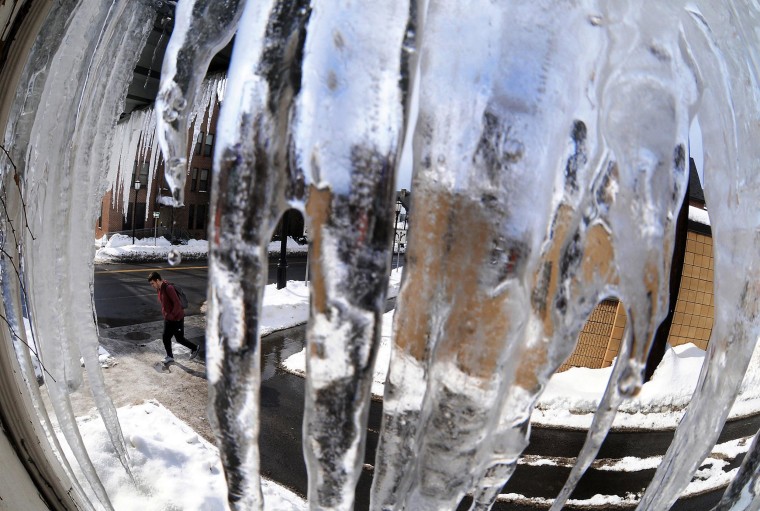 Still, Tuesday's snowfall pushed New York City's Central Park into record territory – with the 48.5 inches of snow beating out the 47.2 inches for the same period of the 1995-1996 season, the Weather Service said. The city also beat a February snow total with 28 inches already this month.
That was one of several cold and snow records eclipsed this winter.
Out West, a major weather system battered the Pacific Northwest with rain, and dumped heavy snow on the Cascade mountains as well as parts of the northern Rockies.
And as the weather warmed, flooding was a major concern, particularly in Michigan and Illinois. The National Weather Service said melting snow and more rain could also collapsed roofs in some areas of Michigan.
The good news was that although another system was set for the East on Wednesday this was forecast to be rain. After that, warmer temperatures spelled a snow-free period for the region into next week at least, according to Roth.
This system came in from the Midwest where it had covered parts of Minnesota, Wisconsin, Michigan and Illinois with as much as 8 inches in isolated areas on Monday.
It packed heavy winds gusting as high as 30 mph, and parts of Chicago were under near-whiteout conditions Monday morning. Similar conditions were reported in southeastern Michigan, where the Monday evening commute was expected to be a mess.
More than 1,350 flights into and out of U.S. airports were canceled Monday — about three-quarters of them at Chicago's two main airports, according to FlightAware. More than 4,300 other takeoffs and arrivals were delayed. More than 600 more were canceled across the U.S. by 5 a.m.
For the Northeast, the storm was one more roundhouse for a region still digging out from a storm that dumped more than a foot of snow on Massachusetts and spanked Cape Cod with fierce winds that cut off power for thousands over the weekend.
As storm after storm has swept through, many areas in the Northeast and New England have already gotten two to three times their annual winter snow averages — 55.4 inches in Philadelphia, which usually has about 16 inches by now; 55.6 inches in New York, which normally should have 17.4; and 53.5 inches in Boston, where the average by mid-February is 29.4.
"They're all blending together," said Chad Burke, an editor for The Weather Channel.
And all three cities could get 1 to 5 more inches by late Tuesday, said Tom Niziol, a forecaster for The Weather Channel.
"I'll tell you what, they don't need any more," Niziol said.
"They're all blending together."
All 182 of the Illinois Tollway's snow plows were deployed to tackle slick conditions along the 286-mile system, which runs from Chicago to the northwest part of the state.
"Avoid driving if possible," Kristi Lafleur, executive director of the tollway, said flatly. If you have to drive, she told NBC station WREX of Rockford, "slow down, drive defensively and allow plenty of extra travel time."
At St. Michael's College in Colchester, Vt., an electrical space heater malfunctioned overnight in near-zero temperatures, damaging a student apartment building and displacing 22 residents, police told NBC station WPTZ of Burlington.
But the extended assault has been a boon for landscaping and hardware business, which have been constantly busy plowing driveways and restocking shelves of winter supplies.
"We've been completely going nuts with salt sales and shovels — every electric heater we had and every gas heater," Mark Wiegmann, general manager of Busy Beaver Hardware in Moundsville, W.Va., told NBC station WTOV.
There's a ray of sunshine — literally — once the latest storm rushes through, as a warmer weather pattern moves in over the central and eastern U.S., the National Weather Service forecast.
Also with the warming comes a new danger — kamikaze icicles.
"It seems like I had a whole lot of icicles just a few days ago, and someone took them off for me, and today, I look out and they're huge. They're really huge," Frances Pioggia of West Springfield, Mass., told NBC station WWLP.
M. Alex Johnson and Daniel Arkin of NBC News as well as The Associated Press contributed to this report.