Northern California finally got some much-needed rain Saturday — a lot of it, but still not enough to quench the state's drought.
Until Saturday, the San Francisco Bay Area had gotten only 3 inches of rain this season; it normally would have received 14.5 inches of rain at this point. But rain was falling at the rate of a half-inch per hour Saturday in some parts of the area — 4 inches in Sonoma County and as much as 3 inches in San Francisco and San Jose.
The National Weather Service issued a flash flood warning for Sonoma County.
The storm dropped three-quarters of an inch of rain on Sacramento by late afternoon, well on its way to what's expected to be up to 2.5 inches through Sunday. That would be the be the first time the city has had even one full inch in a 24-hour period in more than a year.
And elevations in Northern California above 8,000 feet could see up to 3 feet of snow accumulation by the end of the weekend, according to The Weather Channel.
But the welcome deluge won't solve the state's drought worries, said Mark Strudley, a hydrologist for the National Weather Service.
"The yearly rainfall around here, depending on where you were, was less than 10 percent of normal," Dtrudley told The Associated Press. "The additions from this last series of storms and the totals are taking a dent out of it, but it is not a significant dent."
The Northwest got bombarded by a third wave of wintry weather Saturday,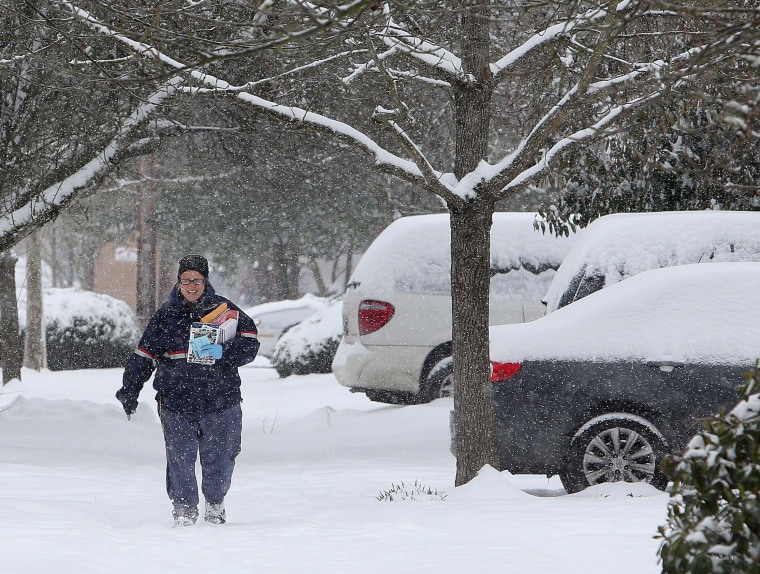 Snow was also expected in Oregon and Washington late Saturday — the states' third snowstorm in as many days. The storms shuttered businesses and schools Thursday and again Friday, but those who needed to drive faced slow and dangerous roads.
The Portland area was under a winter storm warning through early Sunday morning, with as much as 7 inches of new snow expected in some parts.
A female passenger was killed Friday in a single-vehicle crash on an icy interstate in northwest Oregon, State Police said. Salem, Ore., police, meanwhile, required drivers to have chains or traction tires until midnight Saturday.
In southwest Washington, another person died in a pileup on Interstate 5. The area could expect 5 more inches of snow by Sunday morning, according to the state Transportation Department.
Three "Polar Bear Plunges" were ironically canceled in Saturday in Oregon, where residents are more accustomed to rain than snow.
Meanwhile, areas that are used to snow won't be getting too much in coming days. The Midwest, the Northeast and the Mid-Atlantic will see only flurries Saturday and Sunday, according to the National Weather Service.
The lack of snow is welcome news to Pennsylvania and Maryland, which still have 170,000 customers waiting for electric to be restored, three days after a snow and ice storm downed power lines.
The Associated Press contributed to this report.