More than half a million people in the Southeast woke up to a cold and dark Thursday after the second vicious ice storm in as many weeks caused widespread power outages.
Georgia was the worst-hit state with almost 230,000 homes and businesses without electricity, according to figures reported by utility companies at 6:45 a.m. ET.
More than 200,000 customers were experiencing outages in South Carolina with 90,000 others suffering in North Carolina. Louisiana and Virginia also had thousands of people left without electricityl.
"Our customer service center is getting quite a few calls from people who have been without power for more than 24 hours in what is a cold and wet environment," Georgia Power spokeswoman Carol Boatright said. "People are getting very concerned and upset about their situation."
Boatright said almost 500,000 Georgia Power customers alone had been off the grid, but the company had managed to restore more than half of them.
"We're asking people to be patient just a little longer and for the most part they recognize that our crews are out in difficult conditions and working as hard as they can," she said.
The Southeast was suffering after being hit Wednesday by a huge storm that stretched from Alabama to Massachusetts.
But during the night, those without power were not the only people suffering: Ice and fallen trees created dangerous driving conditions for crews trying to get people back on the grid, according to the Georgia Department of Transportation.
"Trees continue to fall under the weight of ice on their limbs and windy conditions, and in the darkness our tree removal effort has become dangerous for our crews," said DOT state maintenance engineer Dale Brantley in a statement issued at 1 a.m. "We are concerned about their safety during the overnight hours."
More than 3,400 flights into and out of U.S. airports were canceled Wednesday and 3,500 more were delayed. By 3:30 a.m. ET Thursday there were already more than 1,600 U.S. cancelations for the day, according to FlightAware.
By early Thursday, the storm had begun its march up the East Coast, according to Kevin Roth, lead meteorologist at The Weather Channel. In New York, Pennsylvania, and Washington, D.C., it was expected to dump snow at a furious rate of two inches per hour, making tough work for even the most industrious snowplow crews.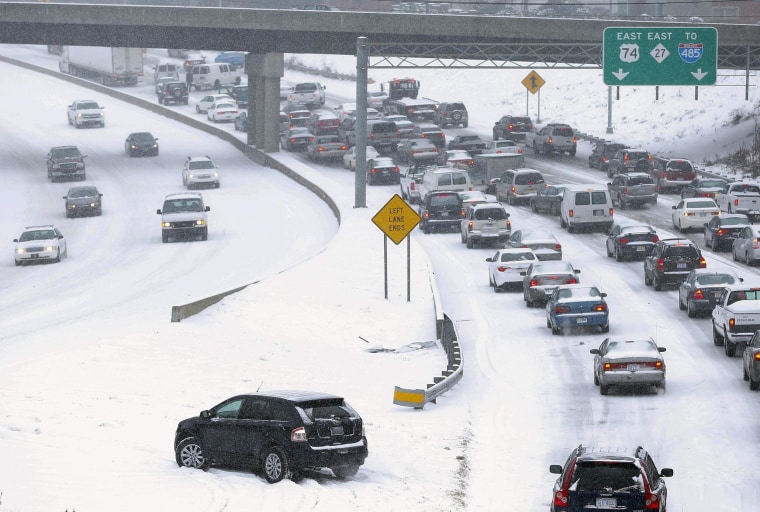 The freezing rain had largely stopped in the South but this was due to morph into snow in parts of Georgia and Alabama, Roth said.
"There could be as much as three inches in northwest Georgia but then it will begin to wind down," he said.
But with temperatures still below freezing, the ice which built up in parts of Georgia and the Carolinas on Wednesday was not expected to budge. And this was continuing to affect the states' electricity infrastructure.
As much as an inch of ice built up in all these states, bringing down trees and weighing heavy on fragile power lines. The worst-affected areas were north and east Georgia, central and eastern South Carolina, and central and eastern North Carolina, Roth said.
Nearly 600 power workers were camping overnight at the Mall of Georgia in Gwinnett County, northeast of Atlanta, where support staff and volunteers showed up to serve breakfast and dinner and to pack box lunches, NBC station WXIA reported.
Three deaths were blamed on the storm Wednesday, raising the number of confirmed deaths to 10 since the storm swept in through Texas earlier in the week.
The wintry blast follows an ice storm which turned several cities - particularly Atlanta - into virtual parking lots on Jan. 29.
Having learned their lesson two weeks ago, when snow locked down the city for a day and a half, Atlantans stayed home, leaving usually jam-packed interstates looking like a sci-fi wasteland as an eerie calm settled over desolate streets slick with ice. Highways were deserted as freezing rain and ferocious wind gusts kept drivers at home.
That wasn't the case in Charlotte, North Carolina's biggest city, where cars and trucks slipped, slid and stalled at the junction of Interstate 277 and Independence Boulevard, a major highway through town.
In a scene reminiscent of the parking lot that Atlanta's freeways became last month, vehicles lined up motionless for miles. Hundreds of crashes were reported, and Independence was eventually officially closed.
Amtrak suspended service Wednesday on 10 trains in Georgia, Florida and the Carolinas "to reduce the exposure of Amtrak passengers, crews and rail equipment to extreme weather conditions."
M. Alex Johnson of NBC News contributed to this report.