As if traffic snarls, scrubbed flights and power outages weren't enough misery, the latest bit of winter savagery to hit the Midwest and the East is an extreme shortage of the salt used to clear snow and ice off roadways.
Many cities have been forced to ration salt after weeks of above-average snowfall and bone-chilling temperatures have nearly depleted their stockpiles.
That's left many streets treacherously slippery, putting motorists, their passengers and pedestrians at risk.
By the end of January, for instance, the Pennsylvania Transportation Department had burned through 686,000 tons of salt — upwards of 200,000 tons more than used during an average year, according to the Associated Press.
In Illinois, Chicago's supply is holding up, but the suburbs are hurting.
"If we don't get the salt, at some point people are going to be sliding all over the place like what you saw in Atlanta," Julius Hansen, the public works director in the Chicago suburb of Glen Ellyn, told the AP, referencing the motorists stranded in the South last week.
Salt producers in Kansas and elsewhere said they were out of rock salt or close to it.
Officials in New York and New Jersey also warned they were running short of the rock salt.
New York City has spread some 346,000 tons of rock salt on its roads so far this year, about the total for all of last winter, Belinda Mager, a spokeswoman for the city Department of Sanitation said.
The rapidly shrinking supply of salt has sent prices skyrocketing as officials stretch resources thin and scramble to find alternatives — like the processed sugar beet molasses being tested in Pennsylvania's Butler County.
Store owners, too, are getting squeezed.
"I have people calling from all parts of the East Coast looking for it, and we just have nothing."
"We're just continuing to get crushed by these storms. With major rock salt shortages, it's starting to get scary out there," Anthony Scorzetti, a hardware and paint manager for Braen Supply in Wanaque, New Jersey, told Reuters.
"I have people calling from all parts of the East Coast looking for it, and we just have nothing."
Some 77 million Americans were under storm warnings and hundreds of thousands were without power Wednesday as the winter blast that wreaked havoc across the nation's midsection roared into the Northeast.
"The worst will be along the higher terrain, around central New England," said Benjamin Sipprell, a National Weather Service meteorologist. "Southern parts of Vermont and New Hampshire around the border with Massachusetts could see up to around a foot of snow."
The onslaught of ice dragged down power lines. More than 849,000 people were without power in eastern and central Pennsylvania at one point, prompting the governor to declare an emergency. Crews managed to cut that down to 625,000 by Wednesday night.
In New Jersey, where Gov. Chris Christie ordered a state of emergency, the state's largest utility PSE&G reported about 9,000 customers without power Wednesday night, down from about 75,000 outages.
Connecticut Gov. Dannel Malloy called on residents to stay off roads. Parts of the state have reported 10 inches or more of snow.
"With heavy snow falling across the state and a mix of sleet and freezing rain on the way, I am asking residents to avoid unnecessary travel," Malloy said. "If you can stay home or work from home, please do."
In Connecticut, more than 300 traffic accidents were reported on major roadways and side streets on Wednesday.
"Everyone was skidding all over the place," Bruce Small, 58, an aircraft mechanic from Millford told Reuters.
More than 2,500 flights across the country were canceled, with airports and passengers in New York, Boston and Chicago bearing the brunt. Most of the flights not scrubbed were experiencing delays.
Commuters across the region creeped to work. Making matters worse, a "significant" power outage crippled service on at least three major subways lines in New York City during the early morning commute — including at Times Square, the busiest station in the busiest subway system in the country. By the end of the morning rush, the issue had been fixed, city officials said.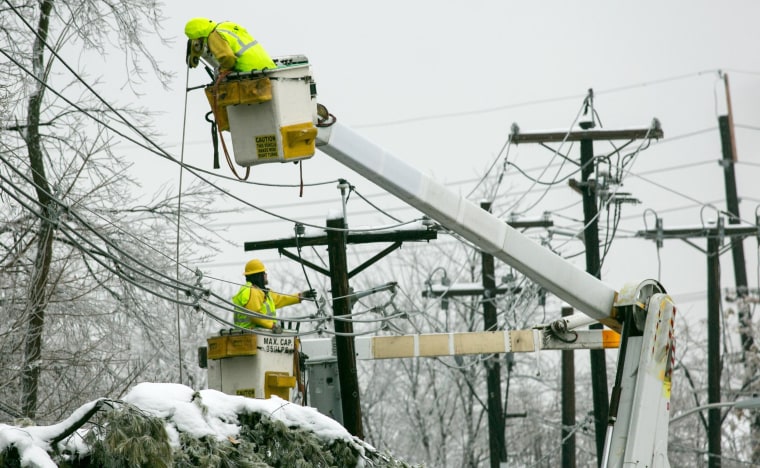 Schools were open in the Big Apple, despite the monstrous weather. In Brooklyn, parents trudged through the snow with their kids as crews used snowblowers to keep sidewalks around buildings clear.
Renita Stefanec, who dropped off her 7-year-old for class with her 5-year-old in tow, told Reuters that keeping schools open amid the storm is for the best.
"I prefer them to come to school because if they don't they take it away from vacation days," she told the wire service.
As for the arduous trek, Stefanec weighed the pros and cons.
"It's sloppy, it's messy, but if you live close it's doable," she said. "If it's too bad out, they just don't come. They keep the kids home. But if you're close, it's doable."
The storm packed a powerful punch as it barreled east overnight. In Kentucky, more than 21,000 people were in the dark Wednesday morning; in Arkansas, the outage total was close to 40,000.
In Missouri, many people were forced to stay overnight at work or in hotels as road conditions quickly deteriorated, NBC affiliate WGEM reported. Kansas was hardest hit, and Gov. Sam Brownback declared a state of "disaster emergency" after the storm system forced the closure of many state offices and schools. In Wichita, 8.7 inches had fallen by 9 p.m. – shattering a record for the date to 1897.
Caught up in the treacherous conditions, at least two people died in a car accident and the Kansas National Guard deployed soldiers and Humvees to transport emergency and medical workers and assist stranded motorists.
And even as they faced another round of wicked weather Wednesday, many people on the East Coast were still feeling the aftershocks of Monday's dump of snow and ice.
A 73-year-old New York man was struck and killed Monday by a snowplow that was backing up on a Brooklyn street, police told NBC New York.
A 10-year-old girl also was recovering at home Tuesday after she was impaled in the back Monday by a metal rod while sledding in Jarrettsville, Md., north of Baltimore, NBC station WBAL reported.
There is better news: A third winter storm predicted for this weekend will likely not be as bad as first thought, according to Roth.
"We're not saying that there will be no threat, but we are becoming more confident that it won't be as big a deal," he said. "There will be more snow for the Northeast on Saturady and Sunday but at this point it does not look very significant."
Henry Austin of NBC News and Reuters contributed to this report.