Schoolchildren in winter-weary states are spending Presidents Day in class Monday in school districts trying to put a dent in the days lost to snow and ice.
While districts allow for calamity days in their schedules, schools in at least 10 states have maxed out and then some on the number of days students can miss, according to the Associated Press.
On average, states require 180 in-class days per year, according to the National Center for Education Statistics, and if districts don't find a way to make up time, they won't hit that number.
Catoosa Public Schools in Georgia, which has faced a notoriously tough winter, has already used 10 snow days. The state only allows for four calamity days each year, and Catoosa hadn't used a snow day since 2011, said Catoosa Superintendent Denia Reese.
The students are in class on Monday, Reese said, because "I believe it is important to maintain our spring break and end school according to our original calendar."
Since the district is left with five days to make up, Reese said the rest of the days will be made up by adding minutes to each school day.
Districts in Ohio, Virginia, Maryland, Indiana, Georgia, North Carolina, Kentucky and even Texas have also made announcements that Presidents Day would serve as a makeup day, according to their websites.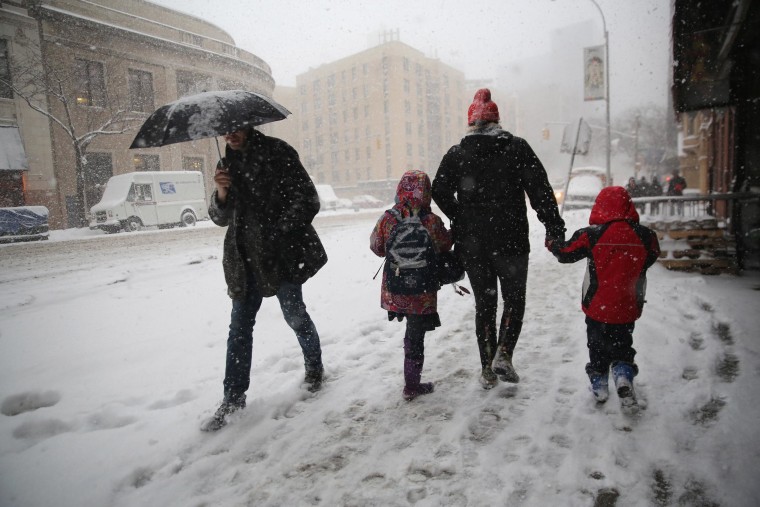 In Ohio, Gov. John Kasich proposed a plan at the end of January to allow schools extra inclement weather days, saying, "Giving schools a few extra snow days this year will be helpful and let everyone stay focused on the top priority when weather hits, keeping kids safe." Ohio's Congress still hasn't passed the bill, said Mike Dittoe, Director of Communications for Ohio's House of Representatives.
"Our children have to be instructed."
Superintendent Scott Will of Crestview Schools in Ohio said their plan to hold school on Presidents Day "would see us only making up one day of instruction before our spring testing." The district has used up all of their calamity days and "we have a great deal of winter still ahead for our district," Will said.
In Austin, the Department of Transportation warned residents to be careful when driving in school zones as caution lights were programmed to correspond with days the kids were supposed to be in school, and Monday wasn't one of them until "recent winter weather."
Boone County Schools in Kentucky are also holding class Monday, according to an announcement from Superintendent Randy Poe. The district is also adding days to the end of the school year after losing at least a dozen school days this year.
"I don't have a problem with it. That's what needs to be done," Barbara Brady, the district's community relations coordinator said. "Our children have to be instructed."
Steve Lindley, director of communications at Putnam City School District in Oklahoma, didn't have a problem with having kids in school on the holiday either.
"The high today is 64," a stark contrast to the weather that forced the kids to miss five days this winter, he said.
One school in Indiana wasn't so lucky. Sixteen Indiana school districts turned Presidents Day into a makeup day, but might have to dismiss students early due to a storm that threatens ice and inches of snow, according to NBC affiliate WTHR.
Parts of the state are due for up to 6 inches of snow by Monday night, according to Weather.com, meaning the compensation gained by having kids in class on Presidents Day could be undone in just a day.