Almost half a million customers remained without power in the Northeast early Friday, but it was the West that was bearing the brunt of the latest winter weather.
There were hundreds of road accidents and dozens of injuries as drivers struggled with the hazardous conditions in western Oregon and northern California and parts of Texas — with more snow expected into the weekend.
There was also a fatal accident on the Interstate-5 in Portland, Ore., according to NBC affiliate KGW.com after up to four inches dumped in some parts of the state.
Slick roads also made travel treacherous in parts of Texas too, where snow flurries forced schools to close early and snarled traffic across North Texas, Central Texas and the Panhandle, according to NBC Dallas-Fort Worth. Over 100 Texas schools and organizations were closed or delayed again Friday, as residents woke up to ice-glazed roads.
"The West is where all the weather action is Friday too," said Michael Palmer, a forecaster with the Weather Channel. "Oregon and Northern California will get a lot of snow even down to the coastal areas, which is highly unusual. Portland will see three or four inches today and into tonight."
This "active weather pattern" will continue to impact the Pacific Northwest over the weekend, according to the National Weather Service, "dropping considerable amounts of precipitation."
In the Northeast, utility crews from as far away as Canada and Arkansas were called in to help restore electricity to hundreds of thousands of people in Pennsylvania and Maryland, two days after an ice storm downed power lines and trees.
Pa. Gov. Tom Corbett said the priority was restoring electricity to hospitals, nursing homes, communications facilities and sewer plants.
"This storm is in some respects as bad, or maybe even worse than Hurricane Sandy," he said during an appearance in the Philadelphia suburbs.
President Barack Obama declared a state of emergency for Pennsylvania, authorizing a shipment of electrical generators and the assistance of the Federal Emergency Management Agency.
The Red Cross set up shelters throughout the state to provide displaced residents with warm meals and a place to charge their devices.
By Friday afternoon more than 320,000 customers remained without power in Pennsylvania, along with about 22,000 in Maryland.
At the peak of the storm, more than a million outages — with the brunt in Pennsylvania — had been reported.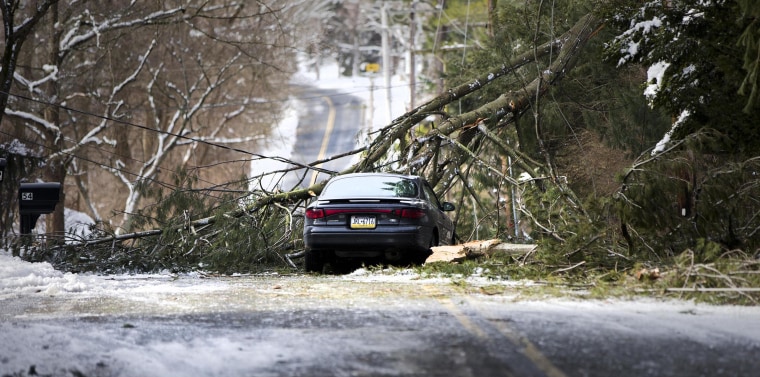 Meanwhile in NYC, Con Edison asked large consumers of power in midtown Manhattan — including the always-illuminated Times Square — to reduce energy use as the utility repairs electrical cables damaged by salt and melting snow from an unrelenting winter, according to NBC New York. Con Edison reported over 1,000 were without power, largely in areas surrounding Manhattan.
The lights would prevail however in New York City's Lincoln Center, where Fashion Week kicked off on Thursday. Many guests had to swap their fashionable heels for more practical boots in the 20 degree, icy and slushy conditions, The Associated Press reported. But French fashion designer, Max Azria didn't let the clothing-constraints get him down. "I think the weather is beautiful," he said.
While the models and fashionistas might choose to sport furs, stilettos will be more feasible in the coming days.
Bitterly cold arctic air will hang tough for much of the country through early next week, before warmer weather comes on through, but the ferocious third storm that was forecast won't be as bad as meteorologists originally anticipated.
"In the Northeast, there are a couple of weak systems that looked like they might unite to form a big storm but that's not going to happen," Palmer said. "On Saturday we'll see light snow into the mid-Atlantic, up to Washington D.C. and then another band will come through the Midwest. The Northeast with some light snowfall but not a lot of significant accumulation."
The Associated Press contributed to this report.