Elizabeth Joseph waited anxiously in her San Francisco home on Valentine's Day for her husband to catch a flight out of Atlanta — a flight he was supposed to board on Thursday.
A snow storm that spanned from the Deep South to New England forced the cancellation of more than 7,500 flights canceled on Thursday, making it the worst flying day in 2014, according to masFlight, an airline operation data company. "As a comparison, during Hurricane Sandy 7,400 flights were cancelled," said Kathryn B. Creedy, a masFlight spokeswoman.
Another 1,800 flights were grounded more by midday Friday, bringing the storm's cancellation totals to 11,600, masFlight reported.
"We were supposed to have fondue."
The disruptive winter weather has forced the highest number of flight cancellations since the winter of 1987-1988, when the U.S. Department of Transportation first started collecting such data, according to the Associated Press.
MasFlight said the record-breaking total is 98,000 cancelled flights since December, and noted that the disruptive storms have tended to come at inopportune times.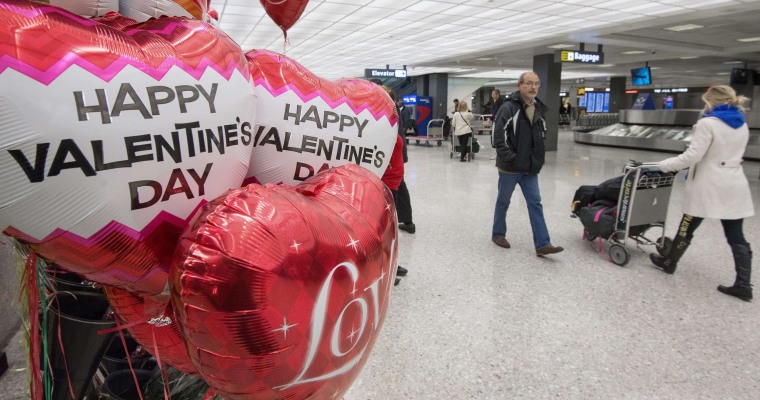 Thanksgiving Eve, the busiest travel day of the year, saw 600 cancellations nationwide after a heavy rainstorm deluged the East Coast.
Twelve hundred flights were cancelled during the flight-heavy weekend before Christmas, following an ice storm that knocked power out for thousands in the Midwest and New England.
Then winter storm warnings in the Northeast on New Year's Day grounded almost 1,000 flights, as people attempted to finish up their holiday vacations, according to masFlight.
Once again, this week's cancellations came at an especially inconvenient time, since Valentine's Day falls on a Friday and many plan to travel ahead of the long President's Day Weekend.
"Whenever schools are out or there is extra time that can be taken off, there is an uptick in travel," Heather Hunter, a spokeswoman for the travel service AAA. "With Valentine's Day landing on Friday this year, it will prompt people to start their vacation for both holidays."
Delays and cancellations will likely spill over into the three-day weekend, since Thursday's high volume of snags created a chain reaction of bumping people from flights, Creedy said. Most flights were 100 percent full on Friday, she added.
Up to 12 inches of snow could fall in the winter-weary Ohio Valley and Northeast over the weekend, making matters worse, according to Weather.com.
Joseph said she realized that she and her husband weren't the only ones inconvenienced by the weather delays, but added that she'd be "disappointed" if her husband didn't make it back for their first Valentine's together as a married couple. "We were supposed to have fondue," she said.