Thousands of drivers were hopelessly stuck for a second day Wednesday, many without food and water, on paralyzed interstates around Atlanta after a winter storm appeared to take the city by surprise.
State and local authorities had no estimate for how many people were stuck, but they said jackknifed 18-wheelers were causing a problem on freeways that were still slick with ice. Some people abandoned their cars altogether and walked to warmth and shelter.
Gov. Nathan Deal ordered the National Guard to clear the way for school buses that were carefully delivering schoolchildren back to their homes after thousands of them were marooned overnight. National Guard troops were distributing blankets and 200 cases of military-style MREs, or meals ready to eat, along Interstate 20.
Churches, groceries and home-improvement stores opened their doors to the stranded. Neighbors took in neighbors and strangers. At least one baby was born in a car, helped by a police officer.
Aerial pictures made the highways look like parking lots, and there was no indication of when or how the roads would be cleared. Twenty hours into the jam, one trucker, Joe Schmitz, told NBC News that drivers would probably be stuck for a second night.
"There are some people who are really kind of scared," he said. He added that truckers were taking drivers into their rigs to keep them warm as cars ran out of gas.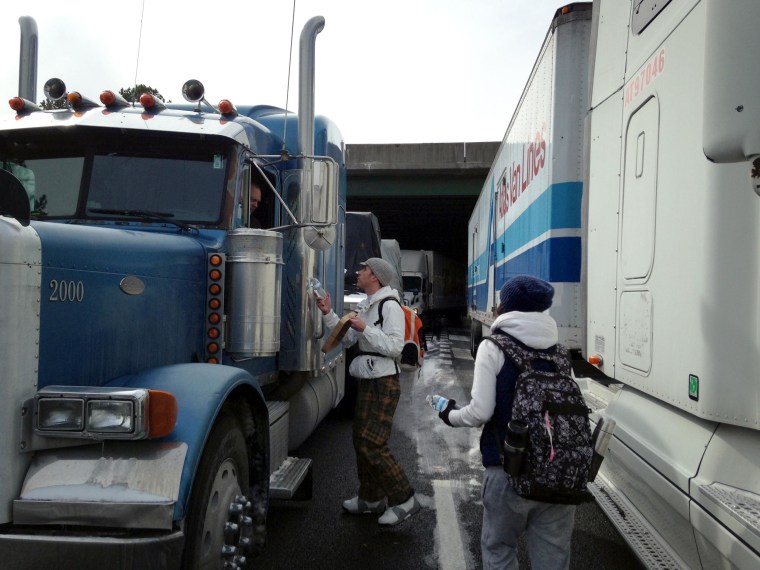 Authorities found themselves defending, and in some cases apologizing for, a slow response to the storm.
It was not close to the worst in Atlanta's history — about 2½ inches of snow fell — but authorities said hundreds of thousands of people all at once tried to head home from work or school, Tuesday afternoon, jamming the roads.
"It's like someone blew a whistle and everyone left at the same time," he said.
Deal said that state workers were ordered home on Tuesday afternoon but that he had had no control over what private businesses and schools decided to do.
Deal apologized but added: "It's easy to make judgment calls after the fact, but I daresay there's not anybody in this room that could have predicted the degree and the magnitude of the problem that developed."
Atlanta Mayor Kasim Reed said there had been no deaths on the Atlanta roads. He grew testy with reporters who asked him to grade the city's response. He also said the interstates were the responsibility of the state government, not the city.
"I'm not going to do this with you today," he told one reporter. He told another: "With all due respect, your question ignores the facts."
He also said: "The crisis that we're going through is across the region. There's no one who's doing any better job than we're doing in the city of Atlanta. What we did do was get a million people out of the city safely."
"I've never seen anything like this," Tim Dougherty said from Interstate 285, north of the city, where he was stranded for more than a full day before he finally made it home late Wednesday afternoon.
"What took me 30 minutes yesterday morning took me 26 hours to get back," Dougherty told NBC News. Earlier, as he sat in a sea of taillights, he said, "I've got to say for a city this is an epic failure."
The storm coated the South with snow and ice, striking a part of the country not accustomed to responding to snowstorms, plowing roads and salting streets. At least six deaths were blamed on the storm, five in Alabama and one in Georgia.
Tens of thousands of schoolchildren were stuck Tuesday evening either aboard school buses or in their schools. By Wednesday at midday, Deal said, there were several thousand still in schools. Besides the National Guard, police were helping get them home.
At North Paulding High School in Dallas, northwest of Atlanta, "we're making the best of a bad situation," Principal Mark Crowe told NBC station WXIA of Atlanta.
"We've separated the boys and girls — the girls are in the auditorium [and] our boys are in the gym," Crowe said. We've got wrestling mats out for them and they're kind of watching TV, playing basketball.
"We fixed dinner for them and we've had snacks for them. We're showing some movies," he said. "They're really doing a great job. We've got about 30 faculty members here who are helping us out and the students are doing great."
At E. Rivers Elementary School in Atlanta, where about 90 students stayed overnight, "the kids this morning were like, 'This is a party,'" Principal Matt Rogers said. "I said, 'It is kind of a party. An unexpected party.' It's like a slumber party. We're having a good time."
Traffic maps of Atlanta looked like an illustration of the human heart, red arteries in all directions. "We know you want to get home, and we are going to work all day until you can return safely," Reed said early Wednesday on Twitter.
The baby born during the gridlock was a little girl, delivered by her father and a police officer on I-285. Paramedics got the family to a hospital.
"I pulled over to check on them, and I asked the dad, 'Are y'all broke down?'" the officer, Tim Sheffield of the Sandy Springs police, told TODAY. "He goes, 'No, we're having a baby.'"
The Home Depot kept 17 Atlanta-area stores open to provide shelter for stranded drivers.
Most of the storm's worst had passed by Wednesday morning, but a winter storm warning was still in effect from the Florida Panhandle to Ocean City, Md., and a hard-freeze warning stretched from Texas through Alabama.
"Today will be just as bad as yesterday in terms of the state of the roads," said Guy Walton, a meteorologist for The Weather Channel.
Authorities in Alabama were left red-faced after declaring a state of emergency only for the southern half of the state, leaving out hard-hit Birmingham and sending available equipment the other way. All interstates and numbered roads were still rated "impassable" in Birmingham and surrounding Jefferson County on Wednesday morning, with thousands of drivers having been stranded for hours.
"No one knew exactly where the line of freezing rain and snow would take place," Gov. Robert Bentley said Wednesday. "Unfortunately, the predictions were not exactly what we thought they would be. No one has any control over that except the Lord."
But not all the misery was on the roads: More than 4,000 flights were delayed across the U.S. by mid-afternoon Wednesday, with almost 2,200 others canceled, according to FlightAware.
Jim Miklaszewski, Courtney Kube, Alexander Smith and Polly DeFrank of NBC News contributed to this report.